Every fall, one of the best and busiest weekends in most college towns is homecoming. It is a fun time of celebration and often draws large and high energy crowds of both students and alumni. To celebrate this homecoming season, CollegeWeekends.com highlights some of the best, most unique and entertaining college homecoming traditions and celebrations across the country. 
Gator Growl (Florida)
The University of Florida's Gator Growl is a huge event that includes several different activities for Gator nation to participate in. The Gator Growl starts with the largest student-run pep rally in the nation and then continues to with both a pageant and a parade.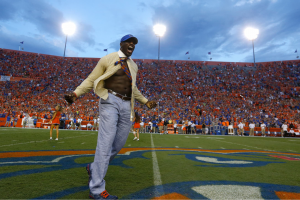 But the festivities don't end there! The event then includes Soulfest, a festival with music, food, and art, a 2-mile fun run, an alumni barbecue, and a homecoming festival.
Tigerama (Clemson)
Homecoming celebrations have been a long-standing and important Clemson tradition dating back to 1914. Clemson's homecoming celebration is a week-long with events happening on campus daily leading up to the game. Many student organizations build Homecoming floats and displays for the parade.  The final event of homecoming week is Tigerama, one of the nation's largest student-run pep rallies.

Tigerama began in 1957 and has drawn a large crowd of Tiger fans ever since. Tigerama features skits, fireworks and the crowning of Miss Homecoming. These events during Homecoming week get locals, students, and alumni from all over the country fired up for the big homecoming football game! 
Hobo Day (South Dakota State)
South Dakota State's Hobo Day is one of the most significant events in the state and has been celebrated for more than 100 years!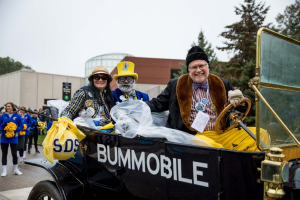 Hobo Day includes activities like One-Month Club which takes after "No Shave November", and where participants in the One-Month Club let their body hair grow for one month and then are judged on various qualities. Hmm! The event also includes Paint the Town where students paint windows of local businesses all over Brookings, South Dakota to show their Jackrabbit school spirit. 
Spirit Splash (Central Florida)
Spirit Splash is a unique University of Central Florida tradition, and definitely a lively and entertaining experience. On the Friday before the Homecoming football game, students run into the university's reflecting pool to show their devotion to the Knight's football team.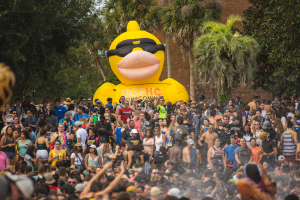 While the students jump in the pool, UCF's cheerleaders and the Marching Knights cheer them on. This high energy event has been put on for the past 15 years and continues to get bigger each year. 
Lighting the Y (BYU)
Brigham Young University's Lighting the Y ceremony takes place on the school's iconic Y mountain where a large "Y" made from sand and concrete can be found.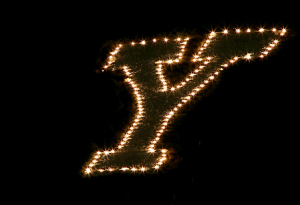 During homecoming, BYU students hike up the mountain and screw in lightbulbs to illuminate the "Y". While it is possible to take a shuttle up Y mountain, most students hike to maintain the integrity of the tradition. Lace up your hiking boots!
The Blood Drive (Missouri)
The University of Missouri holds the largest college campus blood drives in the nation amongst other events during each homecoming. The blood drive is open to students, community, and alumni. Donors are allowed to donate blood on behalf of 4 different types of organizations: one residence hall, one campus organization, one Greek chapter grouping or one academic school or college.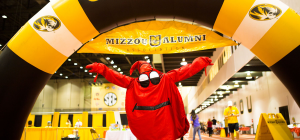 The event collects more than 5,000 units of blood each year and helps save lives … and is also the largest student-run blood drive in the country! Go Mizzou!
Homecoming Bonfire (UC Riverside)
UC Riverside has its homecoming tradition where students hold a large bonfire before the next day's homecoming game.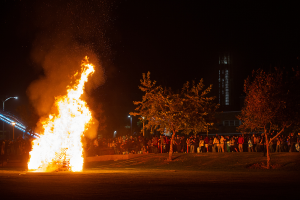 The bonfire includes the burning of their opponent's mascot (ouch!) and helps to rally school spirit before the following day's big game!
Soapbox Derby (Texas State)
Texas State University's Soapbox Derby is not only a unique tradition but also incredibly fun to watch! Since 1967, Bobcat students have been building vehicles and competing against each other in this homecoming derby.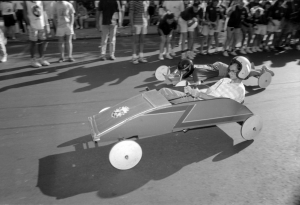 Residence halls, fraternities, sororities, and student organizations all take part and compete against each other. Zoom, zoom!
Lantern Walk (Arizona State)
Arizona State University's lantern walk has been a Sun Devil tradition for over 100 years. Students hike A mountain while carrying lanterns and illuminate the large "A" on the summit.
The school's mascot does the honors of actually placing the lanterns around the "A" and homecoming royalty is crowned shortly after. 
Howard Yardfest (Howard)
Howard Yardfest is one of the large hip-hop events on college campuses that annually hosts both new and recognized artists.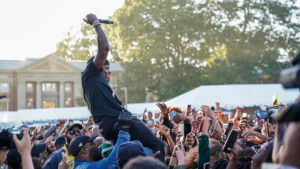 Artists like Notorious BIG, Kanye West, Jay-Z, DMX, Common, Ghostface Killah, 2 Chainz, and Drake have all performed over the years making it a star-studded and hype event!
Game Ball Run
Virginia Tech's Game Ball Run started in the 1970s and included the running of the game ball from Blacksburg to Roanoke, a 42-mile distance.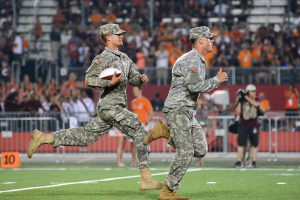 Today, Ranger Cadets run the game ball around campus totaling 100 miles in distance, before eventually carrying the ball into Lane Stadium amidst a highly energized crowd just in time for the homecoming game. Who needs Enter Sandman, right?
Bed Races (Ball State)
Ball State takes homecoming to a whole new level with bed races. Students acquire bed frames and then meld wheels to them before racing these makeshift cars during homecoming weekend. Each Bed Race team consists of five people – four pushing the bed, and one riding in it.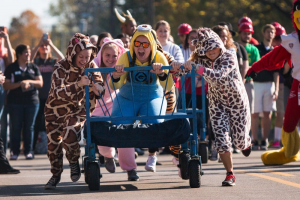 Two teams at a time will race on a 100-yard course against the clock to see who will win. Often students also dress up in costumes or team themes, making this tradition incredibly fun! 
Whether it's homecoming weekend or you're just passing through, the next time you find yourself in a college town check out CollegeWeekends to find guides for can't miss opportunities, restaurants and nightlife guides as well as details on some of the best homecoming traditions in the country!