Are you or your family members considering going to OSU or are you visiting Columbus for the weekend for the big game? Here's everything you need to know when visiting Buckeye country!
"The" Ohio State University was founded by governor Rutherford B. Hayes in 1870 and was originally named the Ohio Agricultural and Mechanical College and was changed to its current name in 1878. Ohio State is located in Columbus, Ohio, the capital of Ohio and has the largest metropolitan area in the state.  A visit to this city in the heartland has a lot to offer and definitely won't disappoint 
Buckeye Nation
The Ohio State Buckeyes football team plays in the tradition-rich Big Ten Conference, and is one of the most successful programs in NCAA history with 8 national championships … which ties them for number 8 overall of college football teams who have won national championships. The Buckeyes also have a whopping 41 conference titles, 10 undefeated seasons and 7 of their players have won the Heisman Trophy. Boasting a seating capacity of 102,780, Ohio Stadium is a widely recognized landmark due to its horseshoe-shape and size. Watching a game in this stadium is an experience like no other and will not be forgotten.

OSU Traditions
A Buckeye football tradition and one you may have noticed … are the stickers on the helmets of the players. These stickers are actually Buckeye Leaves and the tradition of putting them on the helmets started in 1968. Players receive stickers when they perform well on the field. So if you see a player with lots of stickers, it means they are really good!! In addition to rewarding players when they play well, the school celebrates their wins by ringing the Victory Bell in the Southeast Tower of the Ohio Stadium.
One of the greatest rivalries in college sports is the Ohio State-Michigan football game … but good luck in trying to get tickets.  Even though the stadium holds over 100,000 fans, this is a hot ticket every time!  
Attractions
While visiting Columbus, there are a number of interesting places to explore – with fun activities for the whole family.
Legoland Discovery Center
If you have younger kids, you have to visit the Legoland Discovery Center. They have tons of Lego attractions, rides, and games to play. Miniland has some of the most famous Ohio landmarks built from over 1.5 million Legos. This includes Ohio Stadium! They also have a ride called Pedal to the Stars where you can become Merlin's next wizarding apprentice. Want to sit back and relax while watching a movie? Think again! Lego 4D Cinema brings movies to life where you can feel the wind, rain, and snow effects.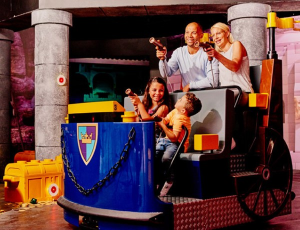 Nationwide Arena
Love hockey, shows or music concerts? Visit Nationwide Arena, which is home of the Columbus Blue Jackets hockey team. If hockey isn't your thing, they also have a Disney On Ice show and a rodeo! The arena also hosts some of the hottest bands and musicians and is a great venue to watch a concerts there too.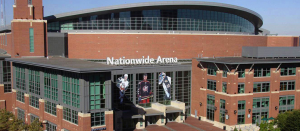 Columbus Museum of Art
The local museum of art is in downtown Columbus and has been around since 1878. The museum's collection includes late-nineteenth and early-twentieth century modernism and contemporary art as well as photography. Art work is regularly rotated with different exhibitions on display, and is well worth the visit.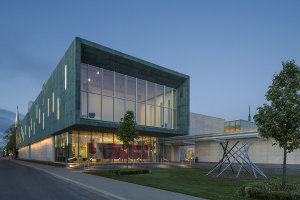 Center of Science and Industry
This science center is a focal point in the Columbus community with a focus on science, technology, engineering, and STEM. The center brings a hands-on learning experience for people of all ages helping millions of people. With its 320,000 square foot facility, the Center of Science and Industry is able to host 300+ interactive experiences, several galleries and permanent exhibitions, and much more. Most recently the world class Marvel Universe of Super Heroes was on display.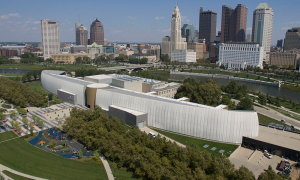 Outdoor Ice Skating
During the weekends in the winter months, Riverside Crossing Park is the place to go and has an outdoor ice skating rink open for all children and adults. This is the perfect way to take advantage of those chilly Midwest months, and get out and skate with your family and friends!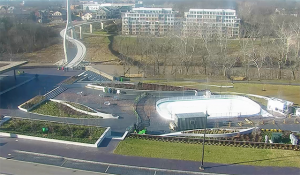 Ohio Theater
This 2,700 seat classic looking theater is almost 100 years old! It has amazing decorations and Spanish-Baroque architecture, and shows are diverse with Broadway musicals, symphonies, ballet, and more. Don't miss out on shows like Wicked, Cats, and Hamilton!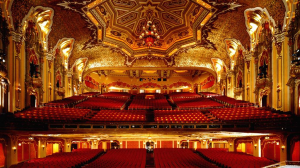 Restaurants & Bars
Hungry while visiting Buckeye land?  Here are a few local favorite restaurants and bars around OSU!
Bier Stube
Want to explore the best dive bars Columbus has to offer? Look no further than Bier Stube. It's the best local bar around campus and the reviews to back it up. If you want to get a bite to eat and watch some sports while celebrating with your friends, this is the place to be!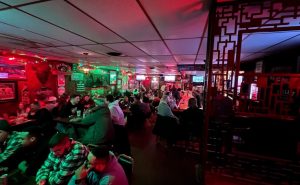 Ethyl & Tank
Standing towards the center of the OSU campus is Ethyl & Tank restaurant. Ethyl & Tank's has everything from dinner, brunch, coffee, and delicious cocktails with a great space for the middle of the day or to hangout at the bar at night. They even have a DJ setup! This is a must go for any OSU fan!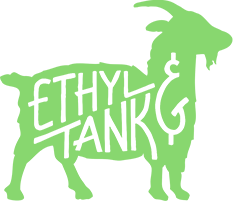 Hang Over Easy
Rated as the best breakfast in town is Hang Over Easy. With a slight twist on the classics, the food will surely blow your mind and help any remedy any late night. If you aren't feeling like eating breakfast, Hang Over Easy has incredible burgers and sandwiches to fill your appetite. Don't let the name fool you, they have plenty of drinks to choose from as well with a great bar. 
Buckeye Donuts
Need some quick coffee and amazing donuts? Look no further than Buckeye Donuts. Some claim Buckeye Donuts have the best donuts across the Big 10! They have everything you could dream of from cinnamon bun, cronut, maple bars, custard filled donuts, regular donuts, and even a cookies n' cream donut. As you would expect, Buckeye Donuts has a large selection of coffee to choose from … and a great lunch and dinner menu!