Whether you are visiting Notre Dame for a Fighting Irish football game or simply to visit the campus, you'll quickly see that South Bend, Indiana is a lively college town. Here's your guide to both Notre Dame and the South Bend area – where tradition and Irish pride are on full display! 
The University of Notre Dame
Notre Dame is one of the country's most well-respected and rigorous academic institutions. It has eight different colleges, departments, and programs for undergraduate and graduate students. Notre Dame is ranked #11 by U.S. News for best undergraduate teaching and has a graduation rate of 96.9%!
Irish Sports – A Winning Tradition
While Notre Dame's basketball, fencing, ice hockey, lacrosse, soccer, and golf teams are all well-known and well-respected, the university's football team is perhaps the most famous of its athletic programs.  The Fighting Irish football team has produced seven Heisman trophy winners, has won 900 total games, and has amassed 11 NCAA football championships.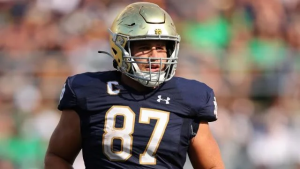 Notre Dame also participates in 23 Division I intercollegiate level sports and is one of only 16 universities to play in both Division I football and men's ice hockey.
The university also has an impressive club sports program, including a rugby team that has succeeded nationwide. 
Campus Must-Sees
Hesburgh Library, more famously known as "TouchDown Jesus," is arguably one of the most well-known sights of any college campus in the US. It's also one of the largest libraries in the world.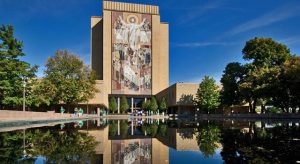 The nickname "Touchdown Jesus" comes from the famous mural of Jesus shown as "the Word of Life" and great teacher, which faces the Notre Dame Football Stadium and can be seen over the north end zone.
The Golden Dome (or the Main Building) on Notre Dame's campus is home to the university's administration buildings. Built in 1879, it's known for its stunning architecture. The Main Building is topped by a Golden Dome, which is topped by a 19-foot tall statue of Mary.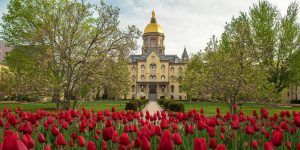 Visitors can stop by the Main Building anytime to schedule a campus tour and explore the Dome. Rumor has it, though, any student that ascends the steps of the Main Building will not graduate.
Traditions
Founded in 1842, the University of Notre Dame has maintained many different traditions over the years. If you are familiar with Notre Dame athletics, you have probably heard the university's fight song, "Notre Dame Victory March." The song was written at the turn of the century by two brothers who were both Notre Dame graduates. Today, you can often hear the fight song throughout game days as the university's marching band performs for eager fans.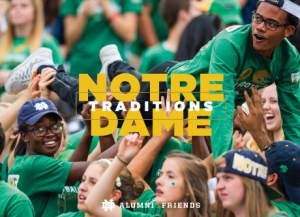 Another tradition you are sure to be familiar with is the school's nickname, the "Fighting Irish". The origin of this nickname is still unknown, but some suggest that it could have come from a rival or members of Notre Dame's football team. Either way, the name stuck and was officially coined by the university in 1927. Today, the nickname represents Notre Dame's athletics and the university's grit and determination. In keeping with the theme of the "Fighting Irish," the university's mascot is a leprechaun. While Notre Dame was originally represented by Irish Terrier, the Notre Dame leprechaun was instituted as the official mascot in 1965. Today, the leprechaun symbolizes Notre Dame and its impressive athletics programs and Irish pride. 
Game Day Tailgating
Notre Dame game days are a main event in South Bend, especially when it comes to tailgating. Tailgating begins just shortly after sunset the night before a game and the parties stay alive throughout the next day!  Notre Dame hospitality is unlike any other, and has you covered for all your game day needs.

The Legends Tailgate of Champions is an all-inclusive package complete with a buffet and open bar just steps away from the stadium. This package also includes post-game bar service so you can avoid the traffic, but keep the celebrations alive after an Irish win! Be sure to check out all the official Notre Dame tailgate packages here. There are also important tailgating guidelines and parking information you should be sure to review before heading to campus.
South Bend Nightlife & Restaurants
Nightlife
Perhaps one of the most legendary sports bars in the area, Linebacker Lounge (or the 'Backer!) is right by the football stadium and is a hot spot on game days! Open for breakfast, lunch, and dinner, the Linebacker Lounge serves bar, pub, and American food at affordable prices.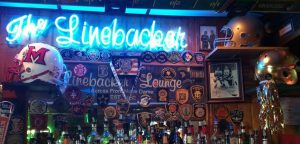 South Bend also has several other great spots to check out if you're looking for a palace to get a drink or hang out! The Exchange Whiskey Bar is one option for those looking for a drink with friends. Reviewers say that the Exchange has the best Old Fashioned whiskey drink in all of South Bend! If you're not a fan of an Old Fashioned, then the Exchange still has you covered with tons of different drinks and snacks to choose from. If you're planning a larger event, the Exchange also has private rooms to host your event.
Brother's Bar and Grill is another option for anyone looking for both a drink and a bite to eat in South Bend. Brother's offers "basic bar food" and daily drink specials. To get into the Irish spirit before you attend a Fighting Irish sports' event you may also want to try visiting Corby's Irish Pub. With classic bar food and an amazing drink selection, Corby's will definitely get you ready to cheer on Notre Dame. Similar to Corby's, O'Rourke's Public House also offers a classic Irish pub experience. O'Rourke's has an expansive food and drink menu making it another great option. 
Restaurants
If you're hungry while exploring South Bend, don't worry because there are many different restaurants and eateries to choose from. LaSalle Grill is one option, offering a sophisticated dining experience and a fantastic menu. Pair any of their small plates or entrees with a glass of wine from the extensive wine menu. Or if you're searching for something else, try one of their cocktails along with a soup and salad from their unique selection.
Cafe Navarre is another great option for those looking for both a sit-down and take-out dining experience. Cafe Navarre offers several unique handcrafted cocktails, tons of varieties of wine, and a large list of beers. They also have both unique and classic food options, such as foie gras and french onion soup, so they'll have something for everyone!

For a more relaxed eating environment, be sure to check out Rocco's, South Bend's Original Pizzeria. Rocco's offers classic Italian food, including both pizza and pasta. They also have many different appetizers, salads, and desserts that are all available through takeout. 
Attractions
There are many different attractions in South Bend that are sure to entertain both you and your entire family during your visit. The Potawatomi Zoo is a must-see for anyone looking for a family-friendly attraction. The zoo is home to over 400 animals and is an absolute sanctuary for nature lovers. The zoo is Indiana's first zoo and was established in 1902 as a duck pond at Leeper Park. You can experience animal encounters, view the newly minted savannah exhibit, and visit the farm area of the zoo.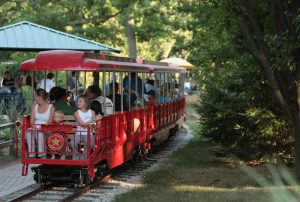 South Bends' history museum is another great option for those that find themselves in the South Bend area. The history museum offers the Oliver Mansion and the Studebaker National Museum. These different attractions give guests a look back into South Bend's extensive and cultured history. Currently, the museum is running an exhibit on wedding traditions with wedding items on loan from South Bend's diverse community.
If you're searching for a more outdoor experience, then South Bend also has you covered. Check out the many hiking trails in the area, such as Rum Village Park, Bendix Woods Country Park, and Lydick Bog Nature Preserve. By exploring the natural landscape of beautiful South Bend, you will be sure to become more acquainted with the area and truly experience all it has to offer. 
For more help planning your next visit to South Bend or another college town, visit College Weekends today!