Exploring St. Louis, Missouri
St. Louis is an amazing city with so much to offer including several universities, professional sports teams, great nightlife, and plenty of amazing restaurants. Here is your guide to all things St. Louis!
Restaurant Scene
St. Louis offers many different restaurants and eateries to choose from. If you're looking for an American-style dining experience then try out Steve's Hot Dogs which has been featured on the Food Network, the Cooking Channel, and the Discovery Channel. Try out unique and classic hot dogs while also enjoying one of the many drinks available.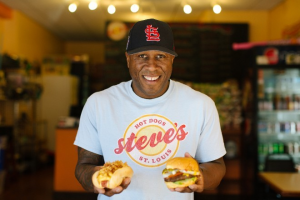 If you're looking for breakfast then make sure to visit Old Dog Donuts. Voted the best donuts in the St. Louis area, Old Dog Donuts offers both traditional and new takes on donuts. Sample a treat from their large selection of donuts or try out a danish or pastry. For more of a fine dining experience then you may want to check out Tony's. Tony's offers a lunch menu, dinner menu, wine list, and dessert menu. Try some of their delicious meals in their dining room or grab a drink at Anthony's Bar. For a classy dining and drinking experience, try out Cleaver & Cocktail! Cleaver & Cocktail has many different drinks available from aperitifs to cocktails. Pair one of their signature drinks with a delicious meal of a salad, steak, scallops, or any of their other amazing options. If you're looking for an equally elegant dining experience then try out Il Palato for amazing Italian dishes and wine. Il Palato has a great selection of pasta, pizzas, and many different types of starters from fried cauliflower to crispy eggplant. 
St. Louis Nightlife
St. Louis nightlife offers several unique and entertaining options including BB's Jazz, Blues & Soups, a cozy jazz club. At BB's you'll be able to sample their Southern-style menu while listening to live performances from solo acts and bands.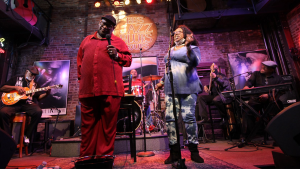 If sports bars are more your scene then you should try out Ballpark Village. Ballpark Village has great food, live sports, and events making it a great place for a relaxed by fun night! If you're looking to attend a concert then make sure to visit The Pageant-Delmar Hall. With two venues in one, The Pageant-Delmar Hall hosts different performers all year round. You can also grab a drink at Halo Bar, a concert-themed cocktail lounge, within the concert venue. If you're looking for a unique and vintage experience then you have to try out The Thaxton Speakeasy. The Thaxton specializes in boutique weddings and events but they also have an underground lounge called the Thaxton Speakeasy. The Thaxton Speakeasy has an incredible range of drinks and even requires guests have a password to get in! The experience is authentic and unique making it a perfect stop during your stay in St. Louis. If you're looking for a more classic bar experience then Heavy Riff Brewing Company may be perfect for you. Founded in 2013, Heavy Riff Brewing Company is dedicated to using traditional brewing techniques. They serve classic and experimental beers as well as signature sandwiches and salads. 
Fun Attractions in St. Louis
St. Louis has many amazing things to see and do including the famous Gateway Arch National Park. The arch represents how St. Louis acted as the gateway to the West during the 19th century. Take a guided tour or just snap a selfie with the monument on your next visit to St. Louis!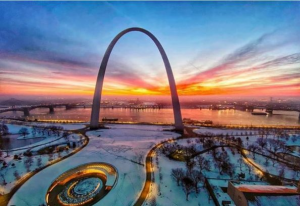 If you are visiting the city with young children, then you definitely may want to consider the St. Louis Zoo. Attend an event, see the many amazing animals of the zoo, or learn about conservation efforts all within the confines of the city. You can also rent out spaces at the zoo if you are looking to plan a unique event! For a bit of St. Louis history try visiting the Cathedral Basilica of St. Louis. The basilica was completed in 1914 and is a notable piece of St. Louis architecture. The cathedral was named a basilica by Pope John Paul II in 1997 and was built as a replacement for the previous St. Louis Cathedral. If you want to shop St. Louis also has you covered! Visit St. Louis Galleria, a large indoor shopping mall in the St. Louis area. St. Louis Galleria has stores from Zumiez to Nordstrom and also offers restaurants like the California Pizza Kitchen and Panera Bread. If you want a traditional museum experience then you should visit the Campbell House Museum. The Campbell House Museum has served the St. Louis area as one of America's premier historic property museums. The museum works to preserve St. Louis's history and provides visitors with a peek back into the St. Louis of yesteryear. 
Professional Sports
St. Louis is a big time "sports town" and has several professional sports teams including the St. Louis Cardinals and the St. Louis Blues. The St. Louis Cardinals are one of the oldest franchises in the MLB and have won eleven World Series titles.
The Cardinals play at Busch Stadium which has a seating capacity of over 44,000. The St. Louis Blues is an NHL team that won the 2019 Stanley Cup. The Blues play at Enterprise Center which has a seating capacity of over 18,000. 
Colleges & University Located in/near St. Louis
St. Louis University
St. Louis University is the second oldest Jesuit university in the United States and offers campuses in both St. Louis and Madrid. The university offers over 80 graduate and undergraduate majors and disciplines and is made up of 13 different colleges and has an active student club and Greek life with over 240 student organizations including 13 sororities and fraternities.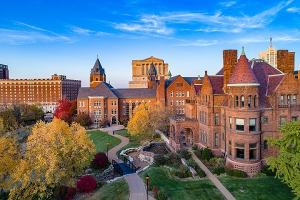 St. Louis University Billikens compete in the NCAA Division I Atlantic 10 conference, and typically has a strong men's basketball program which provides a fun and feisty environment … check out their schedule here. 
Wash U.
Washington University in St. Louis, also known as "Wash U", is an academically rigorous private institution that offers both undergraduate and graduate programs that are composed of seven different schools.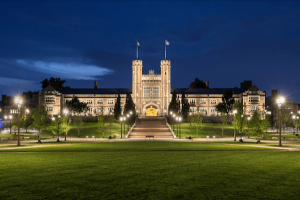 Washington University in St. Louis has over 300 different student organizations and a large Greek life population with eleven sororities and fraternities. The university also hosts presidential and vice-presidential debates and has been doing so since 1992. 
The University of Missouri-St. Louis
The University of Missouri-St. Louis is one of the four universities within the University of Missouri system. It was founded in 1963 and offers Bachelor's, Master's, and Doctoral degrees in a variety of fields.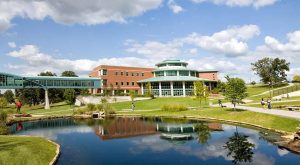 Apart from top-notch academics, you will also find 11 competitive Division II sports teams including soccer and golf. The University also has a prominent Greek life which makes up six sororities and fraternities. 
University of Missouri
The University of Missouri is located just under two hours from St. Louis and is the state's biggest university and filled with great game-day traditions and exciting Division I sports — competing in the Big 12 conference.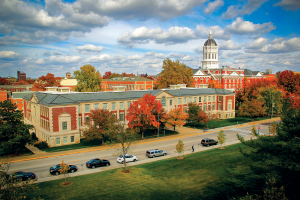 The University of Missouri also has one of the oldest and largest Greek life systems in the nation, and includes 22% of the student population and 70 different sororities and fraternities. 
For more help planning your next trip to St. Louis please visit College Weekends today!