Nestled in between the Cape Fear River and the Atlantic Ocean you will find beautiful Wilmington, North Carolina. This charming coastal city is rich in history, creativity, and a way of life that only comes from living by the water. There is no shortage of activities in Wilmington as well as its four nearby beaches! Not to mention Wilmington is home to the University of North Carolina Wilmington. Whether you are visiting UNC Wilmington or a fun vacation we've got you covered! Here is a complete guide for all things Wilmington and surrounding beaches!
Things to Do in Wilmington
Located in the heart of downtown, Wilmington's Riverwalk is a 1.75-mile stretch of boardwalk along the Cape Fear River lined with shops, galleries, and restaurants. This is a focal point of Wilmington and a can't miss stroll! For a better look at Wilmington from the water, you can cruise along the Cape Fear River with Wilmington Water Tours. 
Fun fact, Wilmington is no stranger to Hollywood. For any fans of Dawson's Creek or One Tree Hill, you will be excited to know that Wilmington was the backdrop in which those shows were created. During your time in Wilmington, you can tour filming locations and pretend you stepped foot into your favorite fictional town!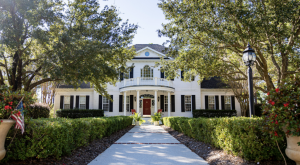 Not only does Wilmington have coastal charm, but it also offers beauty in nature and architecture. Enjoy strolling through over 67 acres filled with flowers, trees, water features, and statues at Airlie Gardens. The garden hosts events year-round such as the city-wide Azalea Festival, butterfly releases, and a Christmas light display called Enchanted Airlie. Wilmington's National Register Historic District offers 230 blocks of architectural history. In this district, there are three Antebellum homes open to the public to tour: Bellamy Mansion, Burgwin-Wright House and Gardens, and Latimer House. Aside from the beautiful homes, this area also offers unique shops to peruse.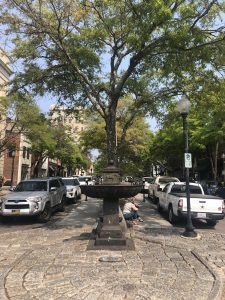 For all the history buffs Wilmington has got you covered! If you are drawn to ships you must explore the USS North Carolina, a WWII battleship. Wilmington is also home to multiple museums such as Cape Fear, The Cameron Art Museum, and The Wilmington Railroad Museum to name a few.
Bonus: If you have explored everything so far and are still looking for more of this coastal area you are in luck! Here are two bonus activities in the area: Karen Beasley Sea Turtle Rescue and Rehabilitation Center (45min away) or the ferry from Kure Beach to the seaside town of Southport, NC.
Restaurants and Nightlife
What's a trip to a new place without trying their local food? Elijah's is located in downtown Wilmington along the Cape Fear River. This upscale restaurant not only offers great food but great views as well. Request to sit outside to watch the beautiful sunset over the river. Another great local spot is Seabird – they have it all! Stop by in the morning for a specialty coffee or in the evening for fresh seafood. If you are in the mood for some southern comfort The Basics is the place to go. The Basics serves all three meals and is perfect for when you're in the mood for your food to feel like a hug. For all the coffee lovers, don't neglect checking out Drift Coffee. With their four locations across the city, so you'll certainly be able to find one nearby when you need a caffeine fix!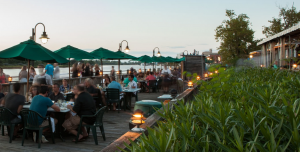 Not only does Wilmington have an incredible restaurant scene, but they also have a welcoming social scene. Live music can be heard year-round! There are outdoor venues, concert halls, pubs featuring local acts, and various music festivals held throughout the year. Nightlife options in Wilmington include dance clubs, cocktail lounges, rooftop bars, and breweries. If you are looking for a fun place to grab cocktails check out Whiskey Tango Foxtrot.

Wilmington Beaches
Wilmington has ties to four beaches: Wrightsville Beach, Carolina Beach, Kure Beach and Top Sail.

Wrightsville Beach  known for its stunning pier, but also has plenty of opportunities for water sports. WB Surf Camp offers programs for all ages and experience levels. You can finally knock learning to surf off your bucket list!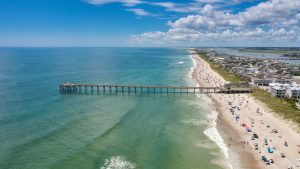 While Wrightsville Beach is the closest to Wilmington proper, a short drive North is Top Sail beach, one of the most popular beaches for North Carolina residents.  Carolina Beach is also a vacationer favorite, where here, you will find a boardwalk reminiscent of ones you may have visited as a child. Furthest from Wilmington proper is Kure Beach. Though it may be the furthest, it is still a can't miss! This is in part due to the Fort Fisher Aquarium located near Kure Beach.
UNC-Wilmington
This coastal college campus is centrally located between the Cape Fear River and the Atlantic Ocean in Wilmington, NC. University of North Carolina Wilmington has been recognized as having one of the best coastal campuses. Founded in 1947, UNC Wilmington is a public university with over 14,000 students. This institution has been consistently ranked among the top 10 public universities in the South with an undergraduate marine biology program that is ranked one the best in the world.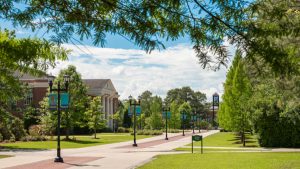 UNC Wilmington is the home of the Seahawks with their mascot "Sammy" the Seahawk bringing excitement to campus events. The UNC Wilmington Seahawks compete as a non-football member of the NCAA Division 1 and are members of the Colonial Athletic Association, including historically strong baseball and basketball teams.  For more information on tickets to Seahawks games, click here.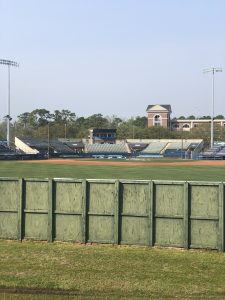 UNC Wilmington's Watson College of Education and Center for Marine Science offer a marine science outreach program called MarineQuest.  This program offers ages 4-17 the opportunity to explore, discover, and learn to value our marine habitats. Visitors can enroll children in the summer camp program to experience the ocean in new ways.
Regardless of what brought you to Wilmington, I am sure you will be glad you came! Wilmington has something to offer everyone in the family. This coastal destination will leave you ready to plan your next visit!