It's back!!  The college baseball season officially kicks-off this week! 
College baseball continues to grow in prominence especially as the sports receives greater TV coverage and a reduction in the number of MLB draft picks (from 40 to 20).  On college campuses across the country, stadiums have become bigger and college baseball has ignited bringing fans together to share their love and excitement for their school and team. Baseball fanatics will argue that baseball season is the superior sports season. As soon as February rolls around, college baseball fans are loyal, enthusiastic, and can't wait to spend the afternoon at the ballpark. 
So, grab some peanuts and cracker jacks and look at CollegeWeekends' Top 10 college baseball weekend destinations, what makes each destination unique and where to go while visiting to maximize your weekend! Batter up!
Ole Miss Rebels (Oxford, MS)
Baseball holds a huge part in the American heart and is a big part of Ole Miss' heart. Baseball season is the focal point of the Rebel student experience and one of Oxford's locals' favorite pastimes. Historically, the University of Mississippi Rebels baseball team is ranked high nationally, and they generally enter the Spring season as one of the favorites in the SEC … and most recently, won the 2022 college baseball National Championship!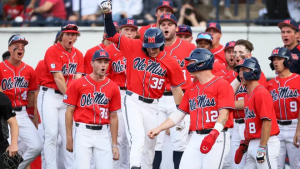 The Rebels have called Swayze Field home since 1989 and typically the stadium is packed to capacity, especially during the weekend. With a capacity of 8,545 people, Ole Miss has the No. 2 highest fan attendance on average in the nation.
But, Right Field is where it's at … where Swayze can be rowdy and exciting. You can expect 2,000 students to be found on any game day with their jerseys and smiles. A highlight of Ole Miss baseball games is the center fielder ball toss. Following their warm-up, the center fielder traditionally throws the ball to a student in the outfield to "guard" while the Rebs are at bat, and the student throws the ball back after each inning.  In addition, be prepared for the "beer toss" when the Rebels hit a home run … a truly unique scene.
Top places to eat & drink in Oxford: 
Big Bad Breakfast in Oxford is the original location of 10 locations for Big Bad Breakfast. It is a quaint breakfast spot open daily from 7:30 am to 1 pm, serving all your favorite classics, best known for their "Big Bad Breakfast Plate."
Don't be fooled by the name because the Snack Bar serves far more than snacks. The Snack Bar is popular with Oxford locals given its large variety of food (from oysters to burgers) and great drinks, including cocktails, beer, and wine. 
Proud Larry's is known for its delicious Italian-accented American food and bringing the best live music to Oxford Square.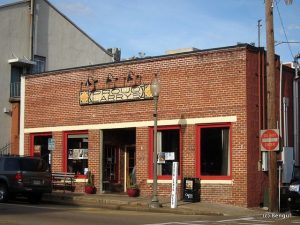 Live music shows happen almost every night of the week and are typically 18+ events – including everything from country, pop and rap music. 
Florida Gators (Gainesville, FL)
In 1965, the head coach of the Florida Gators football team requested that the UF scientists develop a drink to help his athletes stay more adequately hydrated. Those scientists created Gatorade, which altered the sports industry forever. The Gators are a perennial front-runner in the SEC in all sports, but its baseball team is always loaded with talent and has a strong tradition.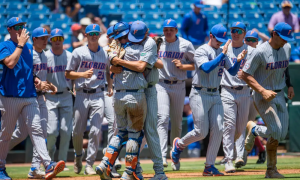 The Gators baseball team, notably, has won 15 SEC Championships and appeared in 12 College World Series tournaments (winning the National Championship in 2017). The Gators play in a pristine, new baseball complex that opened in 2021. Condron Ballpark at Alfred A. McKethan Field seats about 7,000 fans comfortably and expands to fit 10,000 fans with bleachers for more popular games. 
Top places to eat & drink in Gainesville: 
Cilantro's Tacos is a family-owned restaurant that promotes an atmosphere to dine with friends and family. It's best known for serving authentic tacos, burritos, nachos, and quesadillas. 
Satchel's Pizza has become very popular in Gainesville and with Gator fans since its opening in 2003.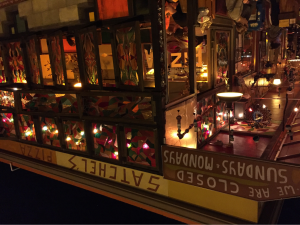 Wait times can get up to over an hour on the weekends, but customers say it's worth it for the deep-dish pizza. Satchel himself may even serve you! 
Ember's Wood Grill is the place for a fine-dining experience in Gainesville, Florida. Serving the finest steaks and seafood in an incomparable atmosphere with an open pit wood-burning grill and outdoor courtyard, it's truly one of the best restaurants in Gainesville. However, customers recommend going to Ember's specifically for their desserts. Their luscious, flame-broiled vanilla custard is a local favorite. 
Newly opened Bangkok Square serves genuine Thai cuisine and sushi in a friendly, fast-paced environment. 
Vanderbilt Commodores (Nashville, TN)
Nashville originally drew attention as the birthplace of country music. However, tourists from all over the world come now to listen to live music in the honky tonks on Broadway, stay at boutique hotels, and experience good eats. All year long, Nashville is a buzzing city, and Vanderbilt Baseball only amplifies the attraction.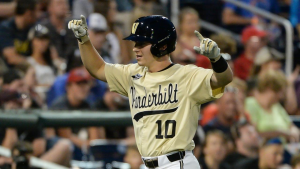 Over the past two decades, the Commodores have built up a very successful college baseball program. The teams has made several College World Series tournaments (including 2 National Champshipships!) and have had 19 first-round picks in the Major League Baseball draft. Vanderbilt baseball is coached by three-time National Coach of the Year and three-time SEC Coach of the Year, Tim Corbin. Its modern stadium comfortably holds more than 3,700 – and diehard Vandy fans come to watch the "Vandy Boys" play ball in this beautiful on-campus field, Hawkins Field – which is located in the heart of Nashville. 
Best places to eat & drink in Nashville:
Students will likely recommend McGavick Street to people in town for the weekend. McGavick Street, better known as "M" Street, is a lively little area where people can grab a bite to eat or get a nice cocktail. "M" Street is just one of many popular areas of town to hang out in for Vanderbilt students and visitors. 
In addition, here are a few additional great dining and nightlife options:
Whiskey Kitchen, in Marathon Village, inside the Gulch neighborhood, offers a wide variety of food and drinks, mixing bar-food favorites and southern classics.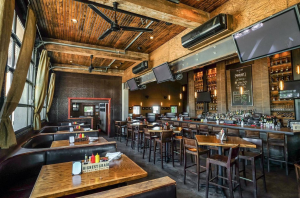 Join the Whiskey Kitchen for a 2-for-1 Tuesday or Half Price Happy Hour 5-6 pm Tuesday through Friday. 
Moto is recognized as a modern, industrial-chic Italian restaurant with quality food, a fun atmosphere, and good cocktails. 
Adele's is a farm-to-table restaurant inside a renovated industrial building in the heart of the Gulch neighborhood. It offers locally-grown food and drinks for dinner every night of the week, but they're famous for its weekend brunch.  
Virginia Cavaliers (Charlottesville, VA)
Led by coach Brian O'Connor, who has received two National Coach of the Year awards, the Cavaliers baseball team has won over 80 percent of their home games since 2004 – including the National Championship in 2015. Disharoon Field, the UVA baseball stadium, holds 5,074 people and is the fourth largest stadium in the ACC conference … and a lot of credit is given to the dedicated fans who help create one of the best home-field advantages in all of college baseball. Virginia Baseball has attracted over 100,000 fans in the last eight seasons and has ranked in the top twenty nationally in attendance in each of those years.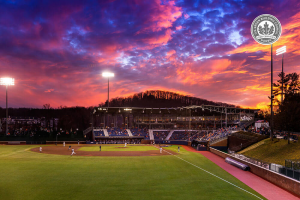 Charlottesville is known for its great weather and fun atmosphere. The Corner and Downtown Mall are the center for great college town restaurants and nightlife while visiting Charlottesville, Virginia. 
Top places to eat & drink in Charlottesville: 
Marco & Luca Dumplings on the Corner
Marco & Luca Dumplings on the Corner is a cheap eatery with a special late-night service that attracts college students. Visiting Marco & Luca's will ensure you friendly service and delicious dumplings. 
Buy it by the slice, buy the whole pie, get it delivered, or dine in. Christian's pizza attracts customers all hours of the night because of its unique pizzas, like an avocado-topped pie. 
Bodo's is an original Charlottesville staple. Customers even say that a Bodo's Bagel is the number one thing they miss upon moving away from Charlottesville – and is a must-stop for visiting alumni or Wahoo fans.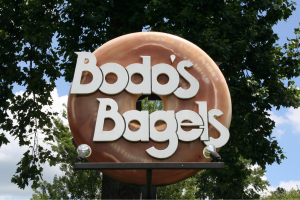 Arizona State Sun Devils (Tempe, AZ)
ASU has the second most alumni to play in the MLB, including the iconic Reggie Jackson. The Sun Devils Baseball team leads the Pac-12 in winning percentage at .681, and has been nationally ranked at some point during every season since they were established in 1959 (27 times in the top 10). 
Not only do the Arizona State Sun Devils bring talent on the field, but they bring the aesthetic too. Phoenix Municipal Stadium is known for its one-of-a-kind view of the Papago Mountains. And coupled with nearby Scottsdale and Phoenix, Tempe knows how to throw a good party.
Top places to eat & drink in Tempe: 
Inside the Hilton Hotel, Alter Ego provides an upscale yet casual dining experience with a menu featuring modern American dishes.
Bringing the Southwest vibe to Tempe, Ghost Ranch is best known for its "larger-than-life" taco platters.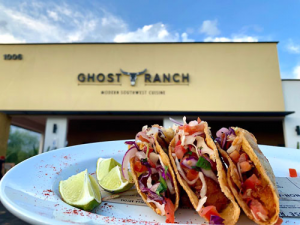 Two cousins and best friends started Artichoke's Basille Pizza in New York City in 2008. Since then, it has expanded to include a location in Tempe. This pizzeria has even been featured on the Tonight Show, The Rachael Ray Show, and Late Night with Seth Meyers. 
Oregon State Beavers (Corvallis, OR)
Goss Stadium at Coleman Field, the Oregon State baseball stadium, is the oldest continuous ballpark in the nation. The stadium seats roughly 3,300 and has a cozy atmosphere for some of college baseball's most dedicated and rabid fans.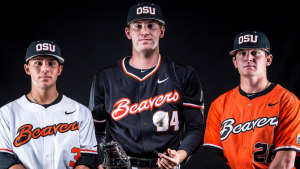 Oregon State baseball won 2006, 2007, and 2018 College World Series and became the most-winning program in the Super Regionals era. 
Best places to eat & drink in Corvallis:
Corvallis, Oregon is a relatively small college town with a population of 59,407 … but with its beauty and high energy college town environment, it is a crown jewel in the state of Oregon. Corvallis residents enjoy many quaint restaurants, coffee shops, and beautiful parks. Additionally, locals are fanatic supporters of the Beavers and Beaver baseball specifically. 
American Dream Pizza provides fast and friendly service of yummy pizza to the Oregon State area through two locations, one downtown and one closer to the campus. This pizzeria even offers delivery of the entire menu – including beer and cocktails through the Campus Dream. 
Bellhop is a locally-owned restaurant that prides itself on serving various locally-sourced foods like fresh salads and house-made pasta.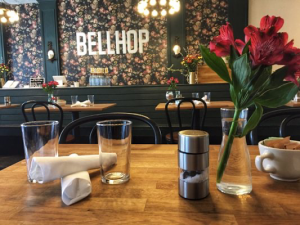 Del Alma is an upscale Latin American restaurant in downtown Corvallis. Frequenters love the fine-dining experience it provides. Del Alma means "from the soul," and the Del Alma staff strives to provide a customer experience from the soul.  
UCLA Bruins (Los Angeles, CA)
UCLA, spanning 419 acres across the Westwood neighborhood in Los Angeles, California, actually started as an extension of the UC Berkeley campus. It only became an independent university in 1951. However, since then, UCLA has blossomed into a highly-rated public university, attracting the most applicants of any school in the nation, with 174,914 applications for the Fall 2022 semester. The school is highly competitive and known for its academic and athletic excellence.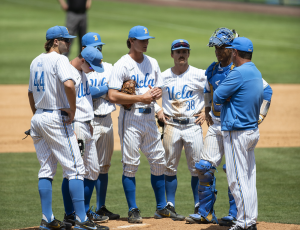 The Bruins baseball team is one to keep your eye out for – playing in Jackie Robinson Stadium. The Bruins baseball program has participated in five College World Series tournaments and won the 2013 National Championship.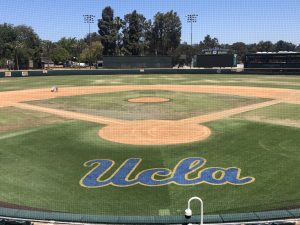 Southern California is a no-doubt a lively area, with so much to do, especially if you're a sports fan!  Go hit a Dodgers game right after you cheer on the Bruins baseball team at Jackie Robinson Stadium.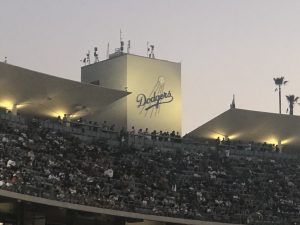 Fun Fact: The Internet started at UCLA. 
Top places to eat & drink in Los Angeles:
Broxton Brewery is the Westwood community's local beer spot. Their mission is to bring the community together through food and beer … and they do a great job! 😉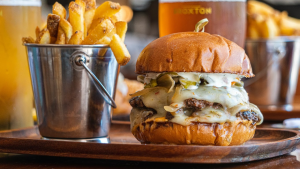 Fellow is a high-end, local gem perfect for a date night. Right next door to a Westwood art gallery, the ambiance is unmatched. 
Gushi is a basic walk-up order window and outdoor seating only. They specialize in Seoul-style BBQ, teriyaki, and sushi. People say you can smell the deliciousness from a mile away. 
Texas Longhorns (Austin, TX)
The Texas Longhorns in Austin, Texas, hold the title of highest win percentage of any DI school in the NCAA, second highest in all-time wins (3,452), and the record for the most College World Series Appearances (35).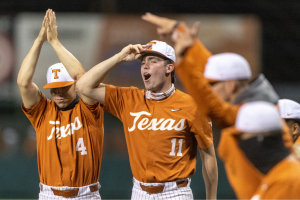 The Longhorns are full of traditions and honor alums in many ways, including the stadium name, which is named after former coaches Billy Disch and Bibb Falk. The Longhorn baseball stadium, UFCU Disch–Falk Field opened in 1975 and holds about 7,000 fans; however, the matchup against the Texas Rangers on April 5, 1977, housed about 10,000 fans, some even standing on the roped-off warning track in the outfield. The University of Texas- Austin is sure to provide you with a weekend trip between the electric sports games and the happening nightlife on 6th street.
Fun fact: Texas holds the record for the longest game played in collegiate baseball history: A 25-inning game against Boston College that lasted over seven hours. 
Best places to eat & drink in Austin:
Serving "genuine Detroit-Style Pizza," Via 313 is recognized by its rectangular shape pizza and sauce over the top. Via 313 Pizza can be found at their physical store locations or from one of their custom pizza trailers. 
Hopfields is a gastropub, which is a pub that specializes in its high-quality food, near the UT Austin campus. They serve french-inspired dishes and have over 40 craft beers to choose from.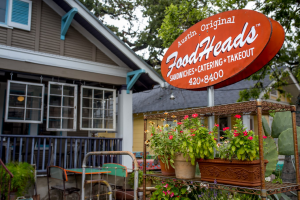 Foodheads is a local cafe most notable for its lunchtime sandwiches. They keep their menu up with seasonal changes, and you can enjoy the Texas weather with their outdoor yard seating. 
LSU Tigers (Baton Rouge, LA)
Entering Alex Box Stadium may even be more frightening than LSU's live mascot, Mike the Tiger. LSU's Alex Box Stadium provides a fantastic college baseball setting. Like any other team, the Louisiana State University Tigers have had up-and-down seasons, but the fans have never pulled back on the reins of dedication. For 24 straight years, LSU has led the nation in attendance for college baseball. Alex Box Stadium has a capacity of over 10,000 people. LSU has had a stadium revamp throughout the years, but the fans definitely followed suit. College Baseball Central states, "while a lot of stadiums on the list will fluctuate in their ranking, Alex Box will forever be a top 5 stadium in college baseball."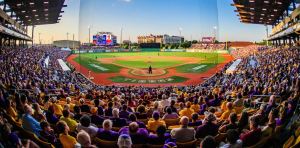 Located in Baton Rouge, LSU baseball is also rich in traditions and history that boil over into the college atmosphere. All season long, locals fill up on Cajun food and creole. Some tailgate favorites include shrimp and grits, jambalaya, and Muffuletta sandwiches. Zydeco, Blues, and Cajun music fill the streets, and African American, French, and Spanish cultures run freely. Baton Rouge is the center of excitement in Louisiana with the mix of its history, culture, and youthful college life. A weekend in Baton Rouge will be nothing short of unforgettable. 
Fun Fact: LSU is the only school with a player drafted number 1 in football, men's and women's basketball, and baseball. 
Best places to eat & drink in Baton Rouge:
The Gregory is found inside the luxury Watermark Hotel, formerly the Bank of Louisiana. Enjoy modern, Southern dishes in style surrounded by artwork painted by the brilliant artist Angela Gregory, whom the restaurant is named after. 
The Chimes is the place to be on gameday at LSU. A buzzing, upbeat environment mixed with a delicious menu featuring South Louisiana cuisine, seafood dishes, and Cajun & Creole favorites makes it the perfect place to celebrate a Tiger win. And you can get an amazing view of the Baton Rouge area from their rooftop patio.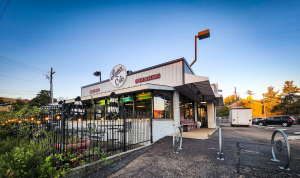 Louie's Cafe is a proper Baton Rouge and LSU staple and tradition you must experience during a weekend in Baton Rouge. It is open 24/7 and serves breakfast, lunch, and dinner; known for its Southern comfort food. Hopefully, you will leave full and happy with a t-shirt to remember your experience. 
South Carolina Gamecocks (Columbia, SC)
After building a brand new baseball stadium in 2009, it is no surprise the Gamecocks baseball team quickly found success, making it into the College World Series three years in a row (2010, 2011, and 2012). Coincidence? I think not.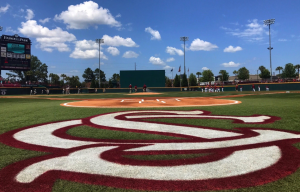 Founders Park, previously known as Carolina Stadium, is a gorgeous field on the banks of the Congaree River—the $35 million stadium seats more than 8,000 Gamecock fans. The fans love the Gamecocks' fight and drive to succeed. Many players have come and left since the glory days after the grand opening of Founders Park, but the Fightin' Gamecock spirit has never dropped. The Gamecocks have 11 College World Series appearances under their belts. They're a talented team. You can be sure that they won't go down without a fight. 
Fun Fact: There are mountains and Carolina beaches are both within 2 hours distance of the USC campus. 
Best places to eat & drink in Columbia:
Best known for their "Hangover Hashbrowns," Cafe Strudel is the place for all-day breakfast and dessert in Columbia.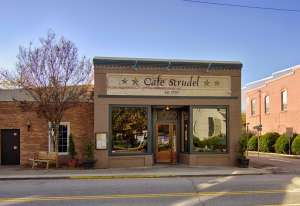 The Columbia locals love DiPrato's Southern take on New York Italian-style deli offering, but what keeps them coming back time and time again is the exceptional, fresh, and creamy pimento cheese, served as a dip or spread on top of a bacon-cheeseburger. 
Many USC students love Village Idiot Pizza. It is the classic, homey pizza parlor for college students. Their menu even tributes the students: "The Freshman Fifteen." The Freshman Fifteen pizza is topped with pepperoni, extra cheese, and two sides of ranch. The recipe for an addictive pizza. The menu says, "two a week, and you'll be there by winter break!" 
Visit College Weekends for more guides to your next weekend at one of these top college baseball destinations!