We love a good burger spot, and we are sure you do too! CollegeWeekends.com takes you on a tour across the country to nominate our Top 10 College Town Burger Spots.  These spots are enticing in many ways and range from over-the-top condiments to your simple everyday burger. Burgers are an American staple in every city, but these spots will have you wishing you could go on a cross-country road trip to try them out. If you are a local to any of these locations or are just in town visiting for the big game, these spots are sure to quench any cravings you may have before the game!
Let the count down begin with Number 10
(Michigan State)
Crunchy's is located in East Lansing, Michigan, and is known for its "Famous Crunchy Burger". This burger includes a juicy half-pound chargrilled burger served on a brioche bun with lettuce, tomato, onion, pickles, and American cheese. You can also enjoy some karaoke or relax and watch the big game on a multitude of TVs. Crunchy's thrives on being a gathering place for Spartan fans, friends, neighbors, students, and locals of all ages.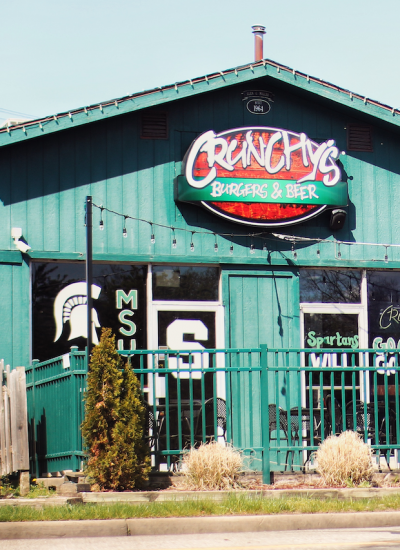 Moving on to Number 9
(Ohio State)
On our stop to Buckeye nation, we found Thurman Cafe … a must stop for burger fans while visiting Columbus, Ohio. At Thurman Cafe, we recommend you order their specialty: The Thurmanator, which even though it is priced at $25 … it is so worth it! Let us set the scene: bottom bun, topped with mayo, lettuce, tomato, pickle, banana peppers, 12-ounce burger, bacon, cheddar, another 12-ounce burger, sautéed onions & mushrooms, ham, mozzarella & American cheese, top bun served with fries and a pickle spear. Buckeye fans come to Thurman Cafe to kick back and order giant burgers while relaxing in its rustic lounge.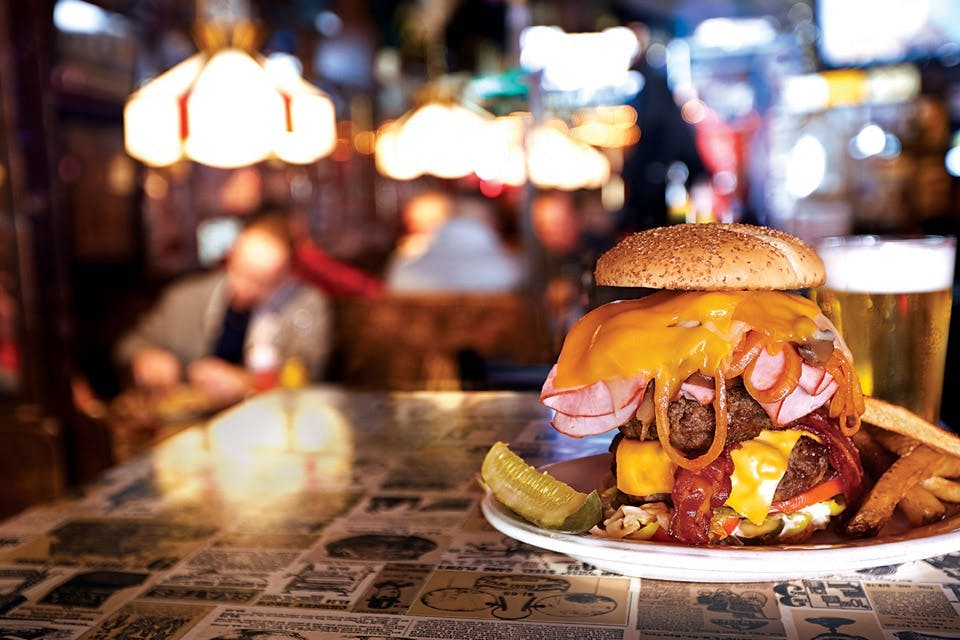 Next up is Number 8
(Colorado State)
Heading out West to Fort Collins, Colorado, Stuft Burger Bar, which has a build-your-own burger approach, is a burger lover bucket list must. At Stuft, the customer designs their burger by choosing any combination of bun, meat, cheese, and toppings which makes it perfect for picky eaters. The menu also offers some pre-made burgers and an assortment of sides and amazing shakes. This burger joint prides itself on being a place for Colorado State fans to feel at home while cheering on their Rams.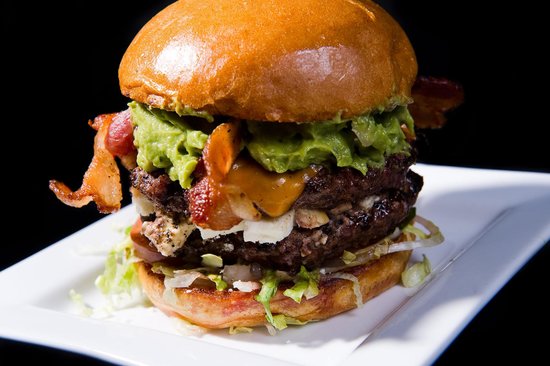 Here is Number 7
(University of Georgia)
If you're looking for a vegan burger, Clocked in Athens, Georgia, is the place to be. They put a spin on the classic American diner recipes and proudly use organic, local, and natural ingredients, free of chemical fertilizers, antibiotics, growth hormones, synthetic herbicides and pesticides, ammonia, and other additives. The town favorite here is their Roasted Garlic Cheeseburger made with provolone cheese and garlic-dijon mayonnaise which is to die for!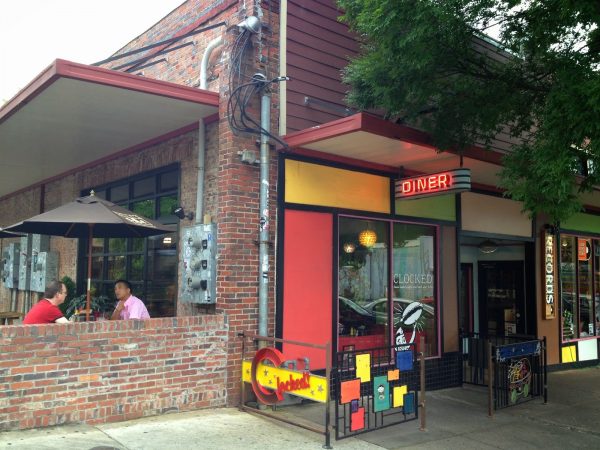 "WANTED" for serving the best burgers in town is Number 6
(University of Arizona)
The Chuckbox in Tempe, Arizona, has been serving award-winning burgers since 1972 and will not quit now. They cook their burgers over an open mesquite fire using only the freshest ingredients available. This College Town recommends the Guacamole and Bacon Burger, which has their famous ⅓ pound mesquite broiled hamburgers topped with bacon and spicy guacamole totaling $8. Go enjoy a "big one" today!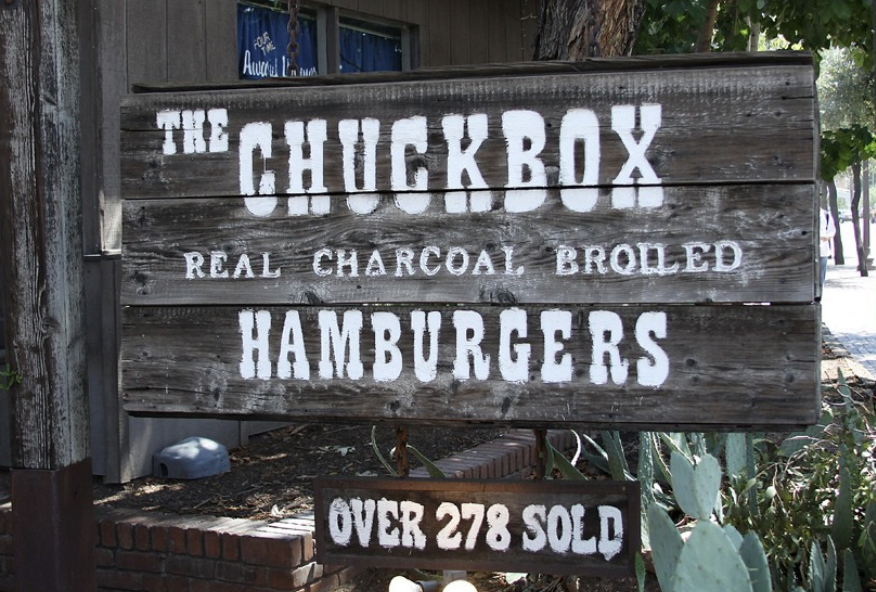 Halfway there is Number 5
(University of Illinois)
Farren's Pub and Eatery, located in Urbana-Champaign, Illinois, is home to the University of Illinois. It is tucked away, and only the locals know of their delicious burgers with thick patties and interesting toppings that will satisfy all burger cravings you can dream of. Be sure to check out the Russell Burger totaling $12, which is loaded with sauteed mushrooms, bacon, blue cheese sauce & pepper jack cheese, and do not forget to ask for the house cut fries or fresh cut potato chips. While you are there!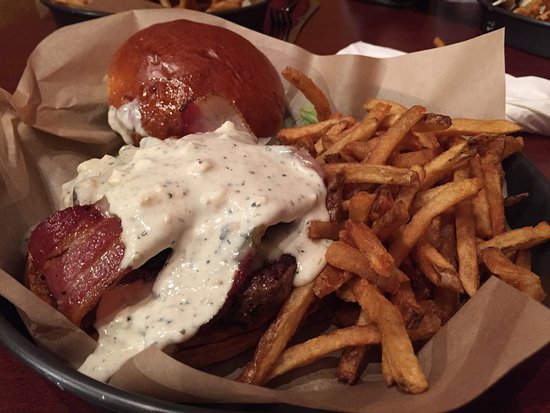 Bringing us to Number 4
(Columbia University)
Although not quite located in a traditional college town, we simply can not forget Mel's Burger Bar, located in New York, New York, near Columbia University. The late-night crowd full of students and faculty is what keeps this restaurant humming late in to the night. The local favorite here is the "French onion" which is loaded with tons of burgers, creamy horseradish, swiss, caramelized onions, and they make sure to give you au jus to dip. Despite being in the big city, this burger joint is truly the perfect neighborhood spot with a lively atmosphere, great food and good company.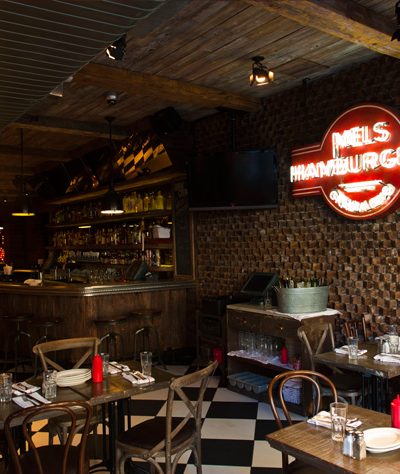 Almost there at Number 3
(University of Kansas)
When you think of the Midewest … you can't help but think of great burgers. The Burger Stand, in Lawrence, Kansas, does not disappoint! This chic restaurant featured at College Hill near the University of Kansas has not only great burgers but a back dining area referred to as "The Pong Bar" that offers Ping Pong Tables, Pool Tables, and more for an engaging environment. While hanging out with your friends, you might want to try their famous Barnyard Bash: fried chicken breast, fresh avocado, Applewood smoked bacon, swiss cheese, spicy honey mustard BBQ sauce, and assorted seasonal greens. You can also ask for the locals' favorite … duck-fat fries or their bacon cheddar cheese fries to go with the meal.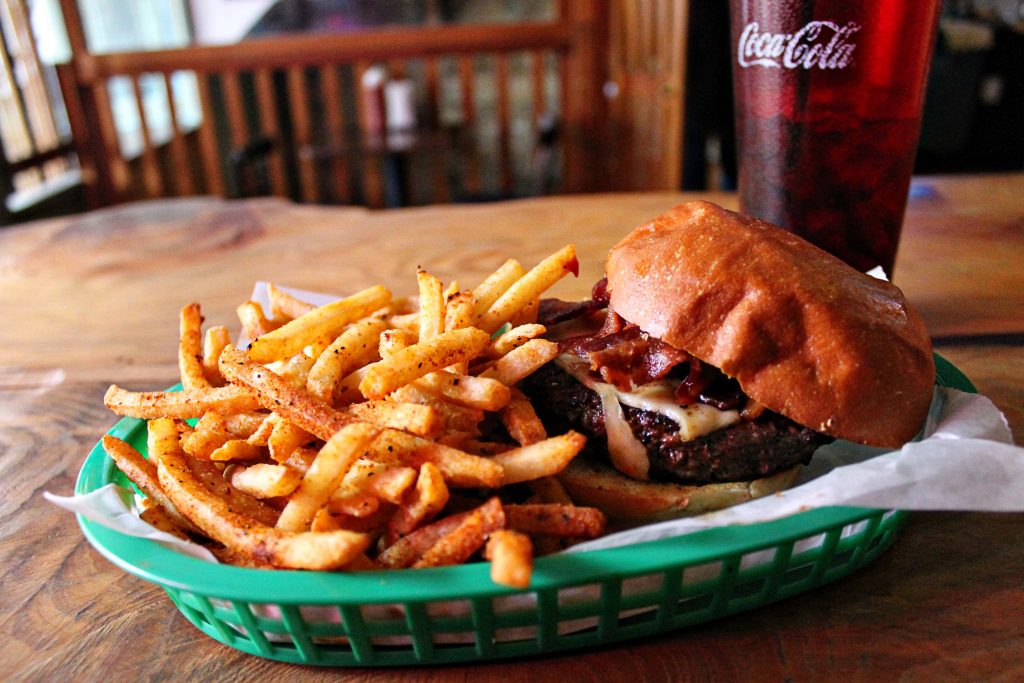 Moving on to Number 2
(University of Iowa)
Short's Burgers and Shine, located in Iowa City, Iowa, is near the top of this list and is known for its ability to appreciate a global palette. This college town and Hawkeye fan favorite is the Jamaican, which allows you to take a trip to the Caribbean with the jerk-spice, mango jalapeno salsa, pepper jack on top of the juicy burger. If you are 21 years or older, make sure to check out Short's signature cocktails with its Short's Whiskey, distilled from Bourbon Mash, Aged with Iowa Burr Oak staves!  
What we have all been waiting for, Number 1
(University of Colorado)
Not only is The Sink the best burger joint in Boulder, Colorado … it is at the top of our list of amazing college town burger joints! The Sink is well known for not just its burgers but its funky artwork and graphic ceilings to spice up the atmosphere. It is a popular stop on a 21st birthday bar crawl with their signature shot, "the Sink Shot," which contains anything the bartender wants you to drink, which may or may not include: rum, tequila, ranch, tabasco, Worcestershire sauce, etc. More importantly, the Sink tops our list due to its hot commodity, The Sink Burger, as well as its mouthwatering Big Bad Wolf containing a burger piled with bacon, house-smoked brisket, provolone cheese, and their world-famous Sink sauce that has been a staple for CU Buff fans since 1923! Hungry yet?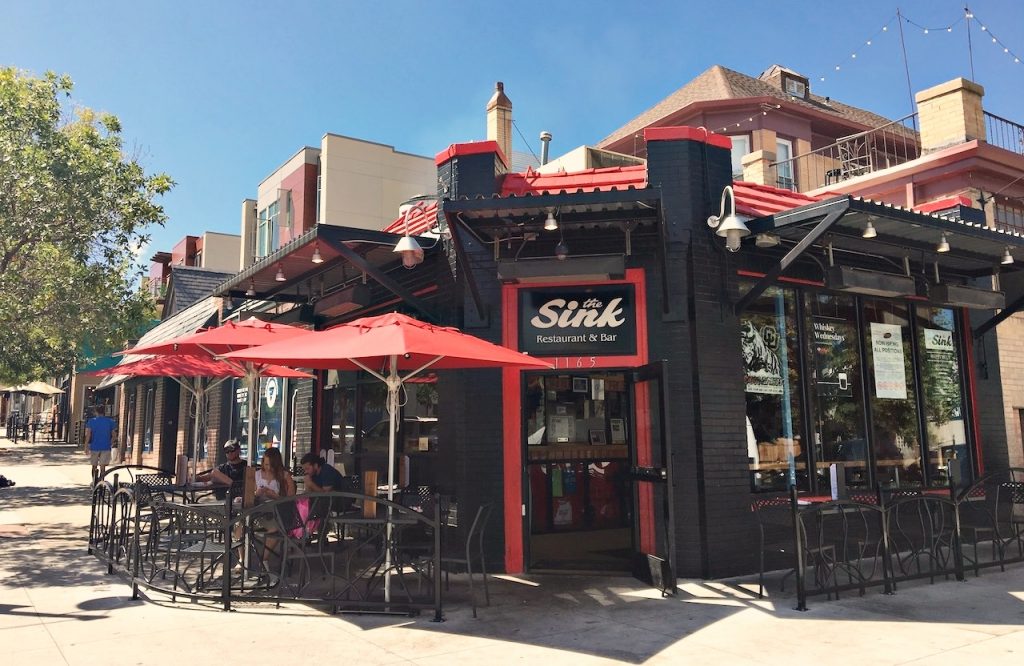 CollegeWeekends is always up to debate 🙂 … but if you are a burger lover, you simply can't go wrong with these ten burger spots. Whether you are heading off to college, on a road trip, or just simply visiting one of these great college towns … you will definitely want to make a pit stop and try these great college town burger joints!