Any sports fan and college student knows the excitement they feel while visiting their university. Whether its going to the big game or simply getting away for a few days to enjoy fun activities around your favorite college – visiting college towns can be the perfect vacation. CollegeWeekends takes you on a weekend tour of Athens, Georgia to check out all of the great things to see and do around the University of Georgia.
The University of Georgia is a public university located in the heart of Athens, Georgia. It is known as the "Classic City" and is about 70 miles east of Atlanta and conveniently located across downtown Athens. University of Georgia is a school known for its College of Education, Business School and Law School.
Students as well as visitors to Athens can easily walk around campus to explore all it has to offer. From the athletic facilities to the library and dining hall, Athens is home to art galleries, trendy shops, and great diners. The Georgia Bulldogs sports teams are also some of the best in the nation and compete in the highly competitive SEC.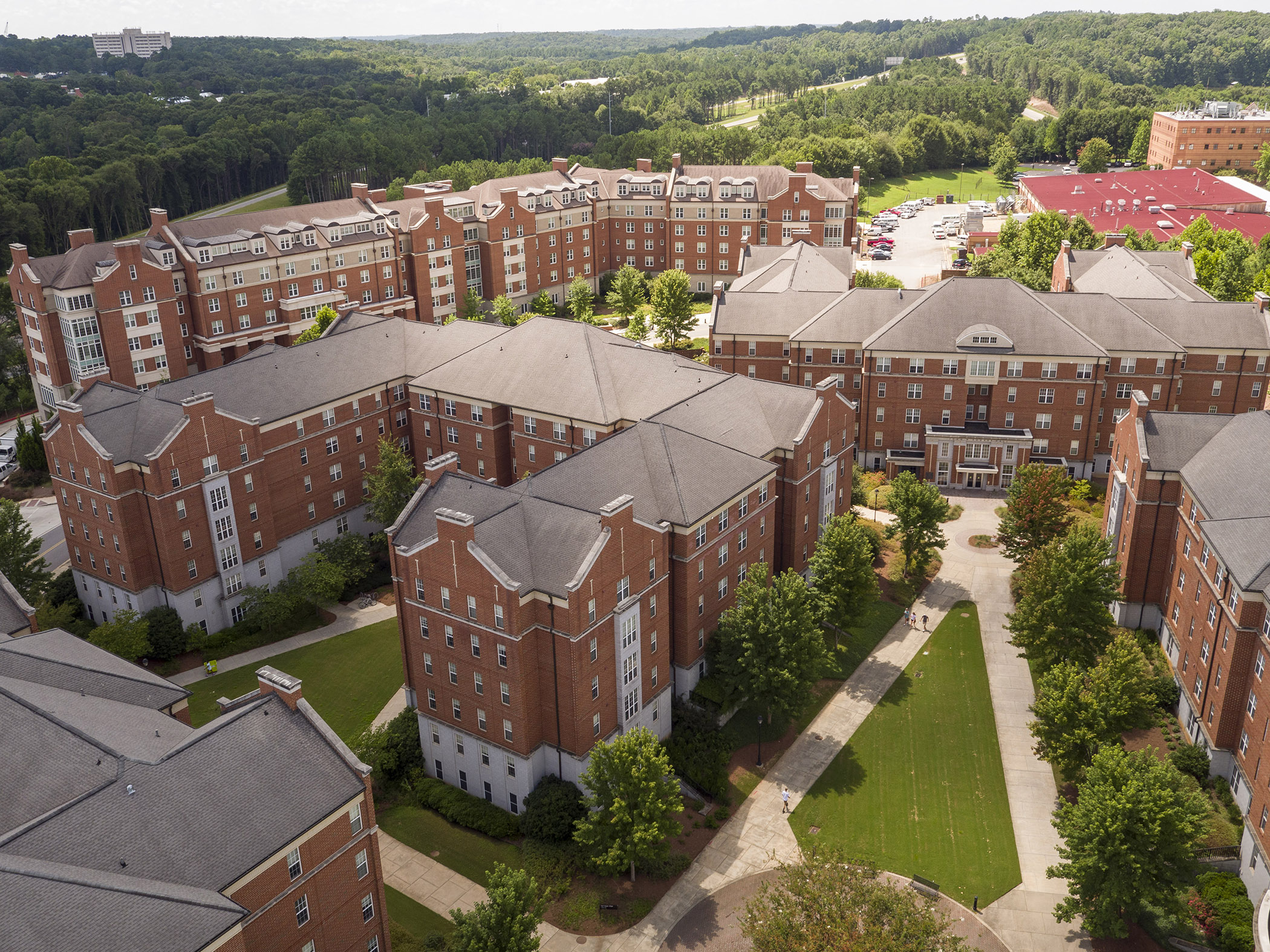 UGA Football
UGA football began over 100 years ago and has played over 1,300 games. Game day weekends in Athens are a whole other level of crazy, fun, and excitement. Get down to Athens on Friday night and enjoy the exciting environment, grab some dinner and experience all the great things located near downtown – including live music!
Saturday you have to wake up bright and early so make sure to set your alarm, pack up the car and get ready to tailgate. UGA tailgates often include cornhole, great Southern food and lots of energy! Make sure to walk over to the stadium 2 hours before game time, however, to watch the Bulldogs walk out onto the field for warm ups – and enjoy the game!  The fun doesn't stop when the game is over, however, and win or lose … fans go back to their tailgating hub or head over to one of the great Athens college bars.
You won't want to be in a hurry to leave … Sunday morning is a great opportunity to grab some breakfast or brunch at a number of great breakfast spots in Athens.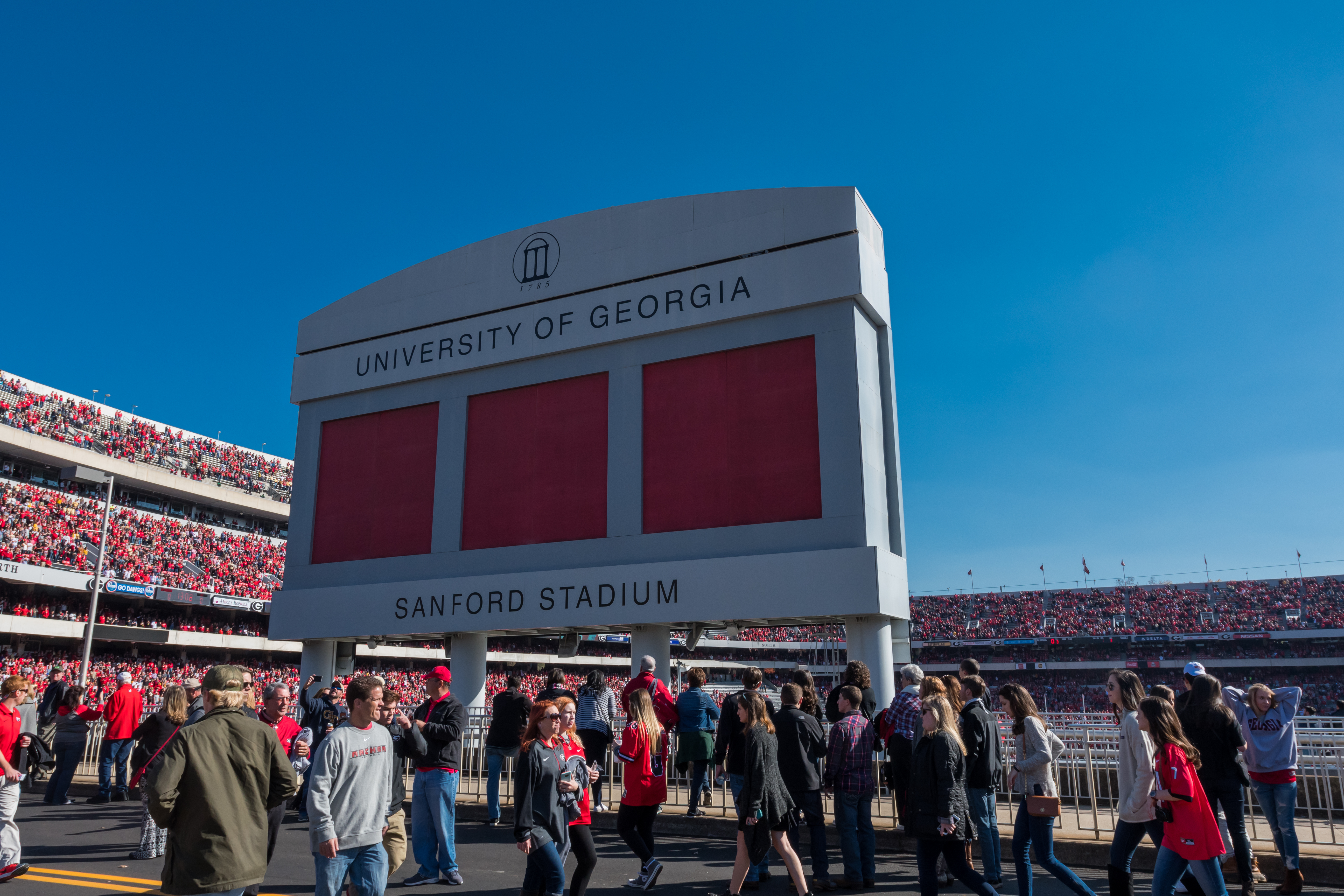 UGA The Mascot
"Uga" is the mascot for the Georgia football team – with the name coming from the abbreviation of the university. William Young of Columbia gave him that name and it has stuck. Uga is a pure white English bulldog and is one of the nation's most well-known mascots.
Over the years, Uga has been wearing a spiked collar and it has become very relevant recently – as it is a symbol of the position which he holds.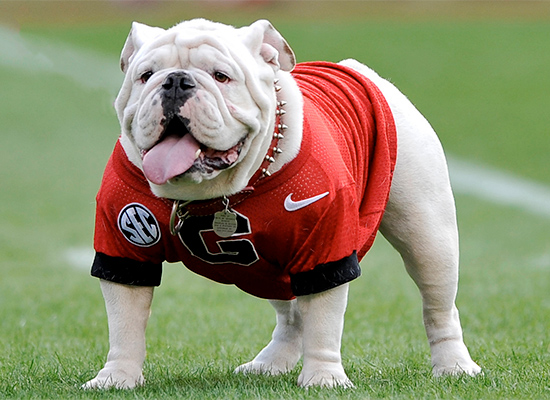 One interesting fact is that over the years, the University of Georgia is the only major college that buries each mascot that passes away within the area of the stadium. On the bright side, each Uga mascot gets a varsity letter which is in the form of a plaque. It is exactly like the ones a Bulldog athlete would receive for their sport.
For the past 20 years, Uga wears a jersey on game day, and it is made from the same material a players jersey is made of and he gets a brand new jersey at the beginning of each season. Uga has a home he stays in during the games and that is air conditioned (it's hot in the South!) and located near the cheerleaders' platform.
Food Options On Campus
There are a quite few great food options on campus for students and visitors to eat from. One is called The Georgia Center. At The Georgia Center there is a variety of options to choose from like casual dining to coffee and even table service in the quiet area of the Savannah room.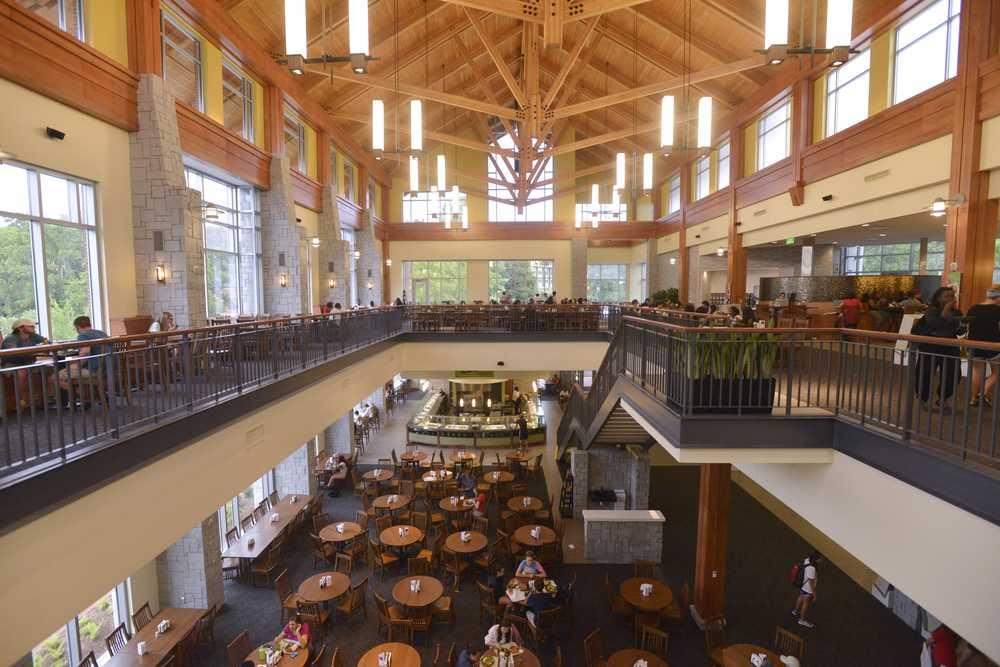 One of the more popular places to grab a bite to eat is at Campus Eateries. This is located at the Tate Center on campus and offers a great diversity of food. They have pizza, coffee, Asian cuisine, burgers, and so much more. Even better, if you want something a little more sweet, try the UGA Creamery. It has been a campus favorite forever!
Normaltown
Normaltown is located near the campus and is a one stop shopping area with a grocery store, restaurants, bars, laundromats, shops, bakery, and so much more. It was a very convenient place for students to visit.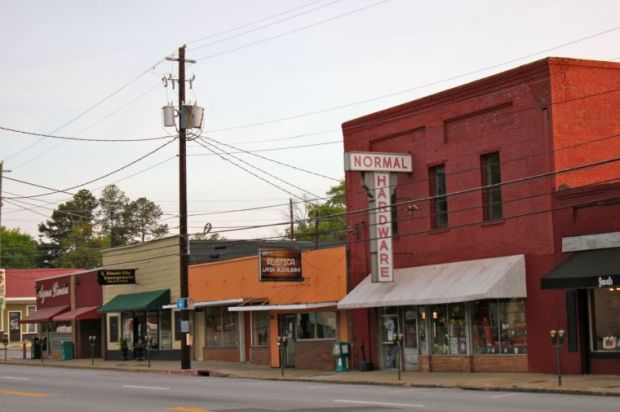 Shopping
Athens also has great shopping everywhere you look. From malls to boutiques and vintage stores.
All these stores have so much to offer and include great game day apparel. For some women who would rather shop than watch a football game, this is the place for you! While your husband or friends watch the game, you can spend the day shopping at some of these amazing stores and boutiques.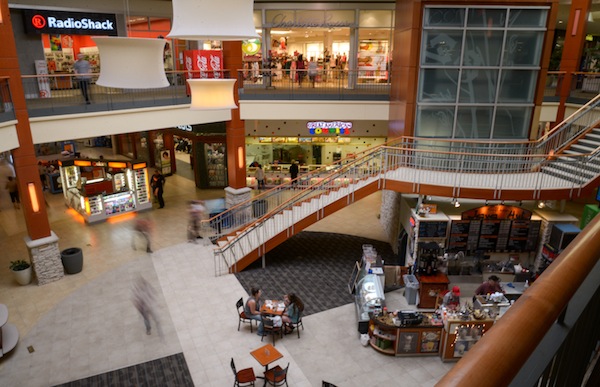 Restaurants And Bars
Athens, Georgia is known for its amazing bars and restaurants. Terrapin Beer Company is a very well known brewery in Athens. Most of their beer is sold to local restaurants. They also offer tours and tastings at the brewery. Last Resort Grill is a great option for Southwestern cuisine. Trappeze Pub is a great place for good bar food – and they are known for their finger food like boiled peanuts, sweet potato fries, and gourmet popcorn.
Georgia Museum Of Art
The Georgia Museum of Art is a part of the university but is also an official state museum. It is located on the Eastern Campus of UGA. It opened in 1948 and is the Performing and Visual Arts Complex. There are tours, private events, and shops to check out. Another great thing about this museum being a part of the university is that they offer internships and educational programs.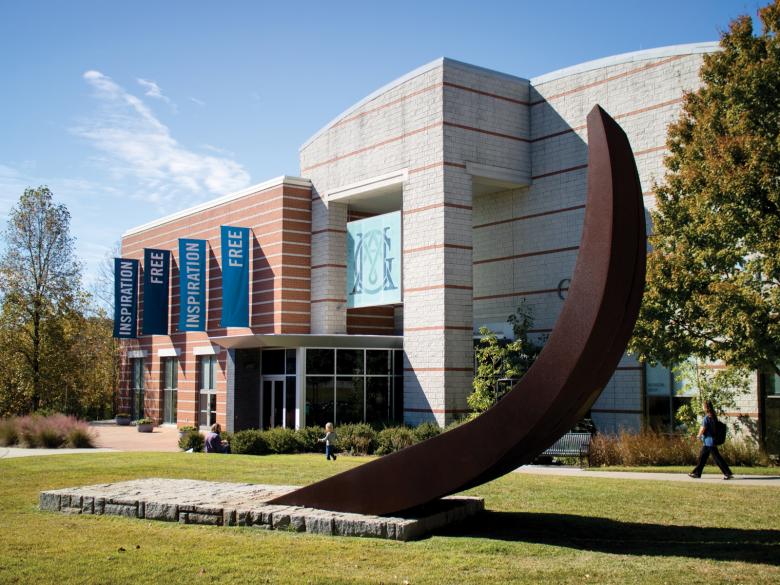 Bear Hollow Zoo
Bear Hollow Zoo is open daily and has been helping animals for years. There are many amazing things Bear Hollow has to offer besides seeing the beautiful animals. You can adopt-an-animal which means you purchase one of the four levels they have to offer and you receive packages, with the animal of your choice, of items and pictures. They also host birthday parties and offer volunteering. It is definitely worth checking out when visiting Athens.
State Botanical Garden Of Georgia
There are a few things the Botanical Garden has to offer:
Science and Conservation- Enhancing regional biodiversity
Education- Program for all ages
Gardens and Collection- Explore all the garden has to offer
Plan Your Event- Celebrate the garden
Parks And Recreation
Looking to enjoy outdoor activities in and around Athens?  Here are a few great outdoor options for the whole family to enjoy:
Walker Park: There are splash ponds that children can play in on hot summer days. There are over 5 miles of constructed bicycle trails and different levels for new riders and advanced riders. The park features parking, picnic areas, playgrounds, outdoor fitness zone, grill, soccer fields and so much more. You can not go wrong with spending a great sunny day at this park.
Sandy Creek Nature Park: This park features a great diversity of facilities to use. There are picnic sites, wooded trails, sports area, disc golf course, swimming, fishing, etc. There is also a beach for swimming and playing sand games like volleyball.
Oconee Rivers Greenway: This place features wildlife passageways and wetland hiking trails. There are a few trails at this park including an 8 mile concrete trail and 5.1 mile of nature walking trail.