As Spring and baseball season nears and as we continue to remain hopeful about the progress of COVID-19 vaccines and the potential for college towns to reopen for visitors, CollegeWeekends.com will be profiling a number of top college baseball towns in the coming weeks … that are truly bucket list worthy!
First stop is Gainesville, home of the University of Florida Gators baseball program. Not only does the Florida Gators baseball program have a rich history of baseball tradition and successes (winning the title in 2017!) but it also has a brand new stadium.
University of Florida Gators
The University of Florida baseball team epitomizes SEC baseball and is a must stop for any college baseball fan's bucket list. The Gators play their home games in Florida Ballpark in Gainesville, Florida, and are currently led by their highly successful head coach, Kevin O'Sullivan. In the 105-season history of the Florida baseball program, the team has won an astounding 15 SEC championships and has appeared in 12 College World Series tournaments. The Gators also won their first college baseball national championship in 2017!
Gator Chomp
Florida Ballpark at Alfred A. McKethan Field is the home field for the Florida baseball team. The playing surface is named for Florida alumni Alfred A. McKethan and is located on the University of Florida's Gainesville campus. The stadium includes seating for approximately 7,000 fans (expandable to 10,000) without a bad seat in the house. This new ballpark replaced Alfred A. McKethan Stadium at Perry Field after the 2020 season.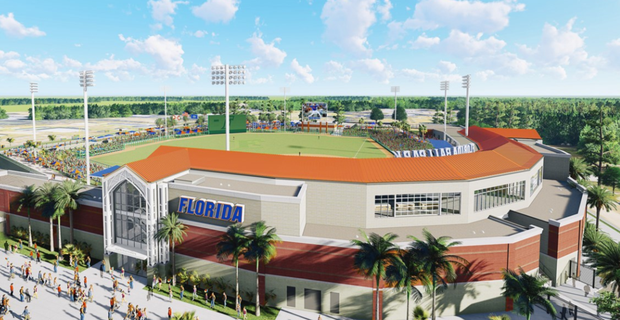 Home plate faces northeast with the sun behind the stadium to provide shade for fans. A 360-degree open concourse allows fans a constant field view of the game and permanent chairback seats accommodate 4,000 spectators, with 700 club seats, berm capacity of over 2,000, and an option to temporarily expand capacity to around 10,000. The new ballpark is adjacent to Pressly Softball Stadium and Dizney Stadium for lacrosse.
Prominent Gators Past & Present
The Gators baseball program has an impressive tradition and long list of athletes who have gone on to play in Major League Baseball and other professional leagues. As of 2015, over 170 UF alumni have been chosen in the Major League Baseball draft and over 60 players have appeared in a Major League game. The first was Lance Richbourg, who made his MLB debut with the Philadelphia Phillies in 1921. Other notable alumni include 1953 American League MVP Al Rosen, 2006 World Series MVP David Eckstein, former Boston Red Sox managing general partner Haywood Sullivan, Pete Alonso, 2019 Homerun Derby Winner & NL Rookie of the Year, Matthew LaPorta, 2008 Olympic bronze medalist, and David Ross, 2x World Series Champion in 2013 & 2016.
Campus Landmarks
While on campus, take the time to enjoy the Historic District of the Gainesville grounds. A good place to start is the 157-foot-tall Century Tower, a moving tribute to UF alumni and students who perished in the World Wars of the 20th century.
One of only four carillon towers in Florida, Century Tower's 61 bells can sing a five-octave range. The carillon sits at the top of 194 steps and weighs an astounding 57,760 pounds. You can enjoy the Tower's rendition of "Florida Chimes" on the quarter-hour from 8 a.m. to 8 p.m.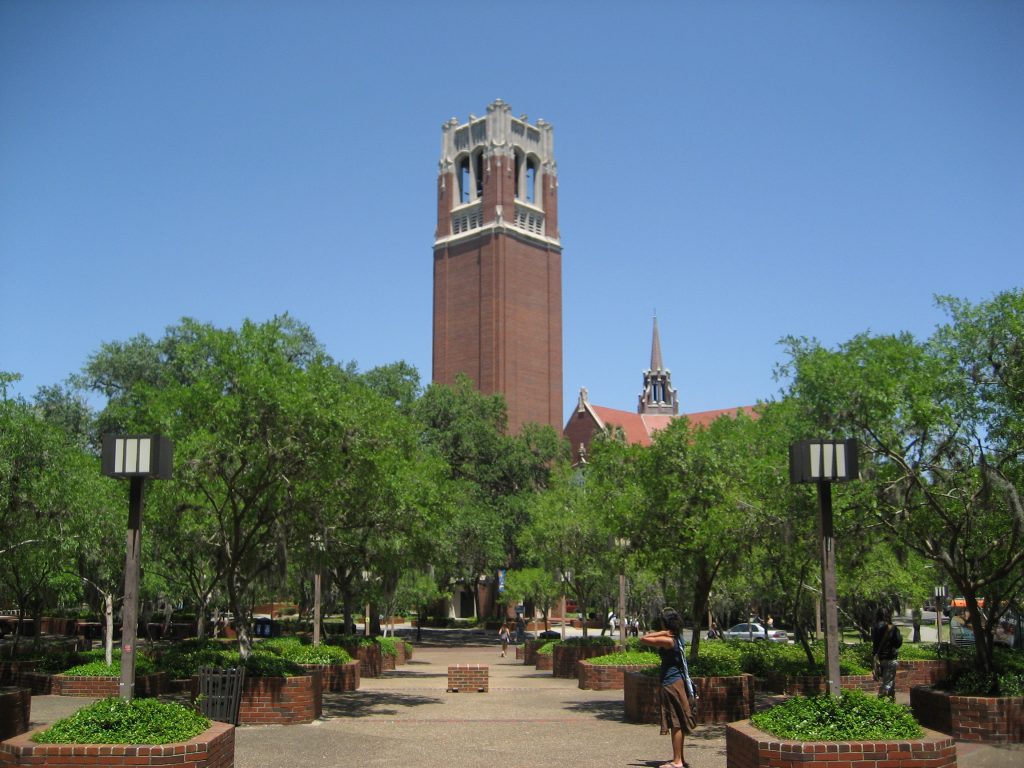 The Samuel P. Harn Museum of Art opened in 1990 on the campus of the University of Florida, this free exhibition features more than 9,000 collections of artworks ranging from African, Asian to modern and contemporary art and photography representing Ancient America. Not only does this attraction contain a diverse selection of exemplary collections and innovative exhibits, but it is also free to the public. There is also a cafe for a lunch break overlooking the beautiful gardens surrounding the museum.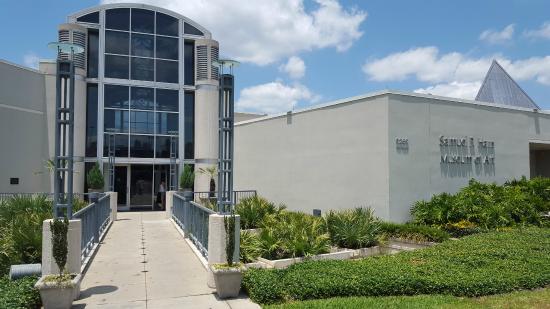 While attending a baseball game, be sure to check out Ben Hill Griffin Stadium, also known as the "Swamp" and home to the University of Florida football team.  This football stadium is one of the most historic in all of the country and is one of the loudest on game days. Adding a Gator football game to your bucket list during the Fall months will be one of the best experiences of your life and surely one to remember.

The Baughman Center located in the heart of the University of Florida campus, this elegant and picturesque setting is built with soaring windows, marble floors and delicate materials which illuminate the peaceful Florida surroundings. Many private events are also held here such as weddings and memorial ceremonies and typically seats around 100 people.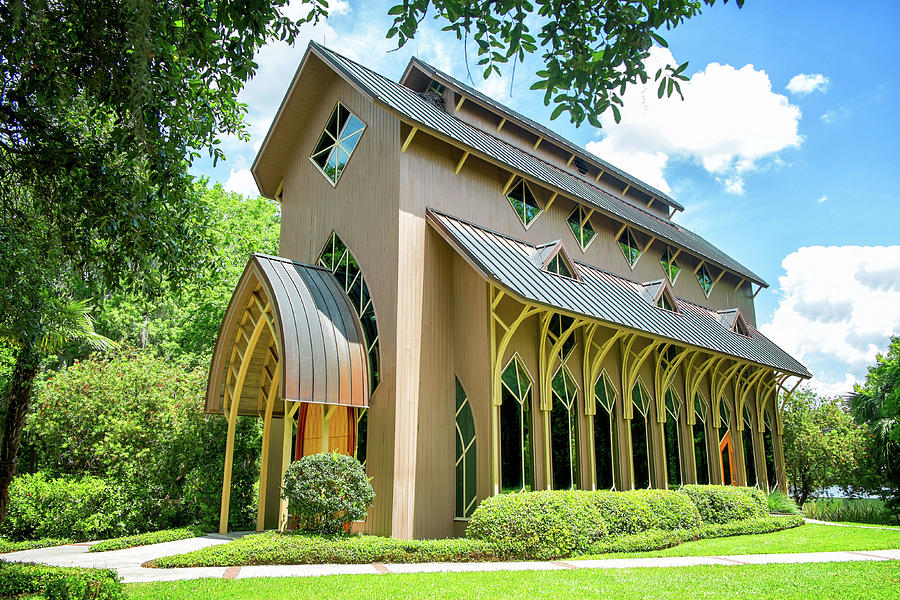 Local Eats & Drinks
After an exciting Gator baseball game and/or touring the sights and monuments on campus, its time to sample the local flavors of the city. If you enjoy finger-lickin' BBQ, good blues music, and a deep selection whiskey bar, then Mojo BBQ is the place for you. Are good ol' fashioned burgers and beer more of your flavor? Loosey's features daily specials on their delicious foods and drink specials and features outside patio dining while enjoying that great Florida weather. Top Hub is a wonderful restaurant that features vegan, vegetarian, as well as traditional dishes, this place makes for an ideal family dine in that features various wines, craft/imported beers, and spirits. 
If you want a sports bar to enjoy a few drinks and get your fill of sports then Gator Den Sports Grill is the place, located inside Best Western, this sports pub features 9 big screens, personalized room service for Best Western patrons, and a endless drink and cocktail menu. Another local favorite, Ballyhoo Grill, specializes in seafood, sushi, steak, as well as a raw bar. Nothing screams panhandle more than authentic, fresh, and local seafood paired with some of the finest wines. Miller's Alehouse boasts freshly prepared dishes, daily lunch and dinner cocktail specials, 75 beer varieties that feature import/craft beers, cocktail pitchers and specialty drinks, let the good times roll!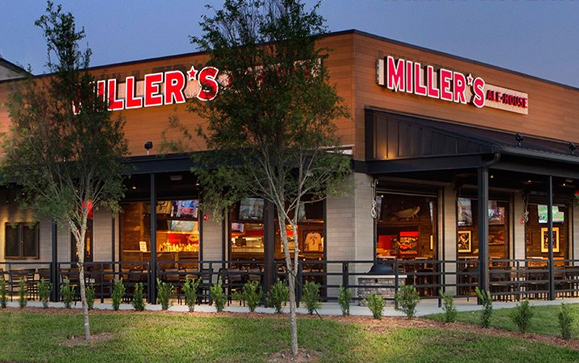 By John Covington, Clemson University, Class of 2021.