As March Madness brings the "madness" (Saint Peters?!) and its bracket-busting upsets and terrific college basketball games, the start of the NCAA college baseball season is also in full bloom!  As part of CollegeWeekends.com's continued "bucket list" series of some of the best college baseball venues and experiences, we travel to Oxford, Mississippi to highlight the Ole Miss baseball team.  And trust us, if you want to enjoy a unique and full college baseball experience – great SEC baseball, Ole Miss, college baseball tailgating at it best and the truly unique Rebel baseball traditions (beer showers!) – a trip to Oxford in the Spring is a must!
About Ole Miss baseball
The Ole Miss baseball team has a deep history dating back to their first game on record in 1893!  Over the last two decades, Ole Miss baseball has been a perennial contender in the baseball-tough Southeastern Conference as well as on the national stage.  The Rebels have captured four Southeastern Conference Western Division titles, the last in 2018, and won seven Southeastern Conference championships and have made the NCAA Tournament 23 times. They have also advanced to the College World Series in Omaha, Nebraska five times, most recently in 2014.
This year, the Rebels have another challenging but exciting conference schedule including a home series against Mississippi state, who is the defending College World Series Champion. The Rebels are also set to renew two heated in-state rivalries (that they were not able to play over the past two years due to COVID), including Southern Miss, and as noted, Mississippi State … which will be a battle for the Governor's Cup in Pearl!
The Rebels play at Oxford-University Stadium/Swayze Field, which seats over 10,000 spectators and has an electric student section (see below!).  For more information on Ole Miss's 2022 baseball schedule, click here.

Photo cred: Joshua McCoy (Ole Miss Athletics)
Tradition of success, tailgating and beer showers
The Rebels have a tremendous history of success and producing next level talent.  Under current Head Coach, Mike Bianco, who is in his 20th year at Ole Miss … the Rebels have produced 52 All-SEC selections and 17 All-Americans, including the program's first three-time All-America selection in Stephen Head. Ole Miss has also produced 114 draft picks in 19 seasons under Bianco.
Ole Miss has one of  the best college baseball atmospheres in the country that includes a truly unique tradition "beer showers".  The student section is behind the right field fence (although all are welcome), and typically hosts one of the best tailgate environments in all of college baseball.  Let the beverages fly … the "beer showers" (although it doesn't have to be beer!) occur when an Ole Miss player hits a home run and is one of the most unique traditions in all of college sports.

5 local restaurants to explore when in Oxford
Hungry during your trip to Oxford?  The Oxford area has a great variety of local restaurants that include a mix of great American and Southern food and also a hint of Spanish influence! 

5 fun activities to explore when in Oxford 
If you are visiting with the whole family, there are a lot of historic monuments and museums around the Oxford area. You can attend any of these museums on a day before you leave, or even before you are going to attend a baseball game. We also listed some parks with great scenery. If you enjoy hiking, or even just a stroll through the park, some of the locations below are great spots to enjoy all that Ole Miss (and Oxford) has to offer.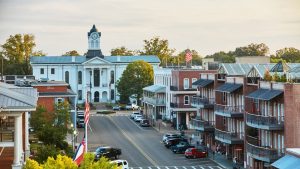 Looking for a fun weekend filled with some of the best college baseball, good food, and lots of Southern charm? Ole Miss and Oxford is high on our college baseball "bucket-list" destinations and will not disappoint.  Not to mention, the beautiful scenery of this Southern college town is loaded with extracurricular activities for the whole family that will make your visit one to remember.