The madness is in full swing this March … as it's hard to believe many predicted this year's Final Four: San Diego State, Connecticut, Miami and Florida Atlantic!  Over the past two weekends, college basketball fans have enjoyed a truly magical tournament filled with one upset after another. This year, the Final Four will be hosted in Houston, Texas and here is everything you need to know about the championship weekend and the host city!
History of March Madness
The first-ever NCAA Division I basketball tournament was in 1939 and involved only eight teams. As the tournament grew, it expanded to include 68 teams involved through the years. The Oregon Ducks are the first NCAA tournament champion, beating Ohio State for the title.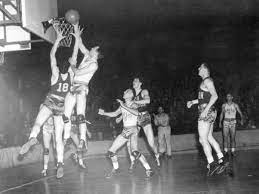 The term "March Madness" was first used to refer to basketball by an Illinois high school official in 1939. The term wasn't used in the NCAA tournament until CBS broadcaster Brent Musburger used it during coverage of the 1982 tournament. "March Madness" has been synonymous with the NCAA Division I Men's Basketball Tournament ever since.
For more information on the history of the tournament, click here!
Final Four Hosted in Houston, Texas
The Final Four will be held in Houston, Texas, at NRG Stadium from Friday, March 31, 2023, to Monday, April 3, 2023. Tickets for the Final Four are on sale now and are selling out fast. NRG Stadium is the only rodeo, and NFL indoor/outdoor retractable roof stadium configured to utilize a 125,000-square-foot space for general sessions, catered functions, exhibits, concerts, and more. NRG Stadium sets the perfect stage for the Final Four, with a seating capacity of 72,220 and four levels offering different food and beverage options. If the games aren't enough, consider a Fan Fest pass for the weekend with interactive games, celebrity and athlete appearances, autograph signings and more! 
Houston, Texas
Local Attractions
Many attractions and things to do in Houston will entertain you and your family during your visit. The Color Factory is a must-visit. This exhibit is an interactive, Instagram-able experience with a ball pit, balloon room, and ribbon room. The self-guided exhibit takes about 60-90 minutes, with dozens of photo opportunities making it fun for all ages.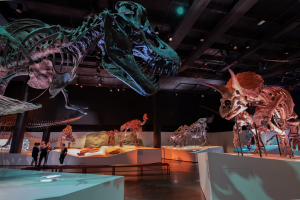 The Houston Museum of Natural Science is another must see. This museum has exhibits ranging from Ancient Egypt artifacts to Paleontology (Dinosaurs), a planetarium, and a butterfly center, making it fun for all ages. The museum has two special exhibits you don't want to miss, King Tut's Tomb Discovery Experience and Dreher Masterworks.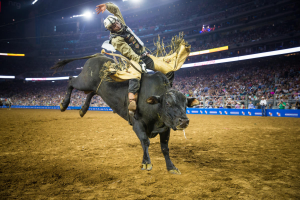 When in Texas … another absolute must-do while visiting Houston is attending a rodeo. The Houston Livestock Show and Rodeo includes rodeos, livestock shows, concerts, delicious food, and much more.
Restaurants 
Houston is also known as the "Culinary Capital," with some of the top restaurants in the nation! Check out some of our favorite restaurant recommendations when visiting Houston.
Burns Original BBQ is a great choice, offering a southern comfort atmosphere with a great selection of traditional BBQ meats and sides that will fill you and your family up!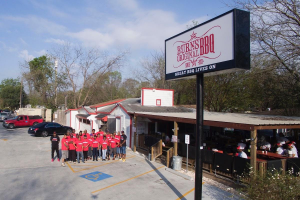 The Burger Joint is another excellent option for a chill atmosphere. They serve delicious burgers and other classic American food options.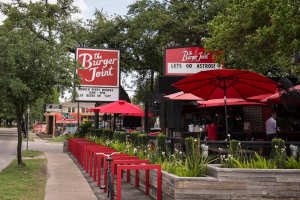 Gus's World Famous Fried Chicken is a popular, long-running chain known for it's spicy fried chicken and comfort sides. It's a low-key setting, but boasts as the reigning champion of the National Fried Chicken Festival! Plus, who doesn't love fried chicken?
If you're looking for a unique spot, check out Nobu – a sushi restaurant owned by the one and only Robert De Niro! There you can find amazing sushi, nigiri, and sashimi. Nobu also serves classic pasta and seafood dishes with a Japanese twist.
Patton's Steakhouse is an excellent option for those looking for a great steak dinner and unique experience. Located in a tucked-away speakeasy spot in Height's Savoir, you'll enter through a wine cellar and in a timeless, white tablecloth dining room. Patton's serves a variety of strips, filets, ribeyes, seabass, and more.
Sports Bars
If you're in Houston without Final Four tickets, consider watching the tournament from some of Houston's top sports bars!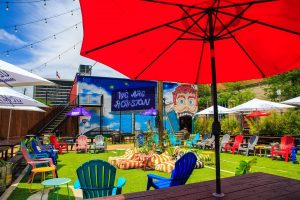 Social Beer Garden is a spacious indoor-outdoor sports bar with food trucks & an energetic atmosphere. The spot features vibrant patio seating, murals, and plenty of outdoor activities to enjoy on the lawn – perfect for pregaming with a craft beer or relaxing outdoors before the tournament. This Midtown bar is kid- and pet-friendly, so it's great for the whole family!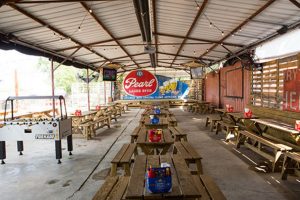 Cottonwood features indoor and outdoor seating, TVs, and an extensive menu beyond your usual beer buckets and bar appetizers. It's dog-friendly, so bring your furry friend and enjoy the games!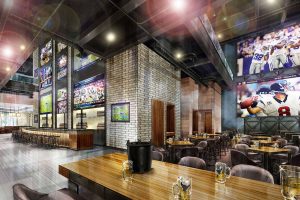 Biggio's Sports Bar, named after the Houston Astros' own, Craig Biggio, is a must-stop on your bar crawl during Final Four weekend. The two-story sports bar features 30 screens, a bar and lounge, and incredible eats from the Marriott Marquis Hotel. Try one of their 20 beers on tap and head up to the top patio for stunning city views!
8th Wonder is the spot for true March Madness fans. This iconic brewery in the Eado neighborhood of Houston has reinstalled the 1971 NCAA Men's Championship basketball court flooring from the Astrodome in its taproom. It will be on view through March Madness, so take advantage of this incredible photo op. View their brews here.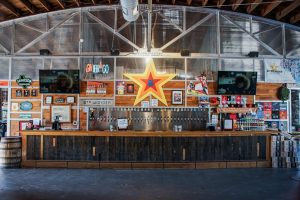 Check out more restaurants here!
Nightlife 
If you're looking for a fun night out on the town, check out FAO HTX. This secret arcade bar located in a regular old office building requires you to figure out an access code that you must type in to open the lobby door before finding your way up to level 3.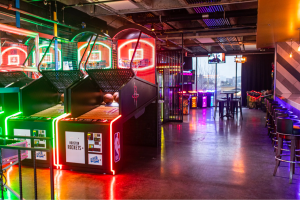 FAO is known for being hard to find, hard to access, but hard to beat when it comes to a great Party in Houston. 
Check out Jake's Sports Bar for a more chill, laid-back night. Catch a game with good eats, beers, and cocktails at this traditional pub. 
Professional Sports Teams
Can't get enough sports while in town? The Houston Astros, the cities highly successful MLB team, will also have its home opening weekend versus the Chicago White Sox and Detroit Tigers over the Final Four weekend. The Astros are the defending World Series Champs and American League Champs of 2022, boasting a 106-win season.

If you have a chance to catch an Astros game at Minute Maid Park while you're in Houston, it's a can't-miss opportunity! For more information about their 2023 Season Schedule and tickets, click here.
The Houston Rockets are cities NBA team and play their home games at the Toyota Center in Downtown Houston and host the Los Angeles Lakers on April 2nd (right between the Final Four and Championship games).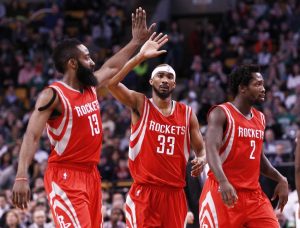 You can view their entire 2023 schedule and get tickets here!
For more help planning your next visit to Houston for the Final Four or another college town, check out CollegeWeekends today!