Savannah, Georgia is a beautiful place with rich history and many exciting things to do and see! Let's explore all that Savannah has to offer, including its nearby beaches … and did anyone say Savannah Bananas?? 
Restaurants and Eateries
Savannah has so many different forms of cuisine to choose from including traditional Southern food and dishes from all around the world. The Ordinary Pub is a great option for anyone looking for a casual but delicious eating and drinking experience.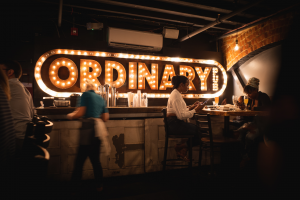 The Ordinary Pub offers dinner, brunch, and happy hour with options like donut sliders to caprese salads. There's also an extensive wine list to choose from that can be served either by the bottle or by the glass.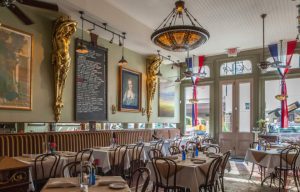 If you are looking for a more upscale option then try Circa 1875 which offers an impressive, French-inspired menu. Choose from many of their amazing options like steak frites, l'escargots, or an amazing chocolate mousse. Circa 1975 has an authentic French bistro setting and a great wine list to choose from making it a great Savannah eatery.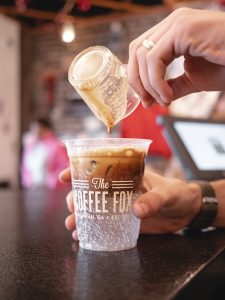 If you're looking for an award-winning place to eat then look no further than The Coffee Fox. The Coffee Fox offers a full espresso menu, fresh pastries, craft beer, and an amazing location in historic downtown Savannah. Make sure to check out The Coffee Fox when you're looking for a quick bite or a delicious coffee during your explorations of Savannah!
Nightlife
Nightlife in Savannah is quite unique. While Savannah may be small in geographical terms it is big in personality. Looking for an upbeat night out in Savannah? River Street is the place to be!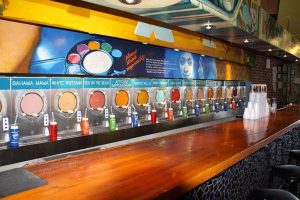 Start your night off at Wet Willie's – a lively, rick-walled chain bar best known for its rainbow of frozen drinks. Though it's a chain, each Wet Willie's location has its own unique menu. Grab a bite to eat before heading out to keep the party going on River Street!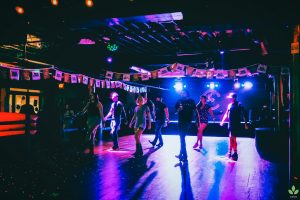 Head to Saddlebags Country Bar, one of the best country bars in the state of Georgia, for live music, line dancing, drinks, and a ride on the mechanical bull! It's the perfect spot to watch a big sporting event, shoot pool, and get the true country experience in Savannah! Featuring a wide selection of fine sipping bourbons, your favorite American beers, and tasty homemade food, there's something for everyone at Saddlebags!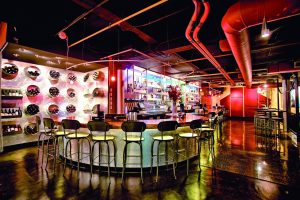 Jazz'd Tapas Bar is a great option for those who are new to the Savannah area. Located in the historic district, Jazz'd Tapas Bar is in the basement of the historic Kress building, making it slightly different from any other Tapas bar you may have been to. Jazz'd offers over 25 different cocktails and a great selection of tapas making it a great selection for those looking for either a drink, food, or both!
Activities
Savannah has so many things to do and see that it will make deciding what to do difficult for anyone visiting the city for the first time. If you're looking to truly delve into the city's history then try the Explore Savannah ghost tour.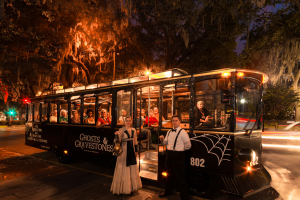 Explore Savannah shares, "Savannah's history dates back almost 300 years. She has survived several great fires, yellow fever epidemics, the Revolutionary War, the Civil War, and Sherman's March to the Sea. There have been hangings, suicides, duels, pirates, and more that still haunt this beautiful city." Clearly, Savannah has a lot to offer when it comes to the supernatural, making a ghost tour the perfect way to spend your time in the city seeing the sights and hearing its stories.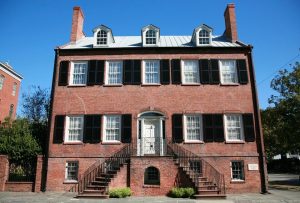 If you're looking for a more traditional way to explore Savannah, then make sure to visit the Davenport House Museum. The museum is right off of the Moon River and presents its guests with a well-documented look back at life in the 1800s. The museum is housed in one of the oldest brick structures in the city making it incredibly rich in Savannah history and a great place to visit! A quintessential part of Savannah has to be its amazing trolley system. To truly explore Savannah try hopping on a trolley or taking a trolley tour around the city. Many of these tours are "hop off" based making them perfect for those who want a taste of the city's history and a means of transportation. 
The Savannah Bananas
If you haven't yet stumbled across one of their viral stunts on ESPN, Twitter, or TikTok, allow us to introduce you to The Savannah Bananas. Founded in 2016, the Bananas are an exhibition baseball team of the Coastal Plain League, a collegiate wood bat league.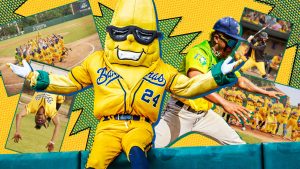 The MLB describes them as the "Globetrotters" of baseball. The Savannah Bananas are most famous for their trademark "Banana Ball" games. The games feature alternate rules, a different roster, and are played outside of the college league. The entire goal is to make baseball fun, and leave out the parts that aren't so fun. This is where the players get creative – from the rules to uniforms to special stunts throughout the game. If you're in Savannah during the season, catching a Bananas game at Grayson Stadium is a must! 
Youth Sports Tournaments
When it comes to youth sports in Savannah (and the state of Georgia), the opportunities are plenty! From baseball to volleyball and soccer, there are several large youth sports tournaments hosted in Savannah each year. USSSA Georgia hosts many large youth baseball events across the state from 6U to 18U.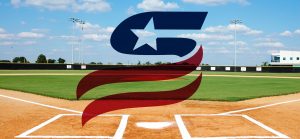 The USSSA Under Armor Super Regional tournament will be hosted at three locations in Savannah, GA this coming spring for 8U-18U. The Adidas Savannah Cup is also hosted in Savannah each year by Savannah United for youth soccer participants. This event brings in teams from all over the Southeast region, including Georgia, South Carolina, North Carolina, Florida, Alabama, and Tennessee. The Nike Savannah Showdown, hosted at The Savannah Convention Center, is a huge youth volleyball tournament with over 20 courts set up and teams competing from all across the globe!
Savannah State University
Savannah State University is a public, historically black university. It is the largest historically black university in the state and totes a student population of around 3,150. The university is incredibly rich in history being the first HBCU in the state and the first institution of higher learning in the city of Savannah.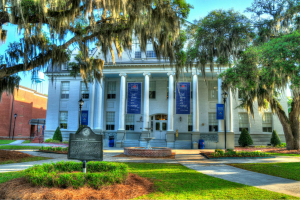 Students have a choice of 23 bachelor's degrees and 5 master's degrees which are offered within the university's colleges. Savannah State has NCAA Division II athletics including sports such as track and field, volleyball, golf, softball, and many others. Savannah State's cheerleading team was also the first HBCU team to win a national cheerleading title. 
Nearby Beaches
Savannah, Georgia already has so much to offer but the city gets even better when you take into account the many beaches nearby!
Tybee Island Beaches
If you're looking to hit the beach after exploring the great city of Savannah, Tybee Island is the perfect spot!
Tybee is five miles of white sand, attracting locals and tourists alike because of its proximity to the city. Some of the beaches on Tybee Island include North Beach and South Beach. The Tybee Pier is offers many restaurants and shops to explore after your day at the beach! 
Tybee Island River Beaches 
Also a part of Tybee Island, Savannah's surrounding river beaches offer an amazing look at wildlife.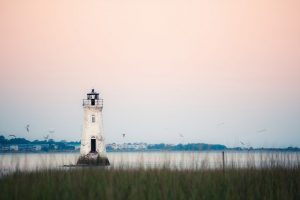 The scenery provides a relaxing experience and calming riverside views. Savannah River, Tybee Creek, and Back River Beach are all great options for those looking for a river-based beach experience. 
Hilton Head Island
Though not technically in Georgia, Hilton Head Island is only a 45-minute drive from Savannah. It's the perfect day trip!
Located on the beautiful South Carolina coast, Hilton Head has an amazing selection of beaches such as Coligny Beach Park. Coligny Beach offers white sand, amazing waves, and free parking!
Bloody Point Beach
If you're looking for more of an educational and wildlife-based beach experiences, check out Bloody Point Beach.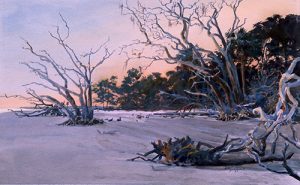 Located on the southernmost tip Daufuskie Island, SC, Bloody Point Beach is a residential community with stunning wildlife and views. It's a great place for fishing and observing seabirds like pelicans and osprey.
Cabretta Island Beach
Another great option with beautiful white sand beaches and access to campgrounds is Cabretta Island Beach.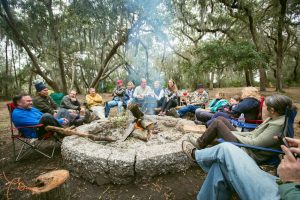 This beach is located on Sapelo Island and is accessible by a quick ferry ride across the Dooby Sound. 
Ready to plan a visit Savannah, Georgia? Be sure to check out College Weekends for your guide to the city and a to find a place to stay!