Although Liberty University is known for being the largest Christian school in the country, there are so many other aspects of the college that make Liberty stand out.
Nestled near the scenic Blue Ridge mountains, Liberty University on its own is a great school filled with amazing opportunities for students to grow in their academics, friendships, skills, and more. From incredible dining options to state-of-the-art facilities (including a year round ski slope!!), fantastic and affordable real estate options, and its convenient location in the town of Lynchburg, what is there not to love?
Lynchburg, VA
Before getting in to the details of Liberty University, let's talk about the historical town of Lynchburg, VA.  Lynchburg is full of history, breathtaking views of the Blue Ridge Mountains (close to Wintergreen Ski Resort and Route 151), and is within a short drive to Charlottesville, Richmond and Roanoke.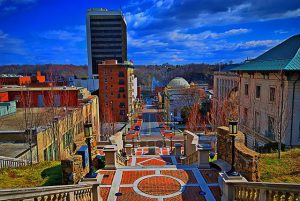 From amazing food, great coffee spots, incredible hikes and trails with even better views, rich history, local art, and more, anyone can spend loads of time in this quiet little town in Virginia. While in Lynchburg, you have to be sure to check out the Lynchburg legacies, as LU students and Lynchburg locals like to call them. Let's check out a few!
Downtown LYH
Downtown Lynchburg is one of the best parts of this town! One of the best spots here is Percival's Island Natural Area with amazing views and trails. The island is approximately one and one-half miles long. What was an old railroad is now a maintained hiking/biking trail that travels the length of the island. The park is thriving with beautiful flowers, plants, and animals. You can even go fishing along with James River!
Another great spot Downtown is the Riverviews Artspace, located on the Lynchburg riverfront view. The artspace is a mix-used space in a renovated warehouse, and it features work from artist galleries, studios, shops, and residences. Some of the exhibitions host regionally, nationally, and even internationally recognized artists! But it's not just art. The artspace even features film screenings, poetry readings, and open houses. The community at Riverviews features all sorts of artists, businesses, fashion designers, and architects. From oil paintings, abstract work, contemporary art, photography, ceramics, couture, industrial style furniture, and more, this spot is an artist's dream! 
Speaking of art, you have to check out the famous Academy Center of the Arts. This is Greater Lynchburg's center for arts, culture, and community building, with a campus located on the corner of Fifth St. and Main St. in Downtown Lynchburg. The Academy's campus includes the Joy & Lynch Christian Warehouse Theatre, complete with a black box theatre, classrooms and studios, the Harrington Gallery Building, and the 1905 Historic Academy of Music Theatre.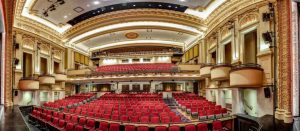 The Academy showcases a variety of performances and visual arts events every year, including theatre performances, speakers, comedians, on and off-site gallery exhibits, live music, dance, and more. 
Another great spot to check out is the LOVEworks at the Craddock Terry Hotel. As are its origins, shoes are celebrated at the Craddock Terry Hotel and Event Center with personal touches, like complimentary in-room continental breakfast served in an old-fashioned wooden shoeshine box, shoe-shaped signs to label each guestroom door, shoeshine service available upon request, and now with a Virginia Tourism Corporation program LOVEworks sculpture!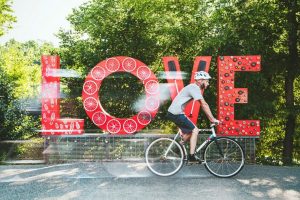 This brings us to another iconic spot in Lynchburg, which is the LOVE Sculpture. This LOVEworks Public Art piece is at the trailhead of Percival's Island. Organizers encourage visitors to take photos with the sculpture and share them on social media. This is one of the must-do's of any Liberty student, alumni, family member, or friend. Use the hashtags #loveva, #LynchburgVA, #downtownlynchburg, or #jamesriverarts.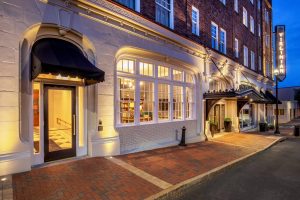 While you're in Downtown, check out the ornate Virginian Lynchburg, Curio Collection by Hilton, which has been a centerpiece of downtown LYH since 1913! It's been restored to its historic beauty with modern amenities. After exploring for the day, you can come back into an incredible guest room with all sorts of complimentary items, along with an amazing view of the town. There's an awesome coffee shop right in the lobby! Start your day with coffee, see Lynchburg from a new vantage at the rooftop restaurant and bar.
One of the last must-see's of Downtown LYH is the Lynchburg Community Market. Believe it or not, this is the third oldest continuously running farmers market in the entire country. From fresh fruits and vegetables to beautiful local artwork, there's something for everyone! You can even grab a delicious lunch from one of the restaurant vendors. Every Wednesday and Saturday, farmers offer locally produced fruit, vegetables, cheese, meat, baked goods, and other specialty items.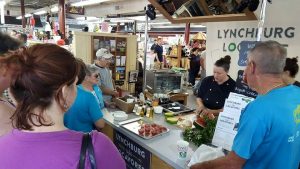 The Lynchburg Community Market dates back all the way to 1783! It has played a key role in the development and growth of downtown Lynchburg. The first Lynchburg Community Market was an important economic driver for the city. The 1783 Market was an open-air market and served as the central social gathering place for the city. As Lynchburg grew, the Market was rebuilt in 1814 and served as a town square, with city-wide notices and speakers throughout the day and evening.
Then, in 1872, the Market was enlarged and rebuilt on Main Street. The new Market had enclosed spaces and an auditorium. Today, the Community Market stands on the corner of Main and 12th Streets, opening its doors on July 2, 1932. The market continued to play an important role in the community until the 1950s when community markets across the United States declined due to the growth of supermarkets and suburban development. In 1987, the Market went through its final renovation and stands how it is today! Pretty cool, right?
The In's and Out's of Liberty University
Now that we have a glimpse of the town of LU, let's talk about the university! From its vast academic programs, a strong community on campus, thriving sports (including a resurgent LU football program that has gained national acclaim over the last few years), a unique student life, great dining options, and amazing housing, let's break down Liberty University!

Academic Programs
When you hear the name Liberty University, you immediately probably think of religion and theology degrees. You're not wrong! Liberty has one of the best divinity schools out there. With more than 90 areas of study, the John W. Rawlings School of Divinity lets students customize their degree. Liberty is also home to the Freedom Tower, the world's largest school for religious studies and ministerial training. This tower is 275 feet tall…. Crazy, right?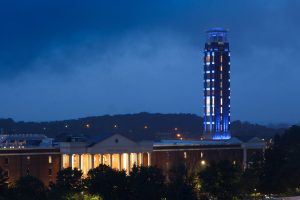 But, Liberty does far more than just religious studies. For one, they have an aviation school, which is now one of the largest collegiate aviation programs in North America. Fan of the arts? Liberty does that too! In their Communications and Arts program, students can study theater, design, film, communications, digital media, and way more, while enhancing skills in state-of-the-art studios, theatres, and post-production facilities. No, seriously. Liberty has cutting-edge tools, including RED cameras and a THX-certified dub stage.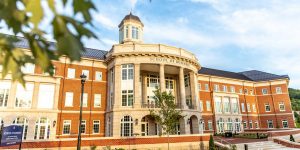 The school of Business offers 152 programs suited for just about any young entrepreneur. Learn the business and build integrity in the new $33 million School of Business building. The facilities within include 12 Bloomberg stock-trading terminals and state-of-the-art telecommunication technology. 
Dining Among The Best
Liberty University was recently ranked No. 10 in College Magazine's Top 10 colleges with the best dining options. From overall health and wellness, variety, and production in recycling food waste, Liberty has excelled in all three categories. Not only that, but Liberty offers amazing allergen-free options for their students, which is unlike many other schools.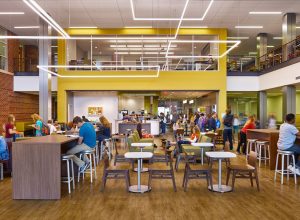 Top-Notch Facilities & Strong Sports Programs
Along with quality dining options comes other quality facilities. One of the best parts of LU is the LaHaye Recreation and Fitness Center, which is a 162,000 square foot multi-functional facility open to Liberty University students, faculty, and staff. It's a two-story gym with rock climbing walls, swimming pools, group exercise rooms, indoor soccer fields, basketball courts, racquetball rooms and so much more.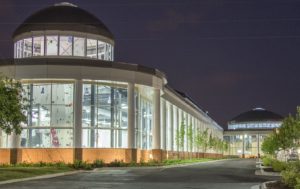 Other amazing facilities include the Liberty Arena, the new $65 million home for Liberty basketball and volleyball. Also, the football stadium is state-of-the-art, offering an awesome experience for fans, friends, family, students, and alumni.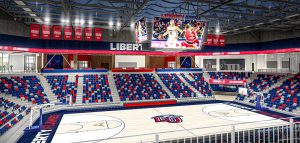 The sports programs at Liberty make it one of the best Christian colleges in the world. A thriving athletics program has been an integral part of Liberty University's vision from the beginning, and today the Flames have 20 NCAA Division I athletic teams, over 40 Club Sports teams, and 20 intramural sports. From entering March Madness two years in a row to winning a bowl game to its strong hockey program, Liberty's sports has built a tradition of success!
By Erin Fisher, Liberty University, Class of 2022