Visiting college towns is not just about going to the game, attending graduation or college tours. Route 151 is Virginia's scenic highway on the sunrise side of the Blue Ridge Mountains that is nestled in the picturesque rolling hills of Virginia near the Wintergreen Ski Resort and convenient to the University of Virginia, Liberty University and James Madison University (and less than 2 hours from Washington D.C.). Along this route you will find six wineries, three breweries, and two cideries all of which have come together to form a tasting tour to satisfy all five senses. This is Virginia's top destination for craft wine and beer lovers as well as for those who can't get enough of the incredible outdoor recreation and scenery of Virginia's central region. Let us take you on a tour, 15 miles to be exact, of the must see, do, and drink, of Route 151.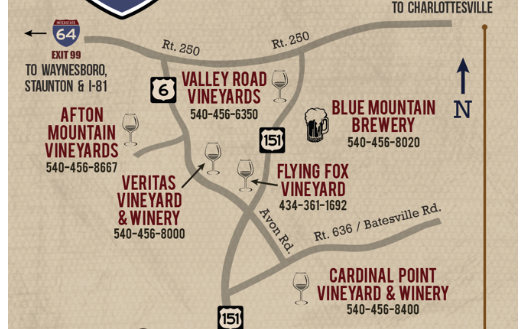 1st Stop — Blue Mountain Brewery
This farm brewery grows their own hops and provides options from the most traditional to the most unconventional craft beer. No matter what time of year, Blue Mountain's seasonal series caters to the ever-changing Virginia weather.  Blue Mountain's brick-oven pizza will be sure to not leave you hungry as well!
Our recommendation would be to get into the holiday spirit a little early with their festive Holiday Ale for the Yuletide Season.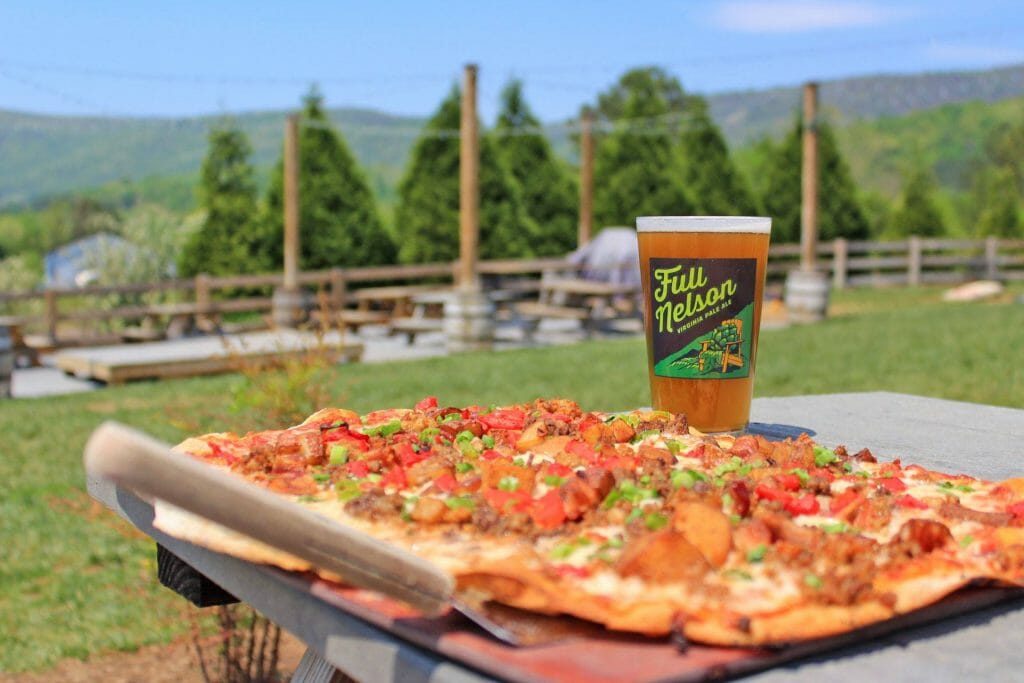 2nd Stop — Flying Fox Vineyard and Winery
A unique and evolving winery, Flying Fox offers premium quality wines as well as flares of diversity with their experimental Sly Fox series. They have two different Vineyard locations to really encompass all of Virginia's landscape and climate.
Our recommendation would be to experience their seasonal line of Vermouth created with local, in-season fruits and botanicals.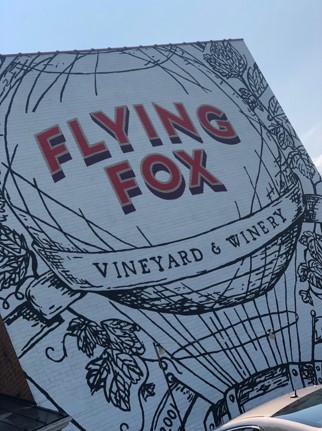 3rd Stop — Valley Road Vineyard
This classic vineyard offers a wine tasting room called SIP. Within SIP, you'll find knowledgeable staff to guide you through tastings of Valley Road Vineyards selection of great wines, and help you choose the appropriate food pairing.
Our recommendation would be to take in the views of the Blue Ridge from SIP's patio while sipping your new favorite wine!
4th Stop — Afton Mountain Vineyards
Here you can enjoy a group wine tasting or even a group wine picnic, and feel free to bring your furry friend along with you as pets are more than welcome at Afton. This beautiful Vineyard is owned by a native Charlottesville couple who pride themselves in good wine from good grapes!
Our recommendation would be their Cabernet Franc created by their France native wine maker and is also 100% estate grown.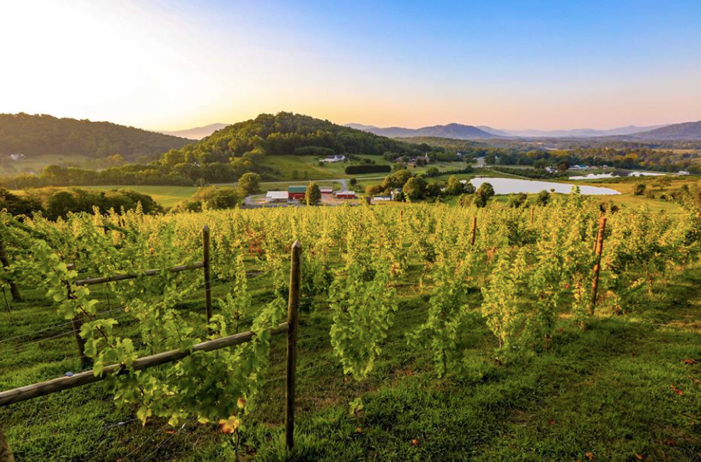 5th Stop — Veritas Vineyard & Winery
Wine tastings at Veritas Vineyard includes 6-10 wines for $10 a person! This unmatched deal would go perfectly with a guided walking tour, and as an end to a perfect afternoon, a picnic overlooking the beautiful Blue Ridge Mountains.
Our recommendation here is the guided walking tour! Explore the beautiful landscape of the vineyard— which is also a favorite wedding venue in Virginia for obvious reasons.
6th Stop — Cardinal Point Vineyard and Winery
Family owned and operated, this winery was the retirement plans of Paul and Ruth Gorman. While stationed in a small city in Germany, they discovered their love for Riesling wines that were carefully, crafted. Out of this new-found passion, Cardinal Point was born!
We recommend checking out their events and festivals page on their site! From live music to unique food festivals, you will find something exciting for everyone.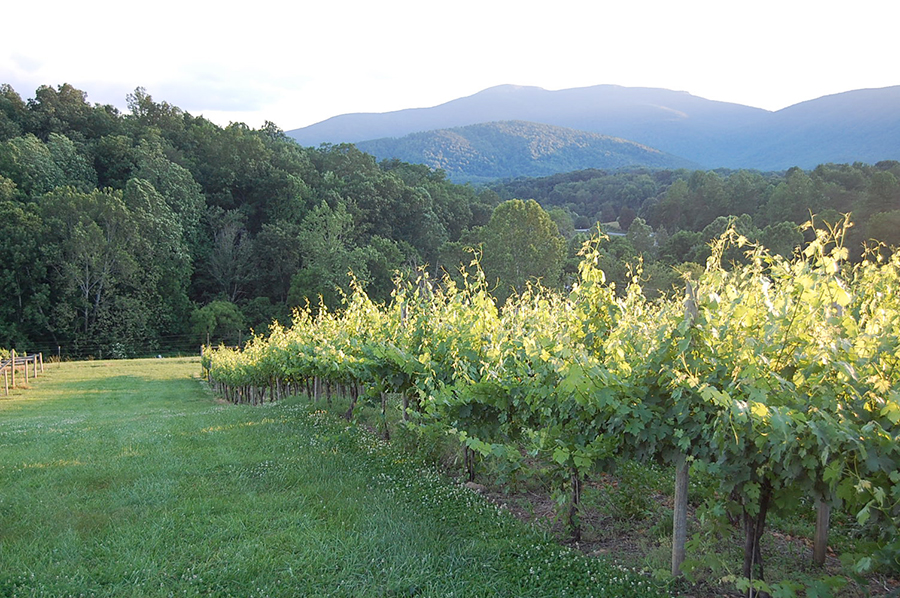 7th Stop — Silverback Distillery
This mother-daughter distilling duo is crafting high quality, award-winning spirits. From gin to whiskey to bourbon, the Silverback Distillery has it all. Wonder where the name comes from? The daughter of the duo, and her two sisters, gave this nickname to their father for his early graying hair, overprotectiveness, and grumpy attitude. Talk about girl power!
Our recommendation is to visit their tasting room and not only taste, but learn, about their unique spirits.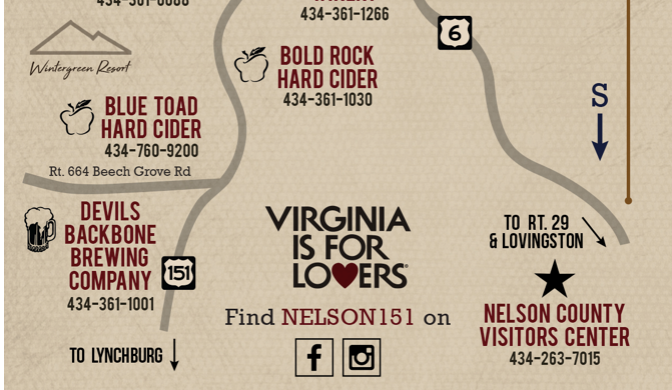 8th Stop — Bold Rock Hard Cider
Just in time for the fall, visit the "Chapel of the Apple" at the Bold Rock Cider Barn. You can learn about the process behind the creation of this award-winning cider and get to try some for yourself! The view from Bold Rock's outside deck is spectacular, and there is plenty of room to play catch or frisbee with your kids or dogs in the large green meadows below. And when it's hot, feel free to take your shoes off and take a dip in the creek at the edge of the property.
Our recommendation would be to enjoy their new Sunday Brunch!
9th Stop — Wild Wolf Brewing Company
Another popular brewery along Route 151 is the Wild Wolf Brewing Company, which has a large selection of 13 craft beers on tap (don't forget to order a flight to sample several at a time!) and an excellent food menu, filled with great southern dishes! Wild Wolf has both extensive inside and outside eating areas, as well as a large extension that is ideal for weddings and other celebrations.
Our recommendation would be to try one of Wild Wolf's most popular drafts, the Blonde Honey.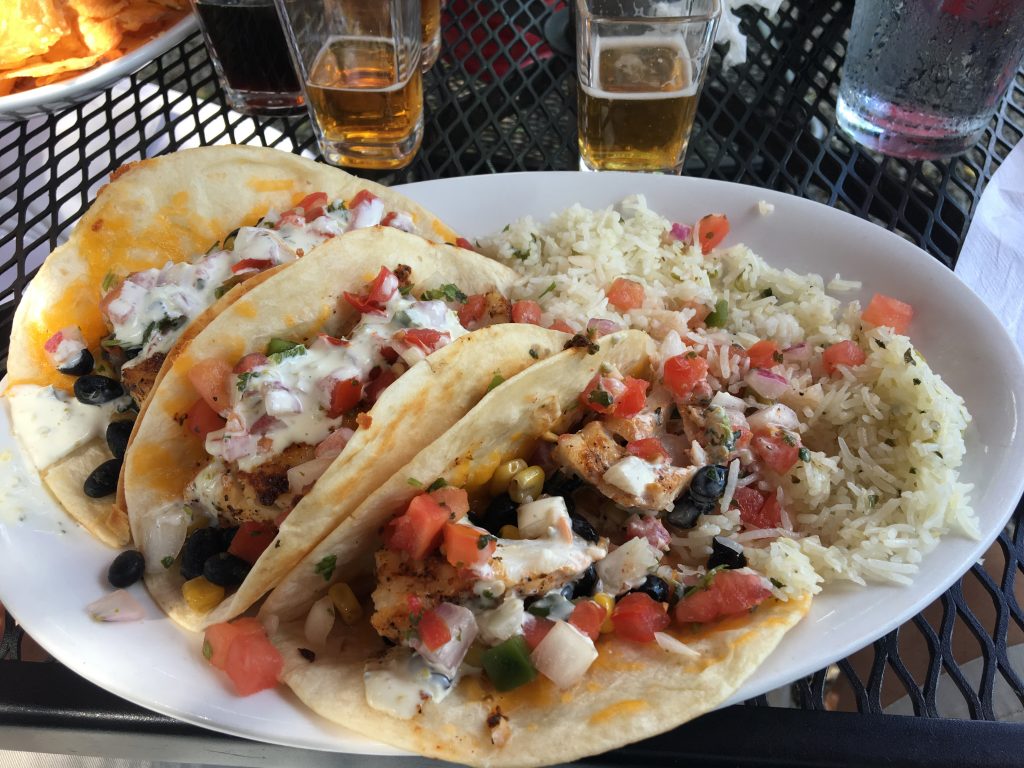 10th Stop — Blue Toad Hard Cider
This cidery holds old-school values near and dear by honoring the tradition and legacy of America's first preferred beverage. Their testing menu includes house favorites as well as seasonal options, all while promising a farm to tap freshness!
Our recommendation would be to try Blue Toad's newest flavor, which is just in time for the start of the chilly weather. Gumdrop Button Gingerbread — a cider with notes of molasses, vanilla, and honey with a butter nut finish. How sweet!
11th Stop — Devils Backbone Brewing Company
Last but definitely not least, the music, food, camping, and beer wonderland of Nelson County, Devils Backbone offers 48 taps on the property, delicious wood-fired dishes, and new events popping up every week!
We recommend checking out their event calendar, especially if you are interested in exploring the great outdoors of Virginia! They've hosted bike races, trail runs, festivals, and TONS of live music.