What are some of the best barbecue spots in your favorite college town? CollegeWeekends.com takes a look at eight of the best barbecue spots down South!
A favorite among University of Alabama students and alumni, this is the location that started it all. The original restaurant opened in 1958, and founder John "Big Daddy" Bishop built it himself. The local barbeque joint quickly became a favorite gathering spot for members of the Alabama football coaching staff to bring recruits. This is considered THE gameday destination in Tuscaloosa.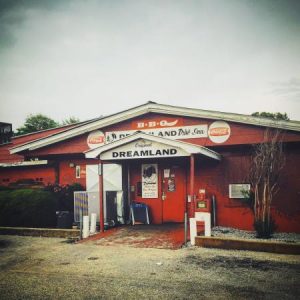 Not much has changed about the restaurant since its opening. License plates line the walls, Christmas lights hang year-round above the bar, and the ribs still follow the same regimen since the restaurant's opening day. 
While they are most well known for their barbeque ribs, they have a variety of hickory-smoked meats, classic Southern food sides, and incredible desserts. While you can dine-in, they also offer takeout options and curbside pickup!
From traditional ribs, pulled pork, beef brisket, amazing sides, this place is known for incredible customer service and extremely generous portions and a whole lot of Clemson Tigers pride. This brisket is always a fan favorite! But, be sure to check out their southern-style sides. French Fries, Sweet Potato Fries, Jalapeño Cheddar Grits, Fried Okra, Brunswick Stew, Cole Slaw, Baked Beans, Loaded Potato Casserole, Potato Salad, Sweet Potato Crunch, Seasonal Cobbler, Banana Pudding, Seasonal Vegetables. … they basically have it all!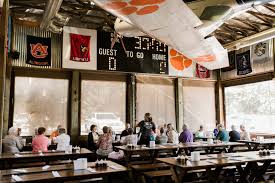 Soul food meets barbecue with this BBQ joint in Athens, GA, home to the University of Georgia. African-American-owned and conveniently located, this downtown barbecue joint is mostly take-out but has a small seating area of picnic benches outside. The menu is short but sweet, offering ribs, BBQ, chicken, or sausage, and then your choice of a side. And don't forget to save room for one of their homemade desserts! This place is no joke! It's a three-time Classic City BBQ Festival Award-Winner. 1st Place for People's Choice, 1st Place for Backyard Ribs, and 3rd Place for Backyard Overall.
If you're near the University of Mississippi, Handy Andy's is a MUST! Not to be outdone for the laid-back atmosphere (trust me, it's not the fanciest restaurant ever, but it's so worth it), Handy Andy's is on North Lamar. Whether you stop in for the burgers or the barbecue, you'll probably leave full and pleased. You can sit and stay awhile to eat in or grab and go. Before you leave, GRAB a side of beans, potato salad, or a dessert. This is an Ole Miss absolute favorite!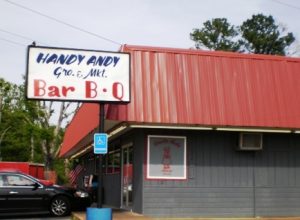 Allen & Son, a barbeque staple in Chapel Hill, is the real deal! A general consensus among Chapel Hill locals is that Allen & Son is the ideal Triangle barbeque experience. Allen & Son was about authentic as it gets, with checkered oilcloth tablecloths, wooden tables, and home décor with sides written on the board. Unfortunately, this fan-favorite closed its doors a couple of years ago but paved the way for new and fresh barbeque joints located all throughout the town!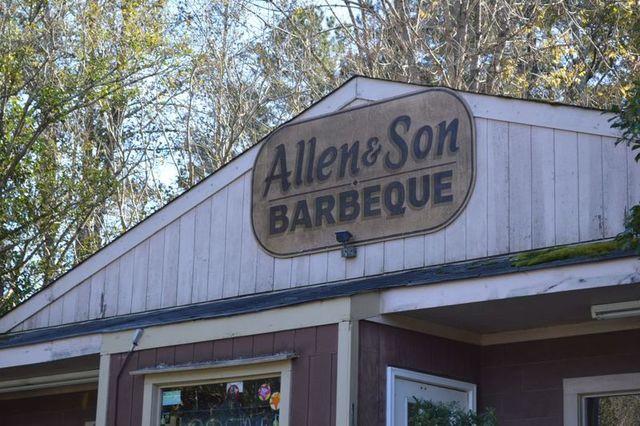 The founder of this world-renowned BBQ joint in Austin near the University of Texas is well known in the barbeque community. Aaron Franklin is regarded as one of the most influential pitmasters in the U.S. He received the James Beard Foundation Award for Best Chef: Southwest in 2015. Not only that, but Franklin Barbecue was awarded Texas Monthly's coveted Best Barbecue Joint in Texas, and Bon Appetit's Best Barbecue Joint in America.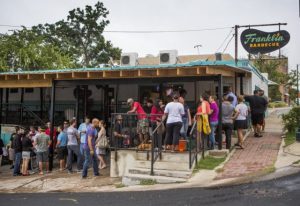 From pulled pork, turkey, amazing sausage, barbeque ribs, smoked brisket, and incredible sides, this is considered one of the MUST-EAT'S of Austin, Texas (which is saying something). Make sure to give it a try!
Evie Mae's is more than a barbecue joint. Located in Lubbock, TX, right near Texas Tech, this complex includes a bakery (famous for its coconut cream pie and Texas sheet cake) and a welding shop that builds barbecue pits and wood-fired grills for home and commercial use. In its opening, customers trickled in at first, but word spread fast about their tender brisket and spicy green-chile sausage. Starting small and building from there turned Evie Mae's into an example for barbecue entrepreneurs in the area. Lines can stretch around the restaurant on Saturdays. Make sure you check this place out for some of the best briskets in the barbeque industry.

From Brunswick stew, pulled pork sandwiches, chopped pork plates, pecan pie, fried chicken, barbeque ribs, mac n cheese, fried okra, potato salad, and all the other classic BBQ items, Byron's Smokehouse in Auburn Tigers country has it all! Extra bonus: they serve INCREDIBLE breakfast food that any barbeque fan will love!

Get Your BBQ On!
Now that you know all the best BBQ joints in college towns, what are you waiting for? Next time you're in your favorite CW college town in the South, make sure to check out some of these local favorite barbeque spots for amazing homemade smoked barbeque. From Southern favorite sides to tender brisket, pulled pork, barbeque ribs and SO much more! Barbeque is a staple throughout the South and an absolute must-do in college towns!
By Erin Fisher, CollegeWeekends.como