Before the big game, or perhaps after a fun night of celebrating a big win … breakfast restaurants in college towns can be very popular spots!  Here we profile a few of the top and most iconic breakfast spots in several college towns that are "must stops" while visiting.
Bodo's Bagels: University of Virginia
Bodo's Bagels in Charlottesville, Virginia is a must for this list as it is a legendary bagel and breakfast restaurant for those visiting the University of Virginia. A UVA staple, Bodo's Bagels serves authentic New York Water Bagels, salads, various sides, and sandwiches.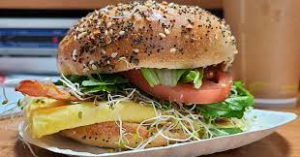 Bodo's Bagels is also well-known for its traditional, all-natural recipe and oven-fresh taste. If you're looking for authentic bagels and a student (and alumni!) favorite … Bodo's Bagels is a must. Just be prepared, however, as the lines often wrap outside of the building on most Saturday and Sundays.  
Biscuit Love: Vanderbilt University
If you find yourself in the Nashville area while visiting Vanderbilt University, then you must definitely check out Biscuit Love. With two locations in Nashville, Biscuit Love is a convenient and delicious choice for breakfast.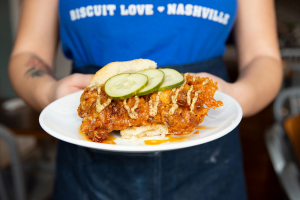 Choose from classic biscuit options like chicken and biscuits or more unique ones like biscuit French toast. Biscuit Love also has a great assortment of drinks including mimosas, lemonade, and coffee. 
Original Breakfast House: Arizona State University
Heading out West?  If you're visiting Arizona State's campus and in search of a great breakfast option in Tempe, check out Original Breakfast House.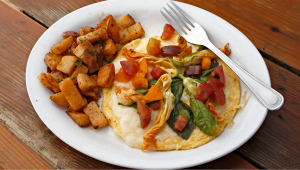 With a wide selection of different omelets, pancakes, egg dishes, French toast, and waffles you are sure to find something you enjoy. You may want to aslo give one of their specialties a try like the biscuits and gravy, the chorizo burrito, or the California Benedict.
Buttermilk Kitchen: Georgia Tech
Atlanta is a great city with so much to offer and it does not fall short when it comes to breakfast. Convenient to the campus of Georgia Tech, we recommend that you try out Buttermilk Kitchen for a truly local Southern experience.
Buttermilk Kitchen is both traditional and unique with its classic Southern cuisine and various vegan and gluten-free options. They also serve various drinks like sangria, margaritas, and classic mimosas. Try out some of these amazing options when you're visiting Georgia Tech!
Beacon Restaurant: University of Mississippi
Hotty toddy! For a classic American diner experience while visiting Oxford, Mississippi you must check out Beacon Restaurant.  Beacon Restaurant has amazing food and offers traditional Southern breakfasts that includes grits, mashed potatoes, and a wide variety of specialty egg options.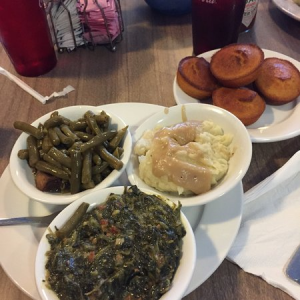 Beacon Restaurant also has a simplistic and homey feel making it a great place to visit when you need a home-style meal during your visit to the University of Mississippi.
Stacked: Texas Tech
The next time you're in Lubbock, Texas visiting Texas Tech Stacked is the place to go for breakfast! While Stacked doesn't have a large menu, the options they do offer are simply amazing.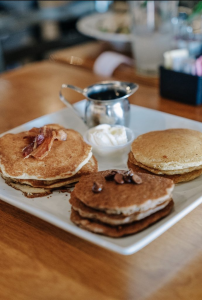 Try out their protein pancakes, sweet potato pancakes, or egg burritos. As an added bonus, Stacked is incredibly affordable making this a cost-effective and delicious option. 
Grace Coffee Company: Clemson University
In the heart of South Carolina, Clemson University has an amazing campus and is truly a "college town". On our list is Grace Coffee Company as it is a local favorite and serves amazing coffee with great food options.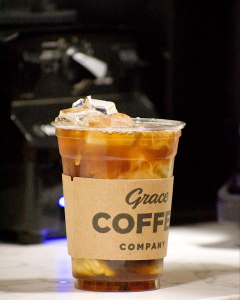 Grace Coffee Company is a local coffee shop that offers muffins, cakes, cookies, sandwiches and so much more. Also, make sure to try out their brew of the day or one of their amazing flavored coffee drinks. 
Eggs Up Grill: Coastal Carolina University
Along with nearby Coastal Caroline University, Myrtle Beach, South Carolina is a fun destination and beach town that is loaded with great places to eat. For breakfast, however, make sure to check out Eggs Up Grill. Eggs Up Grill offers classic options like eggs benedict and eggs and home fries, while also serving more unique options like coastal crab cake benedict and its famous Baja chicken omelet.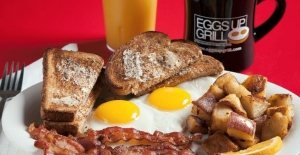 You won't want to miss their cold brew coffee and several specialty drinks either! Eggs Up Grill has 66 locations along the East Coast (primarily in the Southeast), so be sure to check if there's one near you while visiting college towns in the Southeast.
For more help planning your college visits and finding the best of college breakfast, please visit College Weekends today!