College towns are full of amazing culture, music, festivals, restaurants, coffee shops, and more. One of the best things that college towns have to offer is the incredible pizza joints that are local, student and alumni favorites.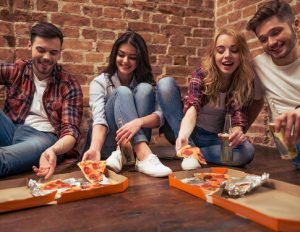 There are a lot to choose from, but CW has highlighted a few of our favorite college town pizza places throughout several CollegeWeekends.com destinations!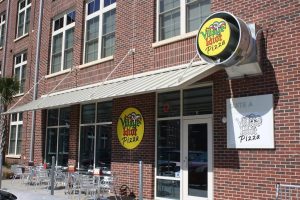 Located in Columbia, South Carolina, the home of the University of South Carolina, first on the list is Village Idiot Pizza. This popular Gamecock pizza joint is located in the heart of USC. This iconic restaurant features giant New York-style pizza slices, but their specialty pies are even better. From classic pies like cheese and pepperoni to the blackened chicken-jalapeño Rajun Cajun, this place has it all! The pizza is DELICIOUS!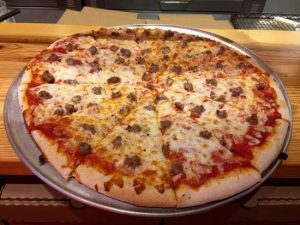 Home to the University of Missouri in the town of Columbia, Shakespeare's Pizza is a student and alumni favorite. This beloved pizza institution is known for its weird quirks, from a bottle of WD-40 inside the beer fridge as part of a decades-long inside joke, to ridiculous names for when your order is called, this place is ICONIC to the University of Missouri. More importantly, the pizza is AMAZING! The dough is made from scratch and the pepperoni is sliced right in the kitchen. It's often SO GREASY that they give customers hand towels! Their pepper cheese is to-die-for. In Missouri, it's hard to find order-by-the-slice NY-style pizza, so this place has definitely become a hot spot when visiting Mizzou!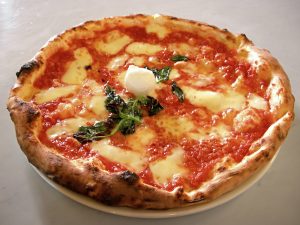 If you're visiting Spartans country and the Michigan State University, Georgio's is a MUST try! From classic, enormous pizza slices NY style, they specialize in gourmet pizza. From gyro slices topped with lamb meat and tzatziki to a baked potato pie with sour cream and bacon, there's a slice for everyone! They even have Chicago Style pizza with stuffed slices. They even have a NACHO CHEESE pie! What is there not to love? Try it out for yourself!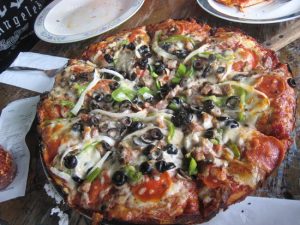 Satchel's is a University of Florida favorite. Locals and students all universally agree that no pie in the entire state of Florida beats Satchel's. The place is half a pizza joint and half WEIRD souvenir shop. You can spend at least an hour in the shop alone looking at novelty items! Plus, don't worry about what kind of crust you should get. At Satchel's, you have plenty of options. The pizzas come in either deep-dish or thin-crust form, so there's a pizza for everyone. The toppings are all freshly grown by nearby farms and the sodas are made in-house.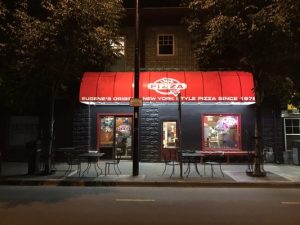 The University of Oregon features none other than Sy's New York Pizza! Sy's is known to satisfy that late-night pizza craving. Although it's not technically in New York, it's about as close to NY-style pizza you can get. It's cheap, tasty, greasy, AND cheesy… everything you would want out of a NY pizza slice. You can choose just about any toppings you want on your pizza and the slices are HUGE, so a whole pizza is way more than enough. An inside tip: get the thin crust… you won't regret it. Plus, they have garlic knots for only 25 cents! They also make Rennie's Lemonade… so good!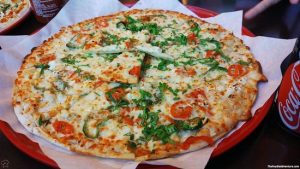 Sliver and the University of California-Berkeley go hand-in-hand with their support of social causes. Sliver donates money to charity and raises awareness about human trafficking. Their pizza is just as admirable as the cause. From a classic slice of cheesy pizza, they have a different pizza-of-the-day EVERY DAY! From roasted eggplant-pecorino, summer squash-mozzarella jam, and a cremini mushroom with Bulgarian feta, the flavor choices are just about endless. They also offer your third slice at only $1… what a deal!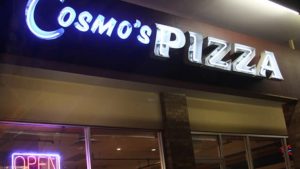 Boulder, Colorado, home to the University of Colorado, features Cosmo's Pizza. It's honestly hard to beat. While it's a fan-favorite among the students, locals love it too! It's cheap, delicious, and quick! For about $3 a slice, the slices are HUGE! One slice will be way more than enough. Don't forget the spicy ranch, which makes the already amazing pizza THAT much better. Dipping your pizza is encouraged at Cosmo's. The ranch is such a favorite that they sell it in the supermarkets around Boulder!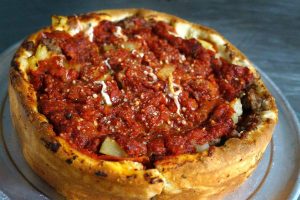 When you think of college town pizza, NY-style comes to mind. But at the University of Arizona, they're all about Chicago-style pizza! Rocco's has 3 Chicago-style ways: buttery deep dish, big-ass thin crust, and stuffed (AKA all the toppings are stuffed between two layers). This is our personal recommendation, especially with an iconic flavor like the  Great Chicago Fire (sausage, jalapeños, green peppers, onions… is your mouth watering yet?). Word to the wise: Get the Italian beef sliders! Although Rocco's is usually a sit-down option, they do offer by-the-slice Chicago deep-dish options to go. What's there not to love at Rocco's?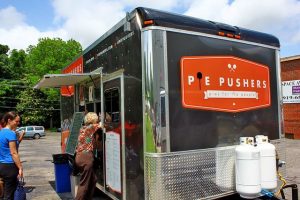 Located right in the heart of Durham, Pie Pushers is a truck on wheels, nestling its place right by the best bars and events in town. They conveniently locate their food truck near campus so that it's always within walking distance to all of the action. For such a cheap pierce, they offer the best fresh ingredients available, like the fan-favorite roasted chicken & pesto State of Nirvana. Don't skimp on the dry-rubbed wings. They're to-die-for!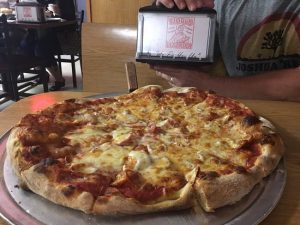 The University of Pittsburgh and the entire city of Pittsburgh have a special place in their hearts for Fiori's! It's a STAPLE in this college town. Plus, if you're a pepperoni lover, this is a MUST on your pizza list! The pepperoni on their pizza sends this slice into another WORLD of deliciousness. Pepperoni lovers, this Pittsburgh place is for you!
Pizza, Pizza & More Pizza
Getting hungry yet?
No matter what College Weekends destination you're in, there's a hot, delicious pizza slice waiting for you. Whether you swear by NY-style pizza or you're a faithful fan of Chicago style, or maybe even gourmet thin crust pizza, there's a slice of great pizza out there waiting for you in almost every college town!