The Big Ten Conference is one of college football's most prestigious and tradition-filled collection of schools. Since its beginning in 1895, the Big Ten has grown to now include a total of 14 schools. With its newer additions over the past two decades, the old rivalries still exist but the Big 10 now includes even more game day and noteworthy traditions.
University of Illinois – The Marching Illini 
Known as "The Nation's Premier College Marching Band", the Marching Illini have become very well-known throughout the world of college football. Since 1868, the University of Illinois marching band has been entertaining fans with rousing performances that combine musical and visual innovation. When heading to Urbana-Champaign for game day Saturdays, get to the stadium to see for yourself and enjoy this epic marching band!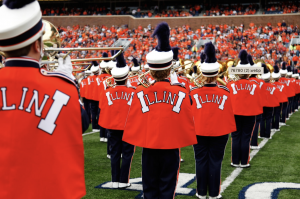 Michigan State University – Thunderstruck
Ever since 1999, the Michigan State Spartans have been running out to the field to the AC/DC hit "Thunderstruck". In 2007, clips from the movie "300" were added to the entrance, which only upped the anty. Spartan fans definitely know how to ramp up the pre-game energy!
Indiana University – R-O-C-K in the U.S.A.
Bloomington-native, John Mellencamp, is honored at the end of every first quarter when the Marching Hundred (IU's official marching band) plays "R-O-C-K in the U.S.A." The song has a double meaning, though, since the nickname for Memorial Stadium is "Rock." Rockin' in the Rock! 
Northwestern University – Wildcat Growl & Claw
It's pretty tough to be a Northwestern opponent. At each game, Northwestern fans hold their hands up in the air, make a claw, and create as much noise as possible to distract the other team. The noise is at its loudest during third down. Talk about a tough crowd! 
University of Iowa – Burrito Lift
Have you ever been to a college football game and lifted a virtual burrito throughout the stands? If you've been to a University of Iowa game, then yes, you have! The school has a longstanding partnership with Pancheros, a locally founded restaurant chain. A virtual burrito bounces across the screen while fans pump it up. It's weird, but it works!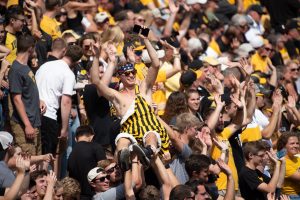 Ohio State University – Gold Pants
Every time *the* Ohio State beats Michigan, each player and coach is given a charm replica pair of gold pants. The tradition dates all the way back to 1934 with former coach Francis Schmidt. Over 80 years later and it's still going!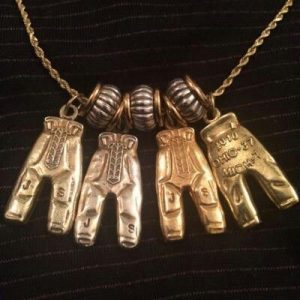 The University of Maryland – Flag Unfurling
Maryland schools have an INSANE amount of pride when it comes to their state. At each football game, two enormous pieces of the state flag are unfurled over two student sections. And if it needed to get any better, a historical video is shown with the "2001: A Space Odyssey" theme song playing over it. 
Penn State University – White Out
Beaver Stadium seats over 100,000 people. One game out of the season is dedicated to a complete "whiteout" … a site to see and definitely high energy. Intimidating? Yes. Super awesome for Penn State fans? Also yes!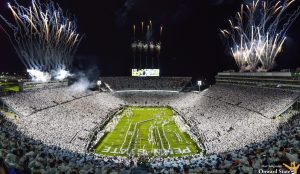 University of Michigan – The Wave
Now you might be thinking, "Everyone does the wave. Why is Michigan special?" Here's the thing, though. The University of Michigan students and fans have *perfected* the Wave. We don't know how they did it, but it's more like an art to them than just a fun game. If you plan on attending a game in the Big House, you better be ready to roll with the wave!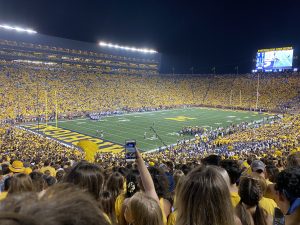 Purdue University – Big Bass Drum
A lot of schools have pretty big bass drums, but no other schools can boast of owning the world's largest drum! Purdue's bass drum is 10 feet tall, eight feet in diameter and nearly four feet between the two heads. People literally want their picture taken with this drum. Not a lot of schools can say that!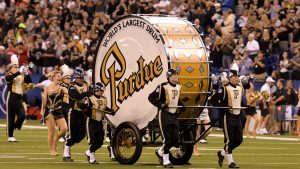 University of Minnesota – Ski-U-Mah Chant 
This famous victory chant actually comes from two rugby players dating all the way back in 1884. "Ski" is a Sioux battle cry that means "victory", and "U-Mah" represents the University of Minnesota. Now, the chant has been incorporated into the school's official songs and marching band cadence. Ski-U-Mah, indeed! 
Rutgers University – R or U?
If you come to a Rutgers game, you better make sure you got your screaming voice ready and you know which section you're sitting in. The spirit teams will point to either section and whoever they point to screams out "R" or "U" as loud as they can. You might lose your voice, but it'll be well worth it! 
The University of Nebraska – Clapping for Visitors
This might be the most polite tradition ever. No matter if Nebraska wins or loses, fans will stand up and actually cheer for the visiting team as they leave the field. How nice is that??
University of Wisconsin – Bucky's 5th Quarter
There are no other fans that will willingly stay 30-45 minutes *after* the game. UW's marching band, however, will put on a whole show for the after-party. Whether that's rolling around on the field or playing while standing on their heads, you don't want to miss it! Tell your friends – don't leave after the 4th!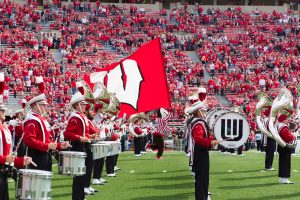 If you want to see any (or all!) of these traditions live and in person, book your stay now! College Weekends makes it easy for you to get maximize your college visit.