There's nothing much better than taking a weekend trip to your favorite school. Unless, of course, you add a nice round of golf at a beautiful course to end your stay. It's not necessary for you to be a golfer to see the value in that.
One of the best things about visiting various college towns is there are typically a ton of additional activities outside of exploring the college itself. Things like hitting local coffee shops or stopping by a town monument can round out your experience when visiting your favorite school. Leisure activities that get everyone in your group involved and are enjoyable no matter what are arguably the best things to stock your schedule with. What better action than playing a round of golf at a local course with your buddies?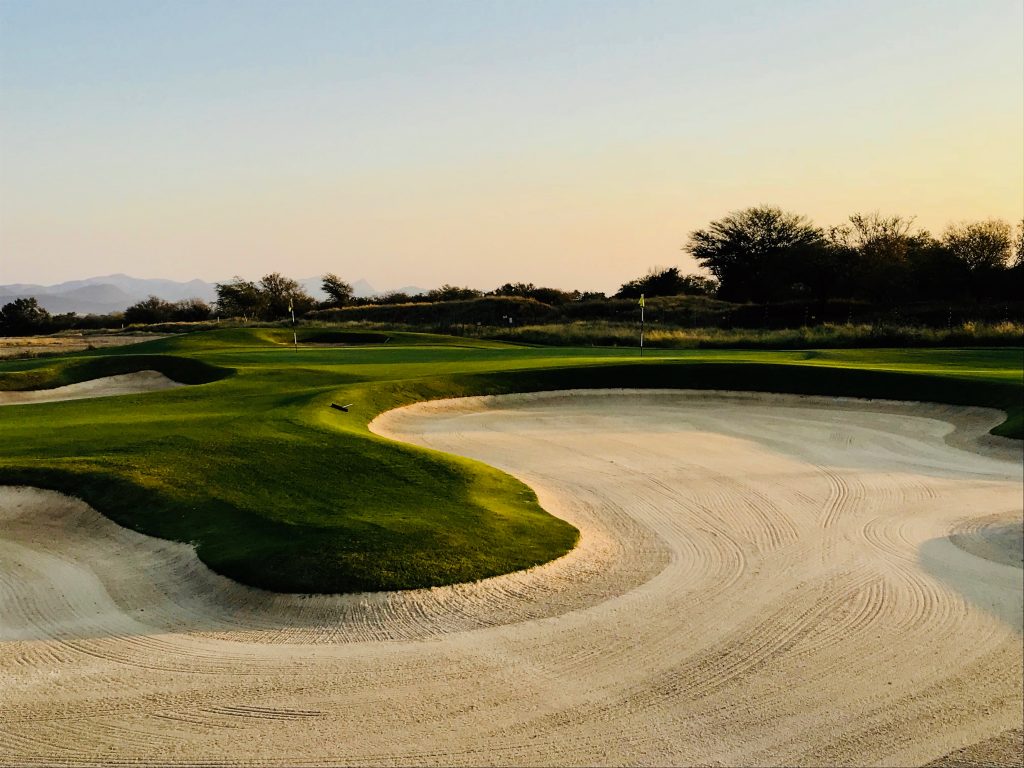 Many of CW's featured college towns have some of the best public golf courses in the country! You may be visiting for a college football game, but by the end of the weekend, you and your entourage will be PGA ready. Some of our featured destinations and famous college towns include:
Austin, Texas (the University of Texas at Austin)
Lubbock, Texas (Texas Tech University)
Tucson, Arizona (University of Arizona)
Athens, Georgia (University of Georgia)
Clemson, South Carolina (Clemson University)
Chapel Hill, North Carolina (University of North Carolina)
Charlottesville, Virginia (University of Virginia)
Richmond, Virginia (Virginia Commonwealth/Univ of Richmond)
Each has its unique school, outstanding social atmosphere, and, of course, beautiful golf course(s)!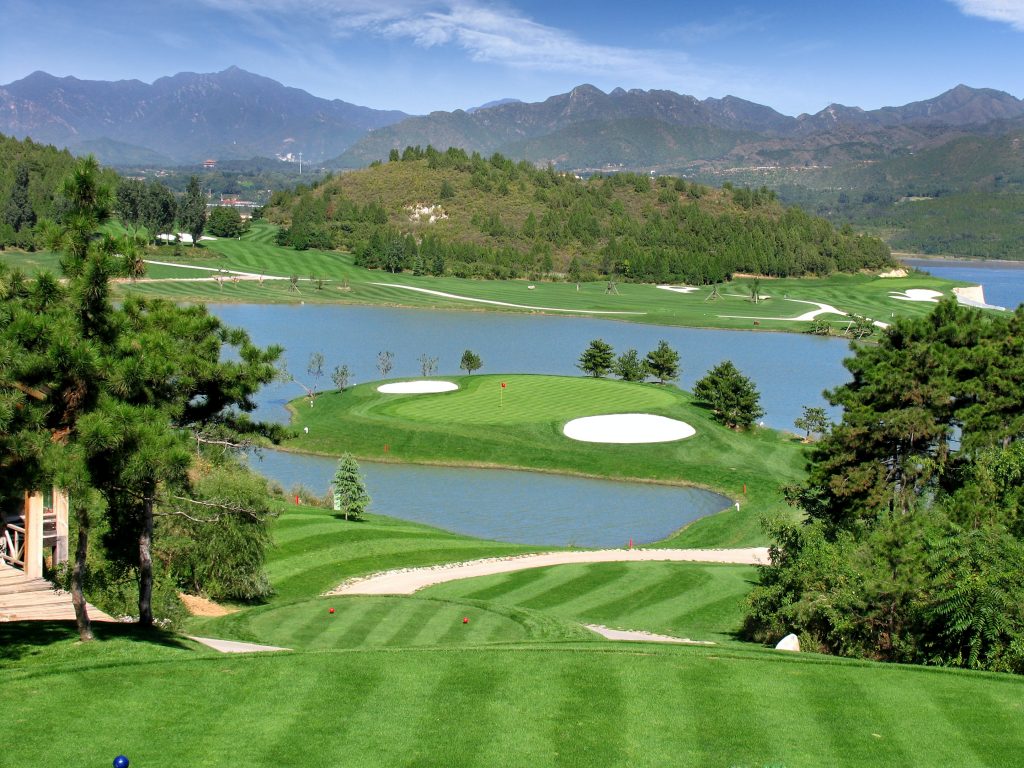 1. Austin, Texas
Austin is home to many different golf courses. Two of our favorites are: Lions Municipal Golf Course and Plum Creek Golf Course
Lions Municipal Golf Course
One cannot resist the temptation to golf when in the Texas state capitol. Especially when the attraction is less than a 10-minute drive from the University of Texas at Austin, I mean, come on! Lions Municipal Golf Course, nicknamed "Muny," is one of Austin's finest. Lions Municipal was opened in 1936 as Austin's first public golf course and has been a popular destination for locals and tourists since. The 18-hole course has landed itself a place in the Texas Golf Hall of Fame and is an excellent course for a relaxing round of golf.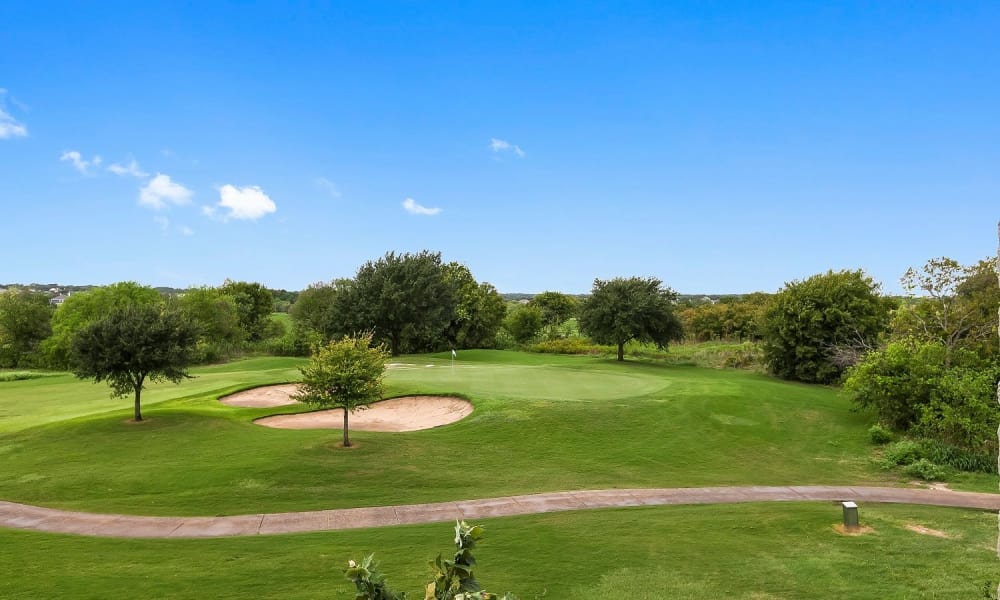 Plum Creek Golf Course
If one of your goals for your trip to Austin is to immerse yourself in the environment of Hill Country, then Plum Creek Golf Course needs to be a pit stop on your journey. The magnificence of the natural surroundings of the course is breathtaking. The signature oak trees, rolling hills, and local Texas wildflowers do not compare and make the course what it is. So, if you decide to travel to Plum Creek Golf Course, make sure to consider the time you will spend standing in awe of the scenery around you. Trust us. This challenging 18-hole course will give you a run for your money, so be ready!
2. Lubbock, Texas
The Rawls Course at Texas Tech University
Visiting Lubbock is a must for any traveler, especially those who love Texas Tech University! Recreational golfers and Red Raider fans can come together at The Rawls Course for a few fun holes! One of the highlights about this golf course is that it is on the Texas Tech campus! The landscape of The Rawls was created from scratch on the West Texas land but still magnifies its scenery. The holes were designed with the signature West Texas winds in mind, so a round of golf here will surely test your strategy skills. A favorite among Texas Tech students and visitors, The Rawls course will not disappoint.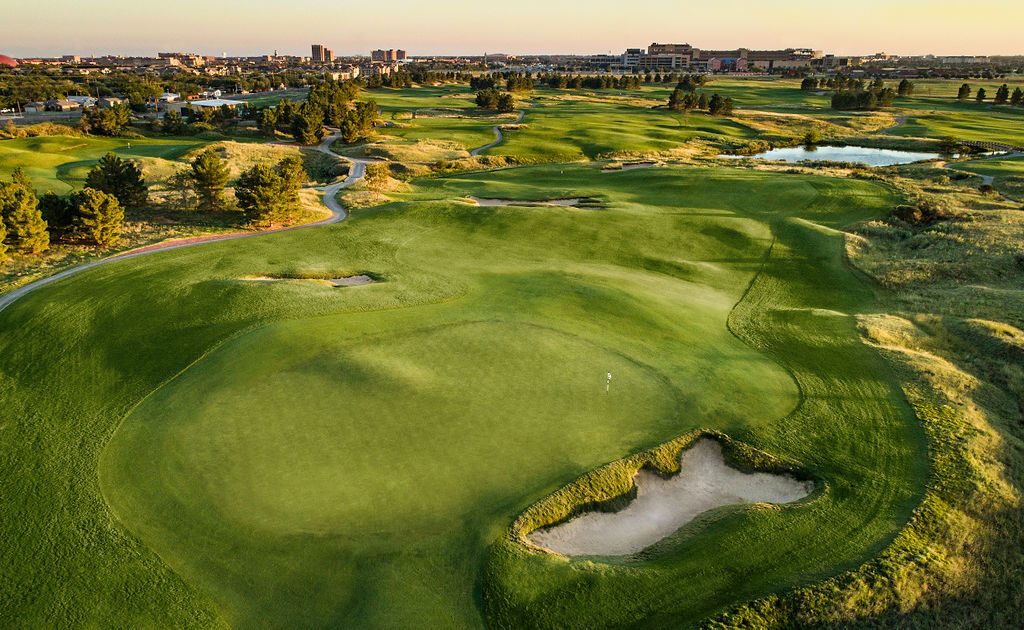 3. Tucson, Arizona
Arizona's desert sky sits above a fantastic landscape, one perfect for a challenging golf course. Two local favorites are: San Ignacio Golf Club and Arizona National Golf Club
San Ignacio Golf Club
Golfing in the desert may not sound like the best pastime, but the course at San Ignacio Golf Club makes the heat worth it. The hilly terrain paired with mountain views makes this course a bit of a challenge, but not so hard that any level golfer couldn't enjoy a regular round. Known for its signature lake-view 13th hole, this course sees visitors from all across the country. If you are scheduling a trip to visit the University of Arizona, San Ignacio Golf Club is a must-see, given that it is only about a 30 minutes drive from campus! Plus, when your day of golf is over, your group can stop by Schier's Sports Grill to mingle with University of Arizona locals.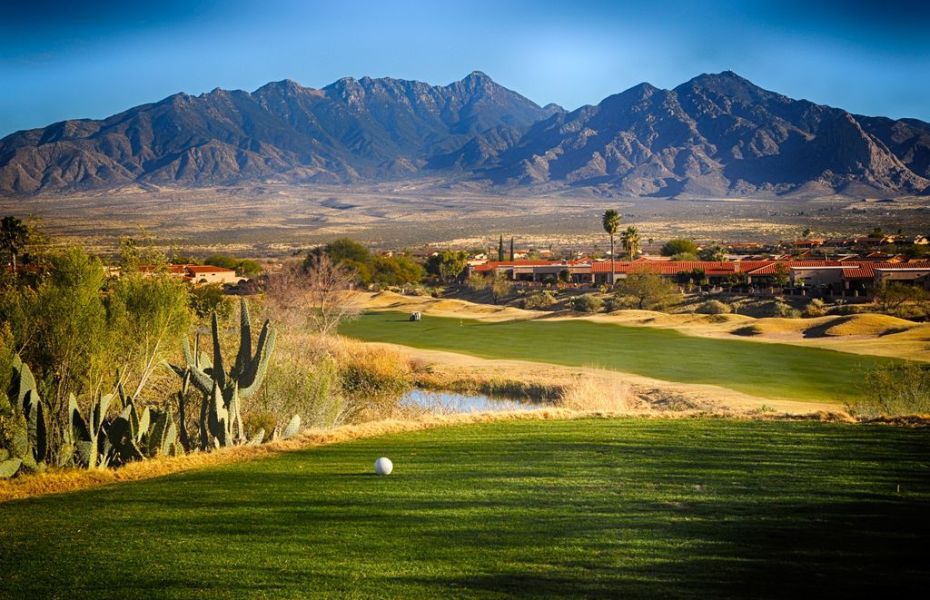 Arizona National Golf Club
The course at Arizona National Golf Club is another desert find. This course was voted Best Public Golf Course in Tucson, so you know it has to be great. The course follows the natural desert landscape while being nestled between the Santa Catalina Mountains and the Colorado National Forest. If you are looking for a scenic round of golf with your friends, this course is what you want. The Arizona National Golf Club course is a challenging one, with every desert challenge you can think of. The flow of the course allows golfers to execute their strategies for an exciting round. The natural springs along the course are efficient relaxers to any frustrated player. It will be an unforgettable experience, no matter what your scorecard says at the end of the day.
4. Athens, Georgia
University of Georgia Golf Course
We can't all have green jackets. While the iconic home to The Master's Tournament is a private course, the University of Georgia Golf Course is the next best thing (plus, it's WAY closer than Augusta). The course is home to the University of Georgia Men's and Women's golf teams and is one of the country's nicest college campus golf courses. UGA visitors and fans can book tee times at their leisure and enjoy a round of golf as part of their campus tour. Of course, you can't go wrong with the rolling landscape of Athens. The course is designed for the best collegiate golfers in the country, so keep that in mind when playing each hole.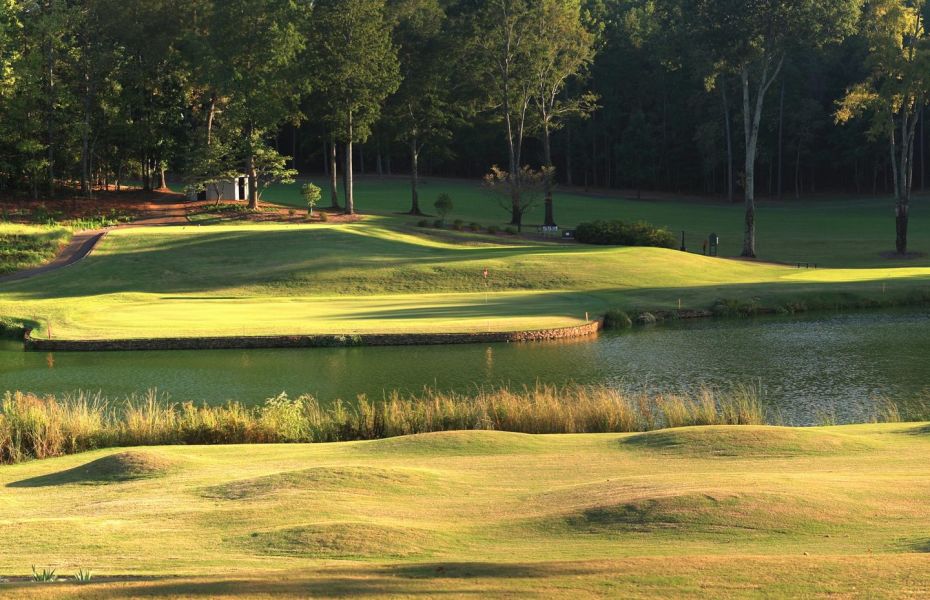 5. Clemson, South Carolina
The Walker Course at Clemson University
Adding to the list of CW schools with excellent on-campus golf courses, we have The Walker Course at Clemson University. The 2021 list for Best 25 College Golf Courses by Golfers Choice puts the Walker Course at number one. The course accommodates golfers from all skill levels while still giving players a challenge. The last five holes are located along Hartwell Lake to make the final moments of your game a beautiful South Carolina sight. Before you visit, be sure to check out CW's Exploring Clemson University to get an idea of key spots on campus!
6. Chapel Hill, North Carolina
The Preserve at Jordan Lake
Golfing is a go-to for Chapel Hill locals, making it a perfect activity to schedule when visiting the University of North Carolina! Less than 30 minutes from UNC's campus, The Preserve at Jordan Lake is the ideal spot. The true beauty of North Carolina really shows at this course, with 18 holes tucked into the pines surrounding Jordan Lake. A one-of-a-kind golfing experience is also paired with the contentment of knowing that The Preserve goes out of its way to preserve the natural environment and wildlife of the area, as it is a designated Audubon International Certified Sanctuary Golf Course. Challenge yourself along with a group of friends at The Preserve on your next trip to UNC.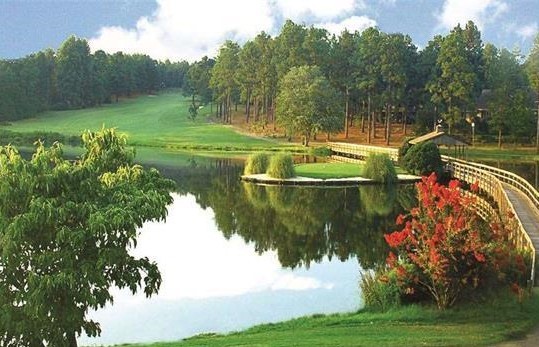 7. Charlottesville, Virginia
Virginia is a state made up of both great universities and fantastic golf courses. Who is surprised? Charlottesville specifically has a few true wonders, including: Birdwood Golf Course and Spring Creek Golf Club
Birdwood Golf Course
The newly reimagined Birdwood Golf Course in Charlottesville is an excellent stop for any University of Virginia fan or visitor, as it is the home course for UVA Men's and Women's golf! The traditional 18-hole course is accompanied by a short, 6-hole course and new practice putting greens. Birdwood Golf Course is a part of Boar's Head Resort, just outside the University of Virginia campus. The final stretch of the course surrounds the resort's signature piece- Birdwood Mansion. If the Virginia mountain scenery isn't enough for you, Birdwood Mansion will surely fit your fancy. The course was redesigned in 2020, but the new holes still embody the old course and add just a touch of current difficulty for old souls.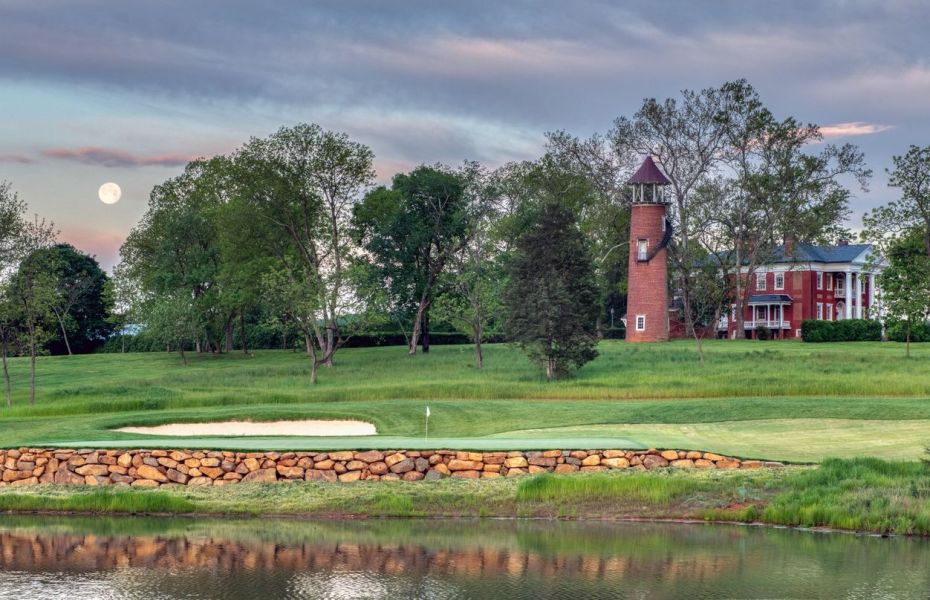 Spring Creek Golf Club
According to them, the course at Spring Creek Golf Club is "built for seekers." Seekers of a one-of-a-kind golfing experience that throws away the idea of average, to be exact. It lives up to the reputation. Peaceful rolling hills and mountain views give this challenging course its beauty and elegance. Thank you, Virginia. Spring Creek Golf Club is located 30 minutes east of UVA's campus, making it an easily accessible spot when visiting. Residents of Virginia love Spring Creek, saying that the championship layout is challenging but fair so that everyone can enjoy a round or two here. That means your buddy from college who still can't swing just right will have just as much fun as you.
8. Richmond, Virginia
Royal New Kent Golf Club
So far, Virginia golf has not disappointed. Royal New Kent Golf Club will not break that chain! A true Irish Links-style golf course, a day spent at Royal New Kent will make you forget where you are. The course here is said to be "the truest representation of an Irish Links in America." The course is challenging and requires lots of focus, so make sure to bring your best. A 30-minute drive from Richmond, home of Virginia Commonwealth University and the University of Richmond, brings you to this stunning course. Each corner turned brings a new sight and adventure, which is why golfers admire the course so much. While Richmond alone offers extensive activities and views for Virginia Commonwealth and U of R visitors, a round at Royal New Kent Golf Club is a must to round out your trip.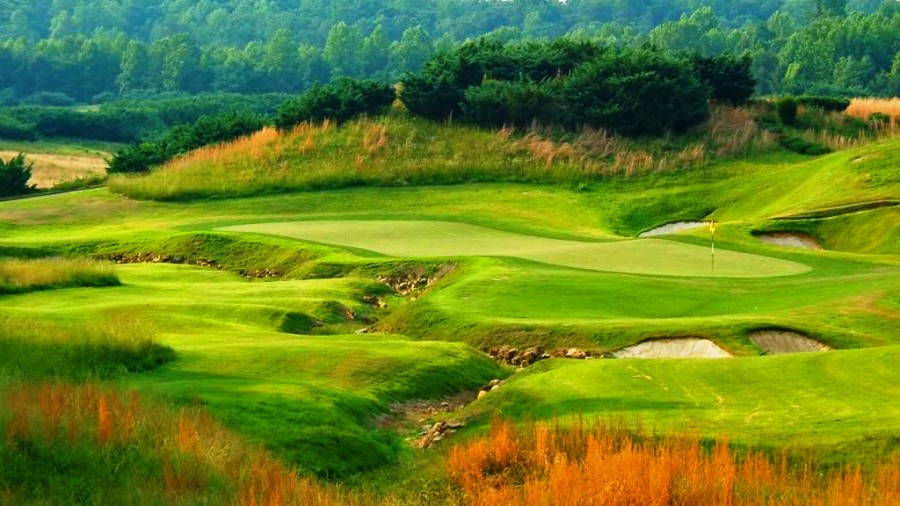 Are you planning your trip to one of these great college towns? Let us help! CollegeWeekends connects alumni, fans, and travelers with short-term lodging in or near your favorite college towns. So book your stay, plan your visit, and don't forget to make time for an excellent day of golf.