Fort Myers is a gorgeous seaside town located on the Southwest coast of Florida on the Gulf of Mexico. It is the perfect coastal town for a relaxing getaway and is also home to Perfect Game USA's showcase baseball series, which features some of the nations best high school baseball talent every summer and hosts other tournaments throughout the year. 
There is so much to do in this tropical paradise. You can do everything from exploring the beautiful beaches to restaurants with amazing views and even better food, and catching some MLB spring training games. You are sure to have the BEST time! 
Great Attractions to Check Out
In addition to its amazing white sandy beaches and Fort Myers' desirable year-round weather, there are a number of great attractions to check out while you are visiting the area.
The islands of Sanibel and Captiva are a getaway from the getaway if you can even imagine that. These two islands have miles and miles of beautiful beaches, bike paths, amazing nature and wildlife, and so much more. You can do everything from golfing to shopping, snorkeling, nature tours, and pretty much anything else you'd imagine an island to have. What are you waiting for?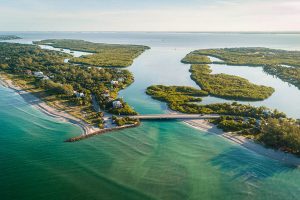 Did you know that the Fleamasters Flea Market is the biggest flea market in Southwest Florida? Definitely sounds like a Fort Myers bucket list item! With nearly 900 unique stores filled with extraordinary and rare items, you are sure to find something that fits your fancy!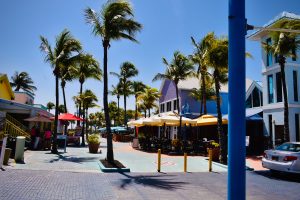 Before you ask…no, this is not Times Square in NYC – it's better! This sweet little spot is located on Estero Island and has so much to do – shopping, amazing restaurants, outdoor dining, street performers, and more! If it's beach versus city, we'll take the beach version of Times Square any day. 
The Burroughs Home is the only home from the founding days of Fort Myers that still stands in its original location and it is open to the public. You can tour through the house and be transported back to 1901 to see Fort Myers life from over 100 years ago. The Burroughs Home also hosted many famous guests in its time, including Thomas Edison, Henry Ford, and Harvey Firestone. Book a tour and see the beautiful home! 
Fun Activities in Fort Myers
In addition to being the spring training home of the Boston Red Sox and Minnesota Twins, Fort Myers and the surrounding areas also has a lot of great and exciting activities to explore for the whole family.
If you're a big baseball fan, you're definitely going to want to visit Fort Myers in March for MLB spring training! The Boston Red Sox and Minnesota Twins complete their spring training and play their preseason games in Fort Myers. The Red Sox play in JetBlue Park and the Twins play in Hammond Stadium. Baseball season can start early for you this year!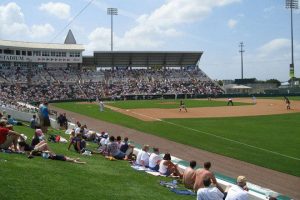 We've all done scavenger hunts at some point, but have you ever done one over an entire city? Well, now you'll have the chance in Fort Myers! Using the Operation City Quest app, you'll be able to explore all of downtown Fort Myers while completing a photo scavenger hunt. The best part? You'll be competing against other scavenger hunters for first place! 
Even though Fort Myers has some gorgeous beaches, take a break from the sand and go enjoy some super fun water rides. Sun Splash Water Park is the perfect place to have your fun-in-the-sun without having to worry about all that sand in your car. Sun Splash has tons of water slides and rides, a lazy river, kids' playgrounds, and much more! Be sure to check the calendar to see their hours and days of operation. 
Let's paint the picture – a five-course meal, on a train, while watching an intriguing murder mystery show. Doesn't that sound like a super fun night out? We think so, too! You can have a great and story to tell with this super unique experience!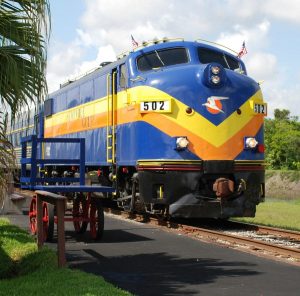 Amazing Seafood & Other Fantastic Restaurants 
Great seafood, amazing Southern cooking and views to die for, Fort Myers does not disappoint for those looking for a great and local dining experience.
If you're looking for some delicious and authentic Southern cooking, you have to head to the Farmer's Market Restaurant! Using ingredients from a nearby farmer's market and recipes passed down through family generations, this restaurant is guaranteed to quickly become a Southern favorite of yours.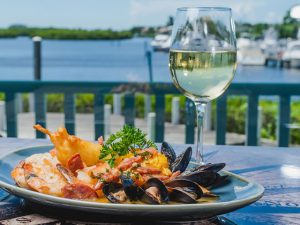 Lighthouse Waterfront Restaurant
Waterfront dining is a must when you're in Fort Myers, and the Lighthouse Restaurant is the perfect choice for this. Not only do you get to enjoy beautiful views of the water, surrounding nature, and fresh-tasting seafood, but you can enjoy some live music along with it all! Doesn't that sound like the most relaxing meal ever?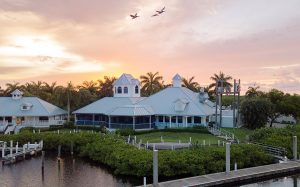 Add a little spice to your vacation with some classic Peruvian, Argentinian, and Italian dishes, all under one roof! El Gaucho Inca is a local favorite, so feel free to immerse yourself in the Fort Myers culture and act like a local for a night! 
Not only is Fort Myers beautiful, but it's also very historic, as well. If you want to take a trip back in time, visit The Veranda to enjoy a great meal and some old Southern charm. Located in two turn-of-the-century homes, it's no wonder this beautiful place is one of the most award-winning restaurants in the Fort Myers area.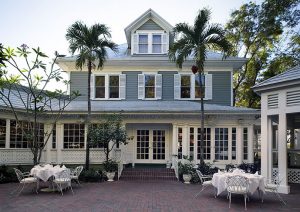 Without question, Fort Myers is a perfect vacation destination – with all the beaches, beautiful waterfront restaurants, unique and historic attractions, MLB spring training, and so much more, you will definitely leave here feeling like you've done it all!