Searching for a unique and baseball-filled vacation? Omaha, home to the College Baseball World Series every June and also the largest city in Nebraska, offers great restaurants (did we say steak?!), shopping experiences, outdoor activities, and much more. Here is your guide to some of the notable and exciting attractions that Omaha has to offer!
The College World Series
Omaha, despite its many interesting and unique attractions, is most well-known for hosting the NCAA College World Series, one of college baseball's biggest events of the year.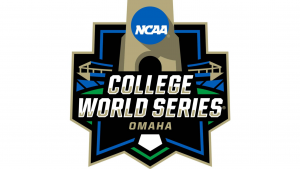 The NCAA College World Series or the "Greatest Show on Dirt", first held in 1947, is an annual baseball tournament held each June in Omaha. The eight Super Regional winners, selected from the original 64 of the Division I Baseball Championship, participate in the tournament. The eight participating teams are split into two groups of four and then play in a double elimination format culminating with the winners of each bracket playing in a best-of-three championship.
The tournament is held in the Charles Schwab Field, located in Downtown Omaha, which has a seating capacity of 24,000 and is also home to the Creighton University Bluejays. The tournament averages around 14,000 to 24,000 fans each game and has an electric atmosphere.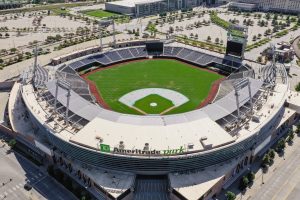 This month, the College Baseball World Series tournament will resume again from June 17th through June 27th. The very best college baseball teams and their rabid fan bases will ascend to Omaha for what has become a truly memorable championship event. 
Youth Baseball Tournaments
Omaha has also become home to several youth baseball tournaments including Omaha SlumpBuster which offers three different sessions from June 16th to the 26th in which over 650 teams will participate. The tournament is entering its 20th year and offers participants the opportunity to also attend the College World Series.

The Battle of Omaha is another tournament to look forward to. Much like Omaha SlumpBuster, the Battle of Omaha has three sessions held from June 17th to the 27th (also coinciding with teh College World Series) which will see teams from 11U to 19U. If you are looking for a unique tournament experience that will also help your player prepare for college then Pathway Omaha may be your best option. Held from June 16th to the 20th, Pathway Omaha is hosted by Iowa Western baseball coach Marc Rardin and offers two sessions, one for 15U-16U and another for 17U-18U. Coaches and players will be able to live and dine on campus during this fully-immersive experience. 
Great Restaurants in Omaha
Omaha is filled with many different restaurants ranging in type from Italian, Mexican, American, and even Irish food! Two Fine Irishmen is one option that you will not want to miss. Offering Irish cuisine and Irish music, Two Fine Irishmen will be a unique dining experience.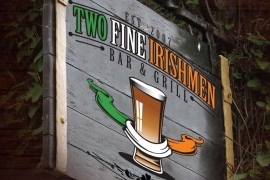 360 Steakhouse is another option for those looking for a more American-style cuisine. Located in Harrah's Council Bluffs, this steakhouse boasts many different appetizers, drinks, and entrees including a spinach artichoke dip, escargot, a sea glass riesling, a sixteen-ounce ribeye, and much more. If you're searching for a more casual environment then 1000 Degrees Pizza may be for you! 1000 Degrees Pizza serves Neapolitan-style pizza and other things like wings and salad. Their pizzas are unique and include toppings like fresh mushrooms, garlic, asiago, pineapple, and blue cheese. 
Nightlife
If you're searching for nightlife, Omaha has you covered! With over 190 bars and nightclubs, Omaha has so many options to choose from.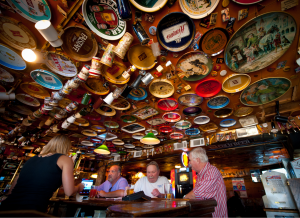 The Dinner Detective will make for a night that you are sure to remember. The award-winning dinner show offers comedic relief with a mysterious twist. Guests will work alongside performers, who are dressed like everyone else, to solve a murder mystery. Barks N Brews is another unique option for those visiting Omaha. During the day the establishment is a doggy daycare. Yet, during the night it transforms into a fully functioning bar. Both you and your dog can enjoy drinks while socializing with other patrons, both human and animal! If you are looking to dance then Bar 415 is the place for you.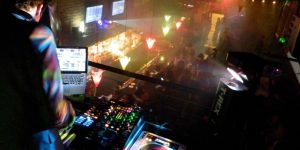 With an array of national and international DJs, Bar 415 is a great option for those looking for both great music and an exciting atmosphere.
The Arts
There are many different venues for the arts that Omaha has to offer, including galleries and theaters. Hot Shops Art Center is one example. Hot Shops is a "living museum" meaning that artists work while patrons observe the process. The museum includes an art glass studio, a metal foundry, a ceramics studio, and an iron forge all of which include artists working in real-time! Hot Shops also offers educational opportunities and classes such as glass workshops, pottery classes, and painting classes. Anderson O'Brien Art Gallery is another of Omaha's art venues. The gallery is located in Midtown Omaha and is "dedicated to the promotion of regional and national visual artists." The gallery offers modern and contemporary art, sculpture, fine art, and photography, ranging in design from jewelry to printmaking. If you are searching for a performing arts experience Nebraska Shakespeare is a great option.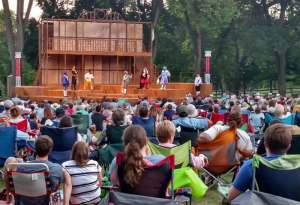 Founded in 1980 at Creighton University, Nebraska Shakespeare performs the author's many great works. The company offers "Shakespeare On The Green", featuring The Tempest and Othello, and a Shakespeare camp, both of which are scheduled for this summer. 
Omaha's Old Market
Omaha's Old Market Entertainment District is a historic area of the city that offers entertainment, shopping, and dining. The Backline Comedy Theater is just one example of the many different forms of entertainment in Old Market. The Backline offers standup, improv, sketch, and open mic comedy performances for anyone interested in a laugh. The company also teaches classes for those looking for a more hands-on experience.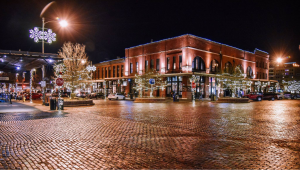 Brickway Brewery and Distillery is another great option for those visiting Old Market. Brickway is a hip and rustic brewery and distillery that offers a great variety of drinks and snacks. Brickway has 30 beers available and offers outdoor and indoor seating. Brickway also has areas such as their whiskey cellar that can be rented out for private events like weddings. 
Shopping
Omaha is home to many unique boutiques, specialty shops, and several outdoor shopping centers. Apricot Lane, located in Southwest Omaha sells beautiful, unique, and trendy clothing. While Apricot Lane has locations elsewhere in the country, Apricot Lane, Omaha prides itself on being "always local" and remaining true to the customer and community.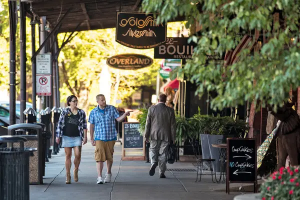 If you want a truly unique shopping experience make sure to check out Artemis Tea and Botanical in Midtown Omaha. Artemis Tea and Botanical sells a multitude of different teas and tea collections as well as mugs, tea strainers, and much more. The teas by Artemis are crafted by a clinical herbalist and are sure to be a great gift or souvenir. Omaha also has several outdoor shopping centers such as One Pacific Place. One Pacific Place houses stores such as Bath and Body Works, Eddie Bauer, and Trader Joe's. The plaza also has areas to eat and things to do like yoga or pilates. 
Omaha Zoo and Aquarium
The Henry Doorly Zoo and Aquarium has 160 acres of plants, animals, and habitats including those of sea lions, gorillas, and much more. Founded in 1894 as Riverview Park, the Henry Doorly Zoo and Aquarium's mission is to "inspire, educate and engage people to serve as lifelong stewards for the conservation of animals and their habitats."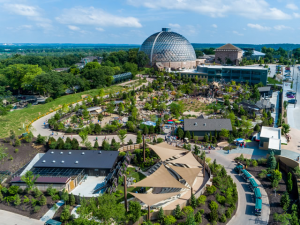 The Zoo and Aquarium also include camps and programs for those who want a more involved experience. Interested patrons can also take part in virtual field trips and classes for both families and children. Adventure trails are also available for children and families who want to play in a fully interactive water stream or a 40-foot wide treehouse!
Outdoor Recreation
Omaha may be the largest city in Nebraska, but that does not mean it doesn't offer outdoor activities and excitement! Home to five lakes, two rivers, and many parks, visitors and residents can enjoy boating, fishing, and other outdoor activities. Explore part of the Lewis and Clark Trail with Experience Lewis and Clark. Omaha is home to the trail's headquarters which will give guests a great introduction to all the things the trail has to offer. Another possibility for those looking for an excursion into the outdoors is TreeRush Adventures.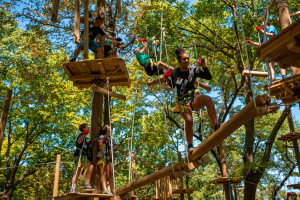 TreeRush is an adventure park for those who love ropes courses and aerial trails. TreeRush offers over 115 challenges and 18 zip lines that are perfect for anyone interested in a thrill! If you're looking for a more relaxed area where you can choose your own adventure try out Fontenelle Forest, one of Nebraska's oldest conservation organizations. In Fontenelle, guests can hike, stroll on the forest's boardwalk, or observe the canopy level exhibit, the Raptor Woodland Refuge. 
Heading to the College World Series or whatever brings you to Omaha, you're sure to find something worth your while. Visit College Weekends for help planning your trip!