Heading to Pigeon Forge or Gatlinburg for vacation or an upcoming tournament?  CollegeWeekends.com reviews all the best options to explore during your visit to the scenic Smokey Mountains – including several great entertainment and fantastic food options.
Pigeon Forge is a small but popular city in Tennessee that has plenty to keep you entertained for an entire weekend. It is most famously known for being the home of Dollywood, Dolly Parton's Appalachian-themed amusement park.  In addition, Pigeon Forge (and nearby Gatlinburg) hosts a number of youth sports tournaments in baseball, basketball, volleyball, soccer and lacrosse.  Pigeon Forge is also only 45 minutes away from Knoxville, home of the University of Tennessee Volunteers.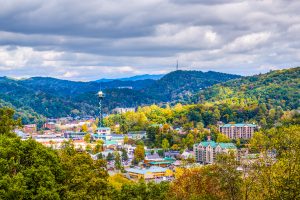 Besides Dollywood, there is so much that Pigeon Forge and the very-near city of Gatlinburg have to offer. With everything from restaurants to mini golf to parks and shopping, you are sure to have a blast while enjoying these Tennessee treasures!
Must Do Local Attractions
Dollywood:  There is SO much to do in Dollywood – a theme park, a water park, dinner shows, resorts, and so much more. As you might've guessed from the name, this place celebrates all things Dolly Parton. You could spend an entire weekend in Dollywood alone to feel like you've seen it all!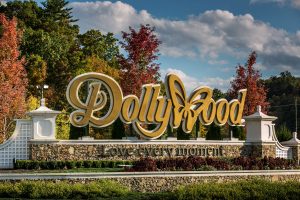 Ripley's Aquarium of the Smokies:  If you're looking for something a little more low-key, but still just as fun, check out Ripley's Aquarium of the Smokies! Take a nice stroll through amazing aquatic life and immerse yourself in the sea. You can even sit and watch a live show for a little bit. Take a dive into the beautiful sea, in the middle of the mountains! 
Gatlinburg SkyLift Park:  The Smoky Mountains surround Pigeon Forge and Gatlinburg on all sides, so what better way to see them than 1,800 feet above sea level? Take a breathtaking ride above the mountains and look down on the beautiful town of Gatlinburg. Take a trip up in the clouds for a day!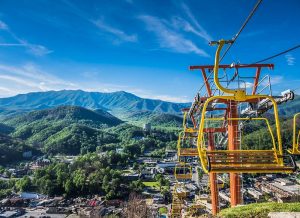 Titanic Museum Attraction:  Did you know that this is the world's largest museum attraction? With such a huge museum, there is so much to do and see aboard the famous luxury liner. It's a self-guided tour with plenty of interactive activities that will make you feel like you are a true passenger on the Titanic. Plus, how often do you get to travel back in time? 

Great Local Restaurant Options
Bubba Gump Shrimp Co:  Are you a fan of Forrest Gump? Have you always wanted to try the famous shrimp? While visiting Gatlinburg, you can! Whether you're in the mood for surf n turf or soup and salad, you can enjoy your meal surrounded by Forrest Gump fandom. You can be fully immersed in this classic and timeless story!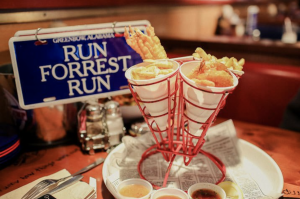 Paula Deen's Family Kitchen:  If you love Paula Deen and her delicious, Southern-style recipes, take a visit to her restaurant where you can enjoy breakfast, lunch, dinner, or all three! As soon as you step into the kitchen, you'll immediately feel the warmth and comfort of true Southern hospitality.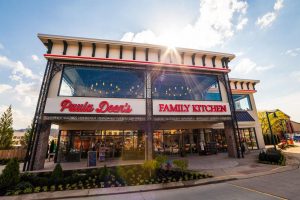 The Pancake Pantry:  This was Tennessee's very first pancake specialty restaurant and they've continued their traditions for over 60 years. You can choose from a wide variety of delicious crepes, pancakes, waffles, eggs, and tons more at extremely affordable prices. Start your day off with a scrumptious and authentic Tennessee breakfast!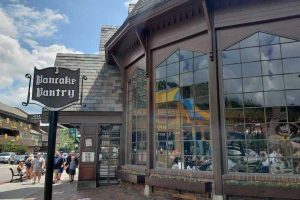 Pirates Voyage Dinner & Show:  Escape into a pirate adventure and join Blackjack on his quest to find the Davey Jones sunken treasure. Enjoy a full four-course meal that includes biscuits, soup, fried chicken, corn on the cob, and so much more. Great food and a great show? Sounds like the perfect recipe for a fun night out with the whole family!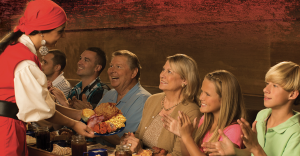 Fun Activities for the Whole Family
Gatlin's Escape Games:  Get your family and friends together and spend an afternoon escaping dozens of different rooms! This is a great opportunity to put your heads together and show off your clever skills while also having a ton of fun. Who doesn't love a good mystery? 
Crave Golf Club:  Mini golf is fun…but you know what's even better? Indoor mini golf, rooftop mini golf, escape rooms, mini bowling, a candy store, AND soft service ice cream! You can find it all at Crave Golf Club. Go and get your crave on! 

Arcadia:  With Arcadia, think Dave and Buster's, but with a Gatlinburg twist. Spend some time in 30,000 square foot chalk full of hundreds of arcade games, video games, and immersive simulations. Here's the best part – you get to play for luxury, name-brand prizes the whole time!
The Track:  Take your competitive side to the races at The Track! The Track has been voted the best go-karts in town, right in the center of the Smokies. Once you've beaten your friends and family in go-karts (we hope!), go enjoy Blaster Boats, Bumper Cars, and more! You can spend a whole day at Te Track and never run out of fun.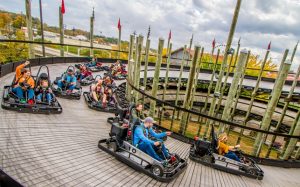 Although this vacation destination is nestled in the rural Smokey Mountains … it  is far from boring and Pigeon Forge (and neighboring Gatlinburg) won't disappoint! There is so much to do that we are sure this place will become your new favorite tourist destinations.