Vanderbilt is located in the amazing and country music capital of the world, Nashville, Tennessee, and is home to rigorous academics, interesting traditions, and competitive team sports. Explore life as a Vanderbilt Commodore and the surrounding city of Nashville.
Vanderbilt History
Vanderbilt was founded in 1873 using $1 million gifted to the university by "Commodore" Cornelius Vanderbilt. Cornelius Vanderbilt's goal for the institution was to "contribute to strengthening the ties that should exist between all sections of our common country."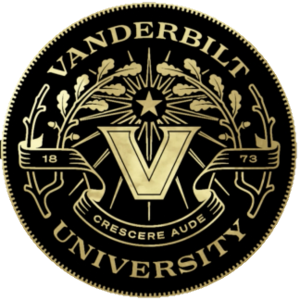 The first campus building, Kirkland Hall, was designed by William Crawford Smith who also built the Parthenon in Nashville. In the fall of 1875, there were a total of 200 students enrolled at Vanderbilt. Vanderbilt is an academically rigorous university and is home to globally renowned research programs (the "Ivy" of the SEC). Vanderbilt's faculty is comprised of 2,400 full-time members and has a student population of 12,000 which spans 10 different colleges. 
Vanderbilt has several centers and programs for graduate scholarly research including the Vanderbilt Brain Institute and the Warren Center for Neuroscience Drug Discovery. There is also a program for undergraduate research known as Immersion Vanderbilt. Immersion Vanderbilt is a program in which undergraduate students can explore their interests through experiential learning. 
Vandy Sports
Vanderbilt Athletics has 16 teams that participate at the NCAA Division 1 level of the Southeastern Conference, except for women's lacrosse which plays in the American Athletic Conference. The university's strongest sports include men's and women's tennis and basketball, and baseball.  Most notably, Vanderbilt baseball won the 2014 and 2019 College World Series and has been a perennial national power over the last two decades.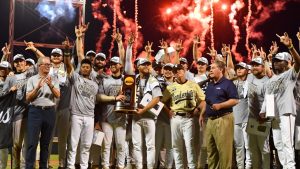 If you are a fan of college baseball (or baseball in general!), on your bucket list should definitely include a road trip to watch the Commodores baseball team in action.  
Great Vanderbilt Traditions
Vanderbilt has several unique traditions that students take part in during the school year. One includes the Founders Walk which features first-year, transfer, and Next Steps students. These students get dressed up in t-shirts and hold signs representing their sorority or fraternity houses. They parade from Ingram Commons to Alumni Lawn.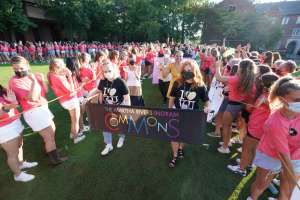 This is a fun tradition that unites members of Vanderbilt's Greek life. Another tradition involves champagne and strawberries. Each year after commencement an elaborate display of strawberries and champagne is provided to the recent graduates for them to enjoy in celebration of their achievement. Another great tradition is the VU hand sign. Students will hold up their hands as a sign of solidarity with one another. This tradition was started by the Vanderbilt cheerleaders in 2003 and has stuck ever since.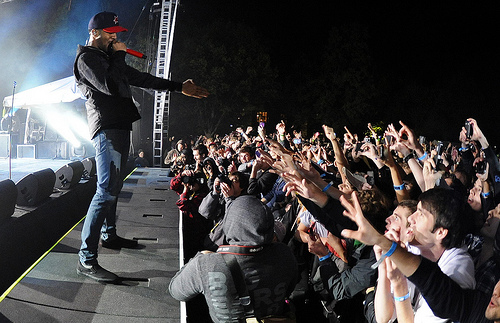 Vanderbilt is also home to the great Rites of Spring music festival, which is held every year and has included acts such as the Red Hot Chili Peppers, 21 Savage and more.
Exploring Nashville
Nashville or the "Music City" is home to many country music stars, and an exciting place to explore. When visiting Nashville, here are a few restaurants, nightlife, and attraction recommendations to help you plan your Nashville excursion.  Rest assured, you will not be bored!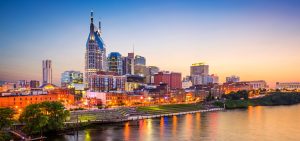 Restaurants
There are many amazing restaurant options to choose from in Nashville. The Rutledge is a modern American grille and offers delicious meals ranging from brunch to later night snacks. You can also sample some of their unique signature cocktails such as smoke and spice or the cucumbertini.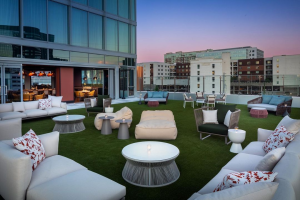 You can also try out Mel's Overlord located in East Nashville. Mel's Overlord is mainly a bar but also offers great food too. Try one of their many beers, wines, or liquors along with a charcuterie board or a cheese plate. Thistle and Rye is another option for those looking for both a Tennessee and global experience. Opening in the late summer of 2022, Thistle and Rye is a whiskey bar that serves beverages and globally-inspired dishes.  For more ideas on restaurants to explore, check out Discovering Vanderbilt & Nashville – Restaurants.
Nightlife
Nashville is famous for its nightlife so you are sure to find a bar or music venue that you will love! Ole Red is one option for country music lovers. Ole Red was founded by Country singer Blake Shelton and provides food and signature drinks along with the music of current and future country stars. Fellow Country star Jason Aldean also has a business in Nashville.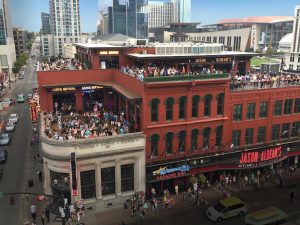 The Jason Aldean Kitchen and Rooftop Bar offers amazing food such as fried cauliflower and pot roast and drinks like wine, beer, and signature cocktails. Like Ole Red, this rooftop bar is also home to amazing live music from local artists like Bear Redell, Makena Hartlin, James Freeborn, and many more. Music is offered on two floors of the restaurant to ensure that you get the best eating experience available. Another great music venue is the Bootleggers Inn which offers music from 12:00 pm to 10:00 pm. Bootleggers Inn has a cozy atmosphere that is sure to make your music listening experience enjoyable.  For more ideas on hot Nashville hot spots to explore, check out Discovering Vanderbilt & Nashville – Bars & Nightlife.
Local Attractions
As the heart of country music and being named "Music City," Nashville is home to many great attractions. If you're looking to dive into the history of some of country music's greats, check out the Storytellers Hideaway Farm and Museum. Once described by Johnny Cash as "the center of my universe," this farm and museum were originally owned by Johnny Cash until his death. The land has been preserved and made into a museum where visitors can get a deeper look into the private life of Johhny Cash.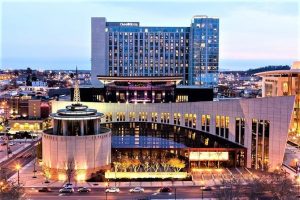 You'll also want to be sure to schedule a tour of the Country Music Hall of Fame while visiting Nashville. Even if you're not a die-hard country music fan, the CMHOF has hundreds of must-see artifacts and pieces of memorabilia from the genre's biggest superstars over the past several decades. You'll definitely want a photo op with artifacts such as the "gold Cadillac" and "gold piano," both from Elvis Presley.
If you're looking for a family-friendly attraction then make sure to check out the Nashville Zoo. The zoo offers events such as safaris and attractions like a 4D theater and a zip-line. The zoo's main goal is to remain a place of conservation and to promote ethical zoo-keeping practices making it a great place to visit.
Music City Bowl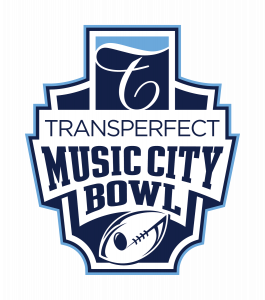 The Music City Bowl is a post season college football bowl game that is held by the NCAA. Founded in 1998, the bowl came to be after the Nashville Sports Council began discussions with the SEC about possibly introducing a post season college bowl in the Nashville area. The bowl went through several stages of planning and included help from the Mayor's office, the Nashville Convention & Visitors Bureau, and the Nashville Area Chamber of Commerce. Since 2020 the bowl has been sponsored by TransPerfect. The Music City Bowl will be held December 31st, 2022 at 1:00 am CST at Nissan Stadium. This year will celebrate 25 years of the bowl.
Pro Sports in Nashville
Finally, fans in the Music City are just about as passionate about their home professional teams as they are about their music! Nashville is home to four professional sports teams – the NHL Nashville Predators, the MiLB Nashville Sounds, the MLS Nashville Soccer Club, and last but certainly not least, the NFL Tennessee Titans. Be sure to check out their schedules when planning your next visit as tickets sell out fast – especially for Titans games.
No matter your interests, both Nashville, TN and Vanderbilt University have so much to offer and are waiting for you to visit! For help planning your trip visit College Weekends today!