Graduation season is often a great time for graduating students and their families to celebrate a terrific achievement. We wanted to honor the 2023 graduation class with a look at some of the top celebratory cocktails for graduation festivities (and tailgates!) from the SEC, Big12, Big10 and ACC. We encourage you to celebrate responsibly, but enjoy our list of college town themed cocktails!
University of Alabama: The Yellowhammer Slammer
While Gallette's, the famous college bar near the University of Alabama, hasn't released their fan-favorite recipe for their Yellowhammer cocktail, you can try and find your own recipe! This cocktail is so popular for home game tailgates that the restaurant sells anywhere between 4,000-5,000 a game.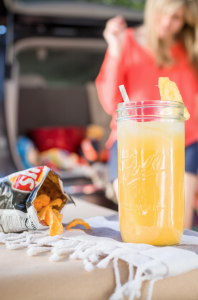 Excited to try out the recipe? All you need is some vodka, rum, Amaretto, orange juice, and pineapple juice. You can mix these all together and serve over a cup of ice for your own delicious spin on the Alabama classic cocktail.
University of Texas: Hook 'Em Horns Margarita
Alright, next up is the University of Texas. Now, you may be thinking about how to make a blended drink … we got you covered. Bring a blender or a portable blender and plug it into your car's air conditioner adaptor! Your watch parties will never be the same, thanks to this super-easy twist on the Texas Margarita. Want to make a batch for your graduation party or at your next tailgate? The Hook 'Em Horns Margarita is a jalapeño-infused drink brings all the heat and flavor you'll need!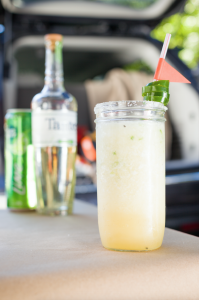 Eager to try it out? Grab some limeade, tequila, beer, and jalapeno, and pour it all in a blender with some ice. You can even wet the rim of the glasses and top it off with some sea salt. You won't regret the Texas heat!
University of Missouri: Spiked Root Beer
Mizzou time! Old Missouri" Spiked Root Beer is a favorite cocktail for Missouri Tigers fans! If you're feeling extra, why not add some whipped cream on top?! Totally not needed, but definitely encouraged! Sing Mizzou's alma mater and raise a glass before kickoff. It's good luck. Okay maybe not… but it's still delicious.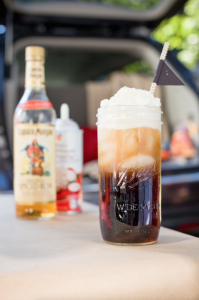 Want the recipe? Just have about 2 ounces of rum, plenty of root beer, and a handful of ice. Pour some root beer in a glass, add the ice and spike it with some rum… And of course, don't forget the whipped cream for an extra touch!
University of Oregon: The Mighty Duck
What's The Mighty Duck you might ask? Well, you can celebrate and cheer on your favorite Ducks with this pear spritzer! Between the famous University of Oregon school colors and the state fruit, this cocktail is as festive as it gets for any Duck celebration or tailgate.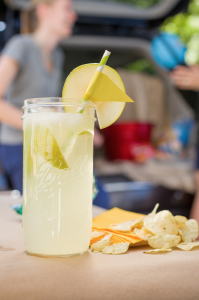 For an easy tailgate recipe, combine vodka and lemonade in a glass filled with ice. You can even get pear-flavored vodka if you want!  Top with a small splash of club soda. Then, garnish the delicious drink with pear.
University of Florida: Gatorade Margaritas
Alright, alright… we know that Swamp Juice is a great competition, but the investors of Gatorade deserve a Gatorade cocktail! With only five simple ingredients, this recipe is a must-have for any UF celebration or tailgate.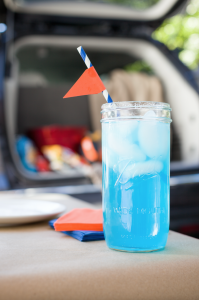 Eager to give this Gatorade Margarita a try? Just grab some lime juice, lots of Gatorade, tequila, a handful of ice, and some salt. Now, with the Gatorade and while in Gainesville, you gotta have the orange or blue… no other options!
University of Georgia: Spiked Sweet Tea
Georgians and Bulldawg fans KNOW how to make REAL Sweet Tea, and on a blazing game day or graduation event in May, there's no better way to stay cool. From classic lemon slices in the tea to oranges for more of a tropical flavor, you can add lots of different options to the mix.
To prepare a Georgia Spiked Sweet Tea cocktail, you need a classic recipe. Start by bringing the water to a boil in a pot. Add tea bags and allow the tea to steep. While the tea is still hot, but off the burner, add the granulated sugar until it's dissolved. Let the tea cool in a fridge and prepare your lemon slices. Once your sweet tea is done, the real fun starts!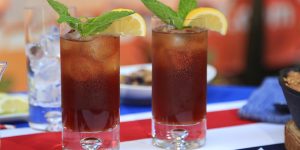 All you have to do is add some bourbon to a large cup of iced sweet tea and add some more lemon slices if you want! For some easy tailgate access, combine all ingredients in a large pitcher, stir and serve.
Auburn University: War Eagle Rum Punch
Get ready for a rowdy "War Eagle" rallying cry before kickoff with this rum-infused drink. You can mix a batch of OJ and rum beforehand, then top everyone's glasses with Sprite before serving for a quick and easy cocktail.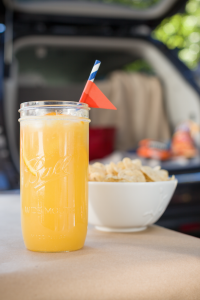 The War Eagle Rum Punch is really to make. Pour about four ounces of sprite, six ounces of orange juice, and four ounces of rum over ice. That's all you need to enjoy any Auburn celebration – including game days in the Fall!
University of Michigan: Big Blue Spritzer
Heading back to the Big10, the University of Michigan is home to the Big Blue Spritzer. Adding a splash of Blue Curacao gives this fizzy spritzer its subtle color, but you can amp up the color by opting for a mix of half-Sprite, half-blue Gatorade, or Powerade.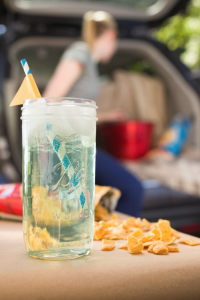 To make this delicious cocktail, all you need is 2 ounces of Blue Curacao, 2 ounces of rum, 10 ounces of Sprite, and you can add some Gatorade too if you want that extra color!
Penn State: Tigah Shark
No one does a "white game" better than Penn State! So, a go-to cocktail for a Penn tailgate would have to be a classic Negroni or Tigah Shark. A traditional Negroni is equal parts gin, sweet vermouth and Campari. But, to make it a bit lighter for a tailgate, we got your back!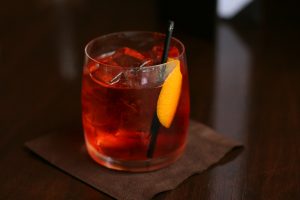 You can either add 1 ounce of Gin, 1 ounce of Suze, and one ounce of Lillet blanc to a glass over ice, or you can go a bit lighter! You can mix 1.5 Gin, 0.75 Suze, and 0.75 Lillet instead for a lighter option. Either way, this drink will have you hype and ready for game day!
Virginia Tech: Jungle Bird
Last but not least, the Hokies deserve a special cocktail too! Anyone that has ever been to Blacksburg in the Fall and winter, with the dazzling grey buildings only matched by grey overcast skies can see why people often confuse a Hokie for a bird of paradise. The Jungle Bird also happens to be a maroonish color to match the spirit of the Hokies!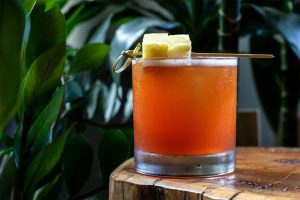 To make this amazing recipe during graduation season, all you need is some Black Strap Rum, Pineapple Juice, Campari, Lime juice, and simple Syrup. Combine all the ingredients with some ice and your tailgate just got a whole lot more fun!
So, what's your favorite CW drink on the menu? Between all the CW destinations, I'm sure there's a cocktail out there for you to choose from. Visit collegeweekends.com for more information!