College football is more than just a game; it's a cultural phenomenon that captures the hearts and souls of fans across the nation. One of the essential components of the college football experience is the legendary tailgate parties that take place before the big games. These lively gatherings bring together students, alumni, and passionate fans who share a common love for their teams. In this blog, we will explore the top 10 college football tailgate scenes, where the excitement, camaraderie, and unforgettable memories unfold.
LSU – Baton Rouge, Louisiana:
The tailgating scene at Louisiana State University (LSU) is legendary. Known as "Tiger Tailgating," fans gather around the campus, creating a sea of purple and gold. The aroma of Cajun cuisine fills the air as fans indulge in delicious gumbo, jambalaya, and crawfish boils. The atmosphere is electric, with live music, spirited chants, and the famous "Callin' Baton Rouge" playing on repeat.

Only 15 minutes away from the Tiger Stadium, The Chimes is a must-visit during your game day. Enjoy delicious appetizers, soups, salads, sandwiches, and southern entrees. With a vast tap beer selection, large booths, a rooftop patio and bar, TVs lining the walls, and games such as giant jenga, cornhole, and ping pong, The Chimes has a fun atmosphere perfect for game day. 
University of Alabama – Tuscaloosa, Alabama: 
At the University of Alabama, football is a way of life, and the tailgating experience reflects that passion. The Quad, located at the heart of the campus, transforms into a sea of crimson as fans set up extravagant setups complete with massive grills, tents, and flat-screen TVs. The "Walk of Champions" allows fans to cheer on the players as they make their way to the stadium, creating a sense of unity and excitement.
Before heading to The Quad to tailgate, make your way to The Houndstooth Sports Bar, "Alabama's favorite college bar," to get the festivities started. Indulge in starters, burgers, sandwiches and wraps, wings, beer, seltzers, wine, whiskey, and cocktails. Play pool and darts, watch tv on one of the 30+ screens, and enjoy the best and biggest whiskey selection in Tuscaloosa. 
University of Texas – Austin, Texas: 
Everything is bigger in Texas, and so are the tailgate parties. Longhorn fans take pride in their pregame celebrations, and the area around Darrell K Royal-Texas Memorial Stadium buzzes with energy. From mouthwatering barbecue to competitive cornhole games, the tailgate scene at UT Austin brings together a vibrant mix of alumni, students, and die-hard football enthusiasts.
Head to Posse East, a hangout voted as one of the best college football bars. A short walking distance from Darrel K. Royal Memorial Stadium, enjoy yummy food and drinks, and chat with friends before the game begins. Get some appetizers, sandwiches, burgers, tacos, fish, and salads, and don't forget the beer and wine!
University of Georgia – Athens, Georgia: 
Known as the "Classic City," Athens comes alive on game days when the Georgia Bulldogs take the field. Greek-style mansions and historic sites set the backdrop for a lively tailgate experience. Fans gather around North Campus, adorned in red and black, and enjoy Southern delicacies like fried chicken, pimento cheese, and sweet tea. The Dawg Walk is a cherished tradition where fans cheer on their team as they make their way to the stadium.
Before heading to watch the Dawgs, enjoy the laid-back atmosphere of the Trappeze Pub. Check out the craft beer and cocktail selection, and savor the classic bar food options. Serving sandwiches, burgers, soups, salads, cheese plates, other delicious entrees, and desserts, there's plenty of food to choose from. 
University of Wisconsin – Madison, Wisconsin: 
Wisconsin winters may be chilly, but that doesn't dampen the Badger spirit on game days. At the University of Wisconsin, fans brave the cold and gather in the parking lots surrounding Camp Randall Stadium. The aroma of bratwurst fills the air as fans grill and enjoy the signature Wisconsin cheese curds. The spirited "Jump Around" tradition, where fans bounce to the music between the third and fourth quarters, adds an extra level of excitement to the festivities.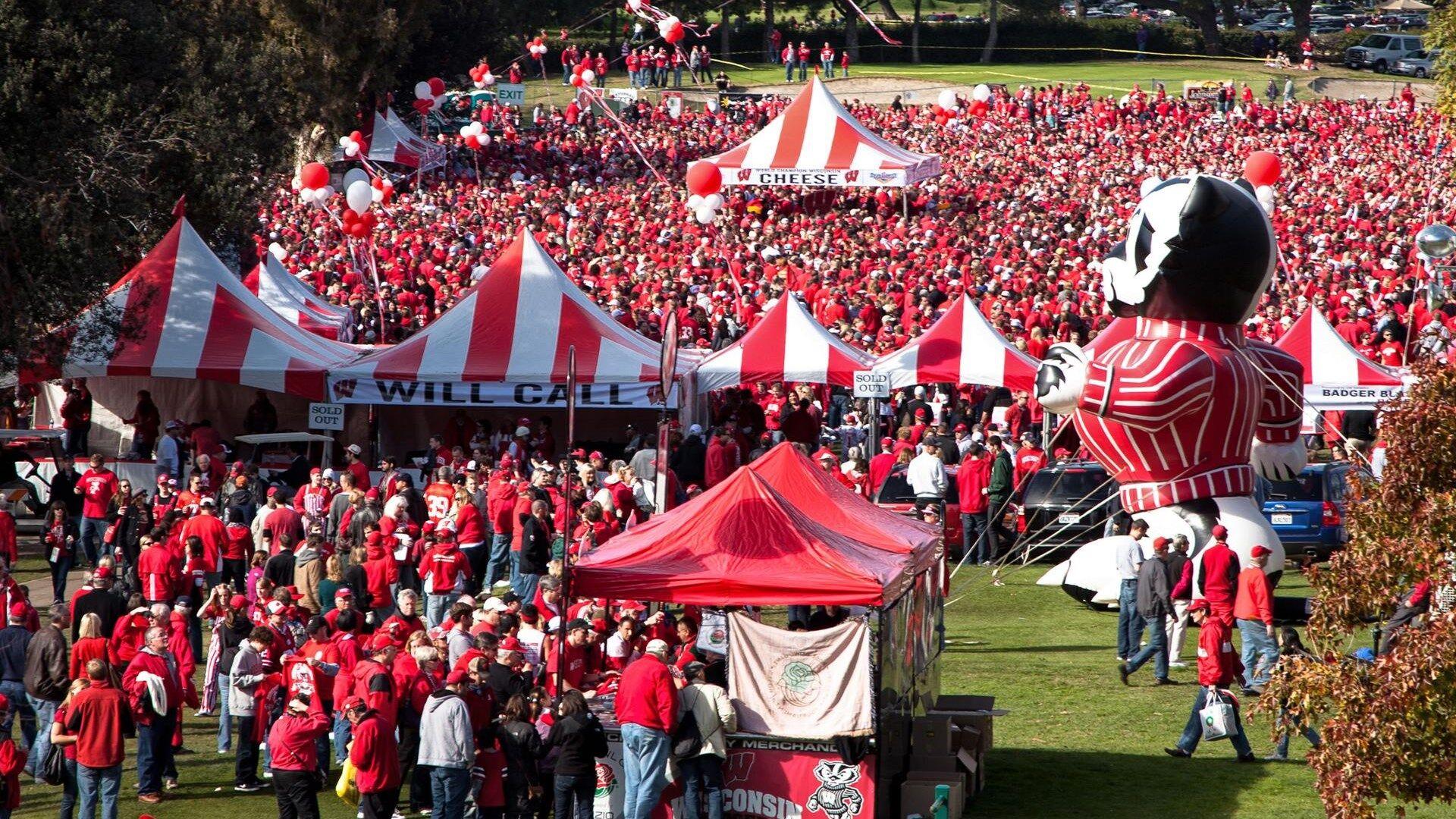 Start your Badger game day at The Red Zone, a Madison sports bar and entertainment venue. With over 35 flat screen TVs, a delicious pub grub menu, 4 different areas to grab a drink, and an outdoor tailgate area, this is the perfect tailgate spot. Additionally, The Red Zone houses an entertainment venue with a stage, full sound and lights system, and a full-service bar. Does it get better than that?
University of Tennessee – Knoxville, Tennessee:
Neyland Stadium in Knoxville is home to one of the most iconic tailgate scenes in the South. The Volunteer Navy sets up along the Tennessee River, creating a unique experience that combines football, food, and picturesque views. Smoked barbecue, moonshine, and orange-clad fans dominate the scene, showcasing their dedication to the Tennessee Volunteers.
Before the game, head to Fieldhouse Social, a sports bar serving American craft food and beer and cocktails. Chow down on shareables, field greens, burgers, other delicious entrees, and desserts while watching TV on the "largest TV in the Southland." 
University of Southern California – Los Angeles, California: 
Tailgating at the University of Southern California (USC) brings a touch of glamor to the college football experience. Fans gather in the heart of Los Angeles, near the iconic Coliseum, enjoying gourmet cuisine and cocktails before cheering on the Trojans. The sunny California weather, coupled with the energy of USC's spirited fans, creates an unforgettable tailgating atmosphere.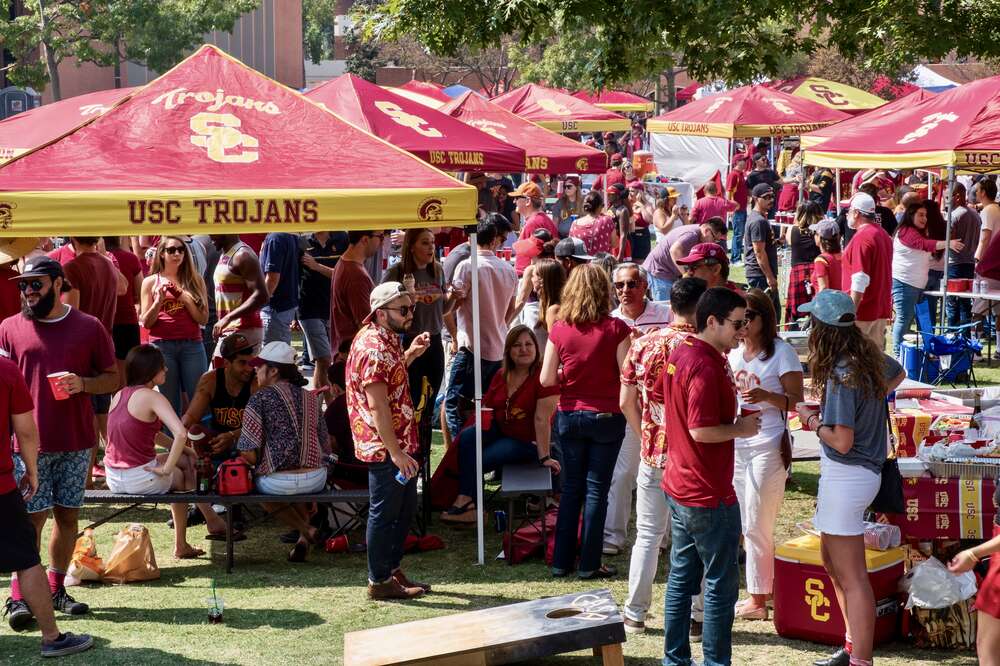 A trip to USC is not complete without going to Legends Sports Bar, "the first modern sports bar in America." Known for its wings and burgers, Legends serves a variety of appetizers, soups, salads, sandwiches, and more. Basque in the fun atmosphere, enjoy a beer and a burger, and get ready for game day!
University of Florida – Gainesville, Florida: 
The "Swamp" in Gainesville is where the Florida Gators showcase their fierce football spirit. From the traditional Gator Walk to the sea of orange and blue, the tailgating scene here is a vibrant display of enthusiasm. Grilled gator bites, key lime pie, and refreshing cocktails are enjoyed by fans as they prepare for an exciting game at Ben Hill Griffin Stadium.
Show your Gator spirit at Gator's Dockside of Gainesville, a sports bar known for its wings, ribs, seafood, and love of sports. With large screens to watch your favorite sports, delicious food, friendly service, and plenty of other crowd goers, Gator's Dockside has the perfect game day atmosphere.
University of Michigan – Ann Arbor, Michigan: 
The Big House in Ann Arbor, Michigan, is not only known for its football, but also for its epic tailgate parties. Fans gather around the stadium, creating a sea of maize and blue. The aroma of hot dogs and chili fills the crisp autumn air as fans engage in spirited debates and games of "cornhole." The camaraderie and tradition surrounding the Michigan Wolverines make this tailgating scene truly special.
Begin your long day of tailgating at the University of Michigan at Fraser's Pub, the perfect place to munch on some appetizers, burgers, and other pub food before heading to the game. Sit on the patio and enjoy a beer (or a few), chat with family and friends, and get excited for game day.
University of Oregon – Eugene, Oregon:
The University of Oregon is known for its vibrant colors and unique traditions, and the tailgating scene is no exception. Duck fans gather around Autzen Stadium, showcasing their green and yellow pride. Food trucks offering a variety of cuisines, local craft beer, and live music create a festive atmosphere. The "O" symbol painted on faces and bodies adds to the passionate ambiance of this West Coast tailgating experience.
Celebrate the Ducks at Sam's Place Tavern, "the best sports bar in town… period." Sam's Place prides itself on an inviting bar, good food, and a friendly staff. With TVs in every booth, delicious breakfast, lunch, and dinner options, and great cocktails, beer, and wine, there is a lot to enjoy. Indulge in a burger or fish and chips and some spirits before heading to watch the Ducks play!
College football tailgates provide a space where fans can come together to celebrate their teams, indulge in delicious food, and create lasting memories. Whether it's the Cajun flair of LSU, the southern hospitality of Georgia, or the grandeur of USC, each of the top 10 college football tailgate scenes offers a unique and unforgettable experience. So, grab your team colors, fire up the grill, and join in the revelry of game day tailgating—the heart and soul of college football.
At CollegeWeekends, we want to help you have amazing experiences while visiting college campuses and have great lodging options in many college towns.  Click here for more information.