We all know the struggle that it can be to find tickets to your favorite college team's games. That is why we have found the best online ticket options for you to check out the next time you are looking for tickets or trying to sell a pair you already have.
StubHub was created in 2000 and has become the largest ticket marketplace in the world by giving fans access to live sports, music, and theatre events in over 40 countries.
StubHub offers multiple perks, including:
Online and in-app ticket purchasing

Interactive seat mapping

360-degree virtual views of seating 

Innovative price recommendation technology and an algorithm that determines the best value on tickets
They also offer their FanProtect policy, enabling buyers and sellers of tickets to have 100% confidence in their transactions. With the FanProtect policy, you can purchase valid tickets to events or receive your money back. StubHub will find replacement tickets if there are problems with your order; if there's a cancellation, StubHub will give you a 120% refund on the original amount you paid.  
When selling tickets, it is free to list your tickets, change their price anytime, have hassle-free delivery and payment, and they will handle communication with the buyer of the tickets. 
Also, StubHub offers a price estimator to help you determine the right price for your tickets based on 15+ years of data. Their recommendation price is supposed to increase your chance of selling without leaving you feeling lowballed.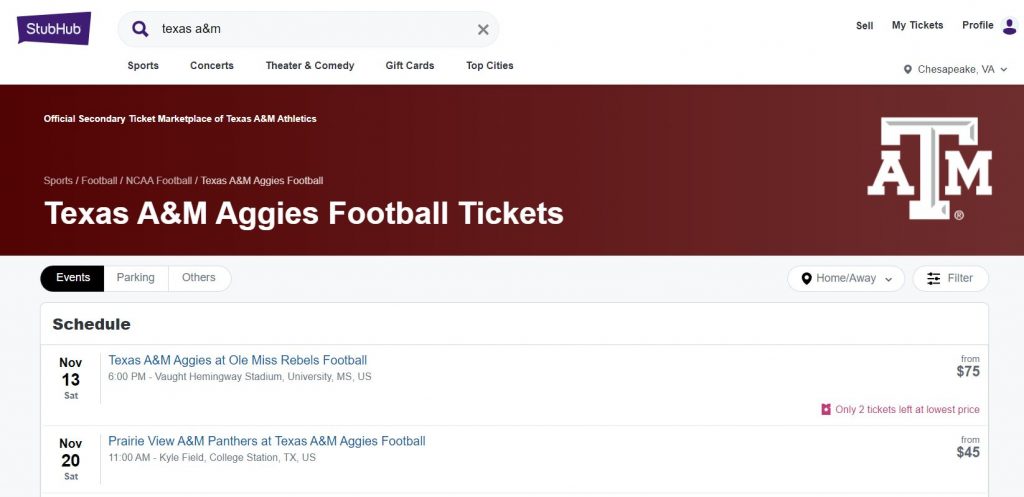 SeatGeek is the leading mobile ticket purchasing and selling platform. They present tickets from the biggest ticket-selling sites all in one place for your convenience, and you can easily compare prices from multiple vendors.  SeatGeek also provides a Buyer Guarantee if your event gets cancelled for any reason.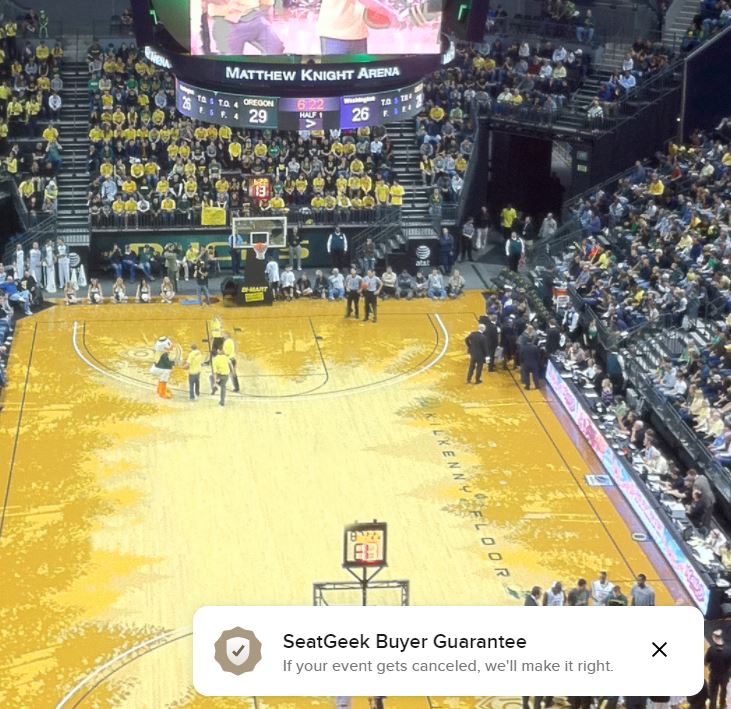 SeatGeek's Deal Score system helps sort these listings and gives you their top rating on the best bargains for the tickets you are looking for. The higher the Deal Score, the better the value. The Deal Score is also present when viewing your seats on their 3D interactive map so that you can see the best seats for the best deal.
You can also track your favorite teams and receive personal recommendations on upcoming events that might be of interest to you based on your purchases and favorites list. SeatGeek will also notify you when your team's tickets go on sale and if there are events in your city that you would want to attend. 
When it comes to selling tickets, you can only resell tickets that are already uploaded to your SeatGeek account. 
According to Newsweek, Vivid Seats was ranked the #1 ticketing brand for the second consecutive year. 
With Vivid Seats, you will be able to receive full-service customer care, safe and secure transactions, tickets delivered before your event, authentic and correct ticket orders, and compensation for canceled events. 
Vivid Seats' rewards program allows you to collect one stamp for every ticket you buy and receive a reward credit after collecting 10 stamps. An easy way to earn more stamps is to buy tickets to earn reward credits faster!
Your reward credits can be put toward a ticket purchase and can be used how you want. If the credit doesn't cover the entire balance, pay the difference. If your credit covers the whole amount and there is still a balance, save it for later.
Vivid Seats also offers a Rewards Program so that you can earn more for going to more events.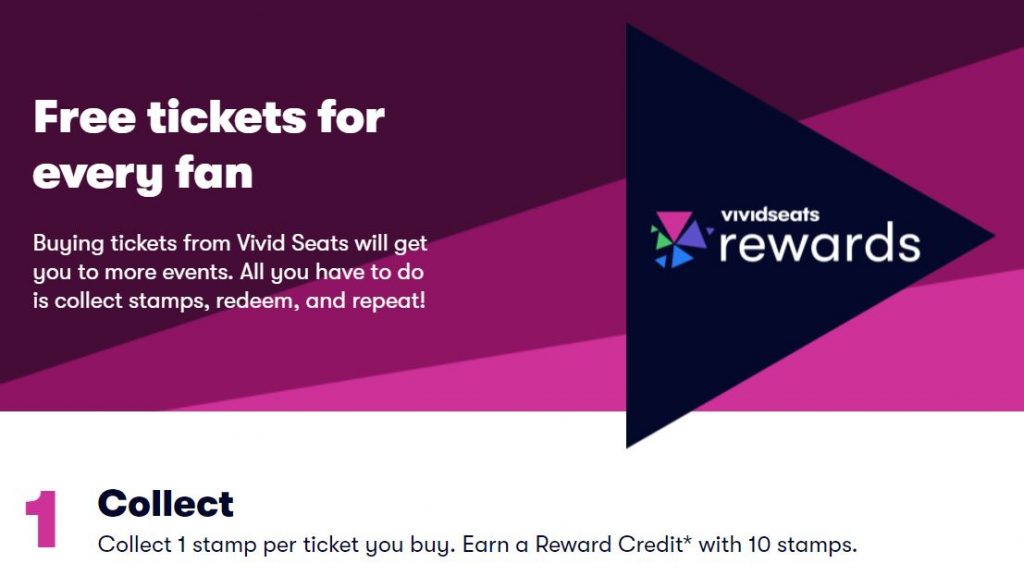 Founded in 1990, TicketCity has earned the reputation of one of the most trusted ticketing companies in the business today in their 30 years of experience. 
TicketCity offers has one of the most comprehensive list of tickets and packages that you can purchase on its platform. 
Here is a list of some of the great options you can purchase with TicketCity:
Tickets

Parking

Playoffs Seats

Premium Seats

Hospitality Access

Group Seats

Suites

Event Schedules

Venue Guides
This is definitely the most inclusive ticketing site that is listed in this article. 
With their ticket guarantee, if you don't receive the correct tickets or are unable to enter the event you order tickets for, they will either replace your tickets, upgrade them, or reimburse you for the hassle. 

Gametime is one of the newest online ticket platforms and has been making a big splash with heavy marketing.  Gametime is a built-for-mobile ticketing site that caters to those impromptu changes of plans and those need-to-see shows and events. It's not the largest ticket service, but its mission is to be the easiest.
Gametime's mobile platform makes buying and accessing tickets easy without needing a printer. All tickets can be stored on your phone. Ticket pricing is competitive and honest, showing you the full price of tickets without hidden fees. 
Lastly, Gametime tickets are guaranteed to be delivered to you on time and will be valid for entry.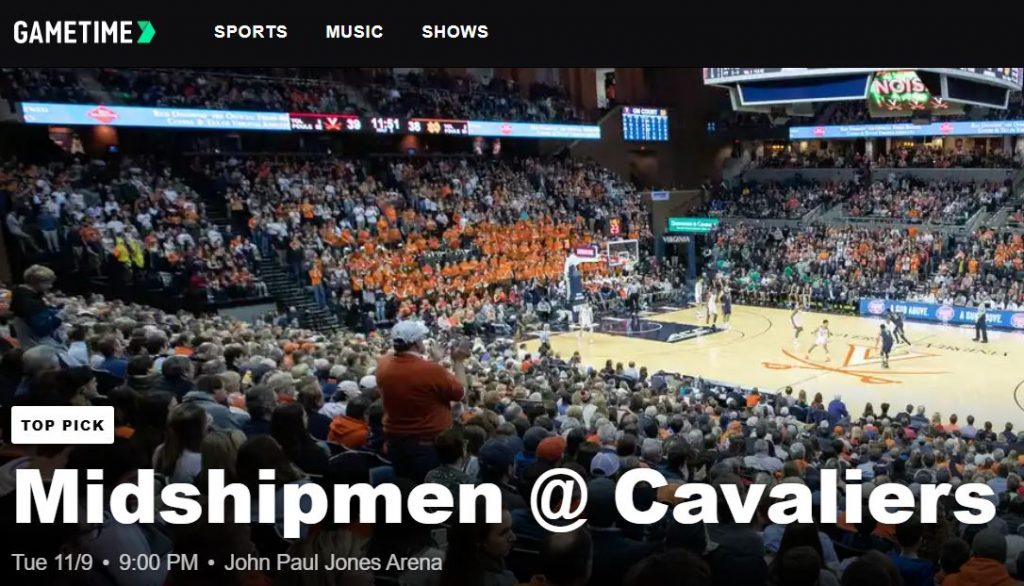 TickPick is another up and coming online ticket platform that offers no service fees – ever, their best price guarantee, up-front pricing, and their BuyerTrust guarantee. 
TickPick believes that there should be no sinking feeling when checking out, so they have gotten rid of all service fees for their customers. Also, they have guaranteed their prices to be the best you will find and if you find a better price, they will give you 110% of the price difference in the form of TickPick credit.
When it comes to their BuyerTrust guarantee, TickPick sources their tickets from the most trusted ticket sellers so that you never have to worry about your tickets being fake or delivered incorrectly.