The 2022-2023 school year is in full swing, and there's a lot of buzz across Vanderbilt's campus. Located in one of the most electric cities – Nashville (aka "Music City"), there's so much to see and do when visiting Vanderbilt University. Check out what's happening at Vanderbilt this year and these can't miss events in Nashville! 
Vanderbilt Men's and Women's Basketball Season: Winter 2023
The men's and women's basketball schedules are in full swing at Vanderbilt. If you're in town looking for something to do, get tickets to one of the games!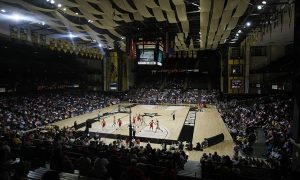 A variety of concessions including Chick-fil-a and Slim and Husky's Pizza are offered at the stadium during games. You are sure to have a great time at any game cheering on the Commodores with the rest of the fans.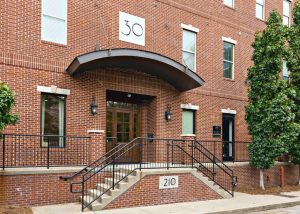 Nashville offers many different vacation rentals perfect for anyone looking to watch Commodores games as they end their seasons. This modern loft is just a 10-minute walk from Vanderbilt University and offers 2 bedrooms, 1 bathroom, a washer and dryer, and so much more!
Check out the property here: Nashville – 210 30th Ave Unit 412 – S – MD – P
Vanderbilt Baseball Season: February 17, 2023 
The "VandyBoys" kick off another exciting baseball season with the College Baseball Showdown in Arlington, Texas at Globe Life Field February 17-19, 2023. Their first home opener will be February 21st vs. Central Arkansas.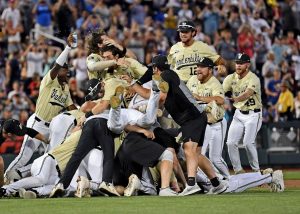 With a prestigious reputation of 5 College World Series titles, most recently in 2021, Vanderbilt checks in for 2023 as the preseason ranked No. 9, cracking the Top 10 for the 12th consecutive season. Outfielder Enrique Bradfield Jr. and pitcher Carter Holton have earned preseason All-America recognition from Perfect Game ahead of the 2023 season, and are expected to lead the Commodores to another successful season of Vanderbilt Baseball. 
Vanderbilt Men's Golf – Mason Rudolph Championship: April 10-12, 2023
The Vanderbilt Men's Golf team will compete in the Mason Rudolph Championship at Vanderbilt Legends Club in Franklin, Tennessee (just outside of Nashville) April 10th-12th. The Commodores placed first in the Mason Rudolf tournament in 2022 and went on to win the SEC Championship, advancing to the Semifinals of the National Championships before falling to TCU.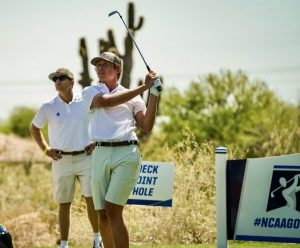 Despite falling short of the national title, freshman Gordon Sargent won the university's second individual national title in 2022. The Commodores are looking forward to another successful performance in their backyard at the Mason Rudolph Championship. 
Nashville Comedy Festival: April 15-22, 2023 
Experience Nashville with a laugh at the Nashville Comedy Festival. This festival features some of the funniest comedians in the world. The comedians perform at various locations throughout Nashville and bring nonstop laughter to all. You don't want to miss out on this fun event!
Enjoy all that Nashville has to offer and consider this Music Manor!
This beautiful house is only 6 minutes away from Broadway and has 5 bedrooms, 4 bathrooms, a private balcony, a washer and dryer and so much more.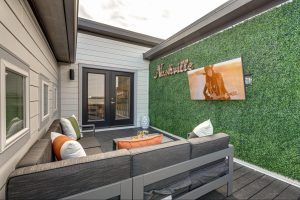 Check out the property here: Nashville – 2001 Convent Place Unit 6
Nashville Predators NHL Season: Spring 2023
The Nashville Predators Professional Hockey Season is in full effect! If you're looking for something fun to do with friends and family, go to one of their games at the Bridgestone Arena.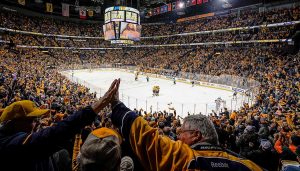 If you're interested in some hockey fun over the summer, Nashville is hosting the 2023 NHL Awards and the 2023 Upper Deck NHL Draft. The awards are scheduled for June 26, 2023, and the draft is scheduled for June 28-29, 2023. This is the first time both are being held in the same city since 2006. These hockey events are definitely ones you don't want to miss!  
Rock 'n' Roll Running Series: April 22-23, 2023 
Each year, runners, walkers, and wheelchairs attempt the annual Rock 'n' Roll Running Series Nashville through the streets of music city. This amazing event is jam-packed with authentic music at every turn.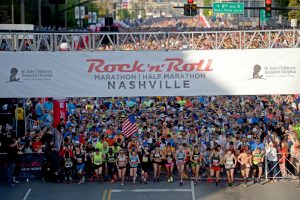 The series takes you on a tour of the beautiful Nashville landmarks. You don't need to join the event to go! You can have just as much fun cheering runners on while enjoying the music and landmarks for yourself. 
Treat yourself to Bourbon Abode, only 6 minutes away from Nissan Stadium where the event occurs. This home has 2 bedrooms, 1 bathroom, pool, washer and dryer, and much more. Perfect for winding down after a long day of running.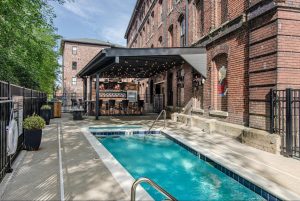 Check out the property here: Nashville – 612 21st Ave N Unit 311
Vanderbilt University Commencement: May 11-12, 2023
Commencement is one of the most important events of the year! Vanderbilt University welcomes families from all over the country and world to see their loved ones walk across the stage and get their diplomas. Vanderbilt offers 70 undergraduate majors within their 10 schools on their beautiful campus in Nashville, Tennessee.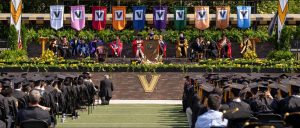 Commencement is a time for students and their loved ones to celebrate their big achievements! Consider staying at this stunning townhome, only a 13-minute walk to the university with easy access to all commencement activities.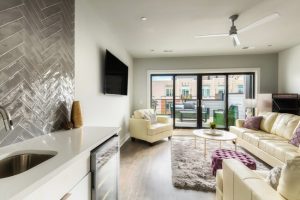 This home has 5 bedrooms, 5 bathrooms, a private rooftop deck, and much more. Perfect for a big family coming to see their loved one graduate. 
Check out the property here: Nashville – 2994 Belwood St
Nashville Music Festivals: Summer 2023
Also known as "Music City," Nashville is a hot-spot for summer concert series as visitors flood in to see their favorite artists and explore the town. So far, Summer 2023 is looking to be promising, with several large music festivals scheduled to be hosted in the heart of Nashville.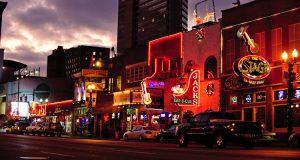 Up first is the CMA Fest, which is set to be June 8-11, 2023 at Nissan Stadium.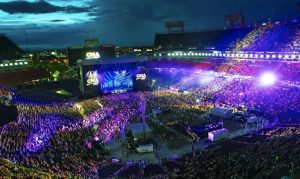 CMA Fest is hosted by the Country Music Association and is one of the largest festivals to come to Nashville. Fans travel from all over for this four-day festival packed with top-notch performances from some of country music's hottest artists. While the lineup has not been announced yet, tickets are already on sale.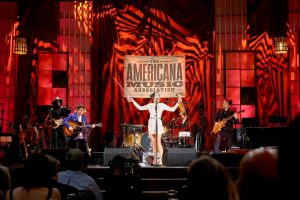 The 23rd Annual Americana Fest is also set to take place in Nashville September 19-23, 2023 and is a must-attend for anyone who loves and appreciates the blend of Americana's influences including roots, folk, country, blues, and soul-based music. This five-day event brings together fans and musicians alike and offers celebration through seminars, panels, networking opportunities, and showcases. It has been quoted by the New York Times, as "The coolest music scene today." The Americana Honors & Awards Show is the featured performance of the festivities, which is hosted at the historic Ryman Auditorium. Passes are on sale now!
Vanderbilt Football 2023 Season
The Vanderbilt 2023 football season opens on August 26, 2023. The Commodores will be playing the Hawaii Rainbow Warriors at home and excitement for Commodore football is high this year after a solid 2022.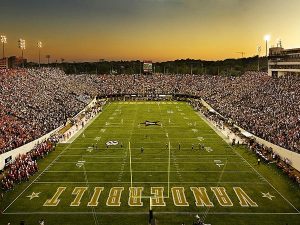 Vanderbilt football is led by head coach Clark Lea and had a good start in the 2022 season! The Commodores started the season off with a 2-0 record for the first time in four years. They finished out their season with a record of 5-7 (2-6 SEC). The Commodores were the only team in the SEC to feature four players with multiple interceptions during the regular season, while as a team, Vandy had eight consecutive games with an interception, matching the longest such streak since 1996. Join the rest of the Vanderbilt community in ringing in the beginning of football season.
Tennessee Titans NFL Season: Begins September 2023
Football fans can also get excited for the start of the 2023 Tennessee Titans season! The Titans will play the Ravens, Bengals, Falcons, Panthers, Chargers, Seahawks, Texans, Colts, and Jaguars at home this season.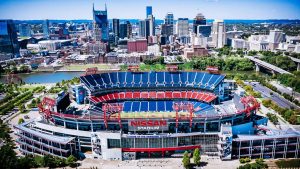 Check out the Tennessee Titans website for more information on the 2023 season. 
Vanderbilt Parent's Weekend: October 13-15, 2023
Vanderbilt's Parents Weekend 2023 is set for October 13-15th. Parents and families are invited to join their students for a weekend full of special events on campus, including a home football game vs. the 2022 National Champion Georgia Bulldogs!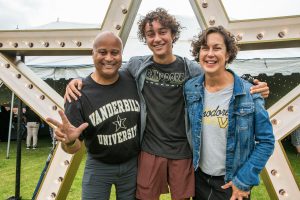 While the full schedule of events has not been released yet, families are encouraged to go ahead and make accommodations, as bookings traditionally fill up quickly for Parents Weekend! 
For more information on college traditions, locations, sports, and rental properties, check out CollegeWeekends today!