Welcoming a New Renter
Renting a house, cottage or condo for a weekend or extended visit nowadays is extremely common. It offers renters the opportunity to explore new towns, test out neighborhoods, be close to family and friends, spread out and enjoy more amenities during their visit and never feel like they're stuck in a small boxed in hotel room. At the same time, renters also want to enjoy a "homey" and comfortable experience during their stay. Does your rental property feel warm and inviting?

How to Make any House Feel Like Home
Does your rental space have that homey vibe that a renter's permanent house may have. Does it feel inviting and cozy the moment a renter walks in the door?  Lucky for you, with just a few styling tips from CW, we can turn your CW rental space into the perfect relaxation and getaway spot. Let's get started! 
Tip #1:  Layer, Layer & Layer
You've heard it here folks! Does your rental space having nothing but bare bones and walls? Try adding some layers to it! By layers, we mean accent the space with your favorite art, rugs, drapes and blankets. Are your walls plain white? Depending on your style, spice it up! Are you more of a minimalist when it comes to design?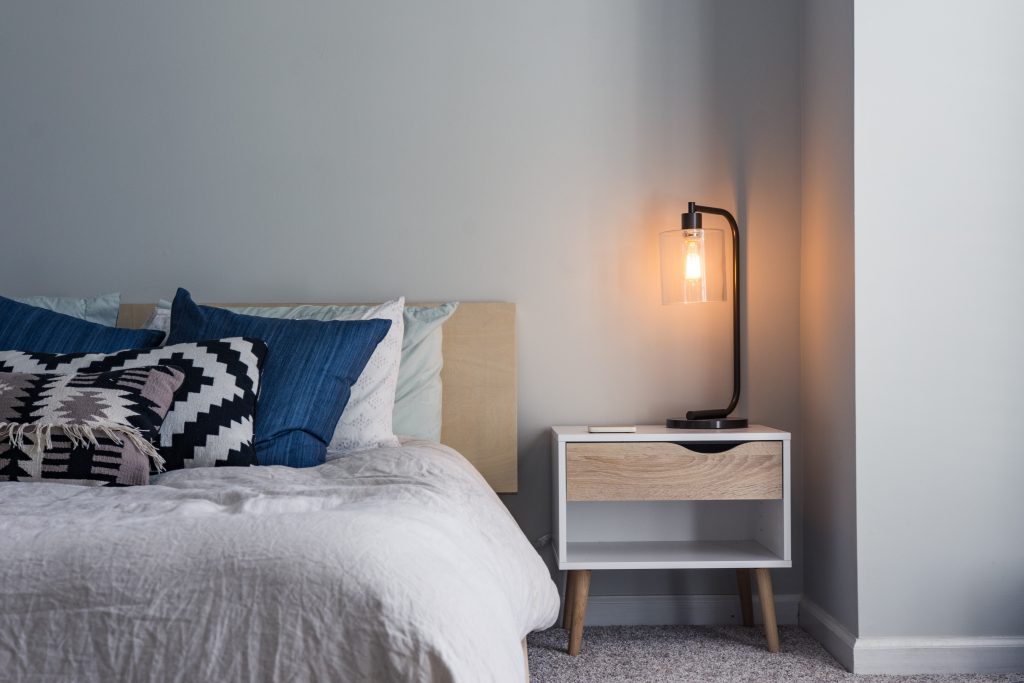 Try adding accents of soft gray, blue and tan to contrast the white. Try adding some plants (perhaps even nice fake plants) around your living room for a more lively space. Maybe even try textured fabrics and rugs to add to the space! With just a few extra touches, your renters will feel right at home.
Tip #2:  Contrast with a Color
Another awesome design tip with barren white walls is to pick ONE SINGLE color as the accent color! Do you love vibrant colors? Don't add too much! This can make a rental space feel overwhelming. Instead, pick one vibrant color that you feel elevates your mood whenever you see it. Colors like a deep navy blue, red, golden sunny yellow, or emerald green are great options to consider when picking your accent color. From couch pillows, bedding, art, rugs, lights, and even curtains, this styling technique can make you feel elated when walking into any room in your rental space.

Tip #3:  Add Color to Your Floors
So, if you can't paint your walls, add color elsewhere! Try adding an area rug over the floor, even carpets. This can add colors, patterns and textures to your living space. This will create a more open, energetic, eclectic vibe to any space, even with white walls.
Tip #4:  Maybe Vintage is Your Vibe!
In case you haven't watched enough HGTV lately, we're here to tell you that vintage is in! On top of that, vintage style can be a cheap, effective, and elegant way to stylize any rental space. One pro tip is to buy vintage artwork that speaks to you and makes you feel at home – Etsy and even Facebook Marketplace can be great online sources to find good/quality pieces. Additionally, vintage artwork is cheap at thrift stores. Plus, even if you don't like a certain art piece in a thrift store, it can always be restored or jazzed up in beautiful, charming frames that can elevate another piece. Another cost effective vintage trick is to repurpose your furniture – either by painting and/or resurfacing an antique dining table or desk or recovering a comfortable chair. By repurposing vintage items, you can tell your own story and create unique styles and vibes in your rental space to make any renter feel at home.

Tip #5:  Hide the Radiators! 
Your rental space might have hot water radiators right in your living room or maybe your bedroom. Lucky for you, you can distract your eyes from the radiators without completely boxing them in permanently. Add bold colored curtains or eclectic patterned drapes (of course kept to the sides so heat can still get out!) to distract the eyes away from the radiators. Plus, this is just a bonus to add great patterns or colors to your space if you're not allowed to paint or add any wallpaper.
Tip #5:  Embrace the White Walls!
Instead of dreading the white walls, consider the greatness that white feeds into the space. If your bedroom is surrounded in white walls, don't be afraid! Decorating a room, especially a bedroom, with other soft colors can create an elegant, calming and serene space. Try adding greys, mossy greens, muted sands or even sea blues to a space. With a few textured throw blankets, a peaceful color scheme in a bedroom can be effective for getting a great night's sleep.
Tip #6:  Try Room Dividers
Room dividers are a great way to create separate spaces within your rental. Setting up a folding screen is a super simple, easy and cost-effective way to create more privacy in rental spaces. You can either get a bold patterned divider or go more neutral. The choice is up to you!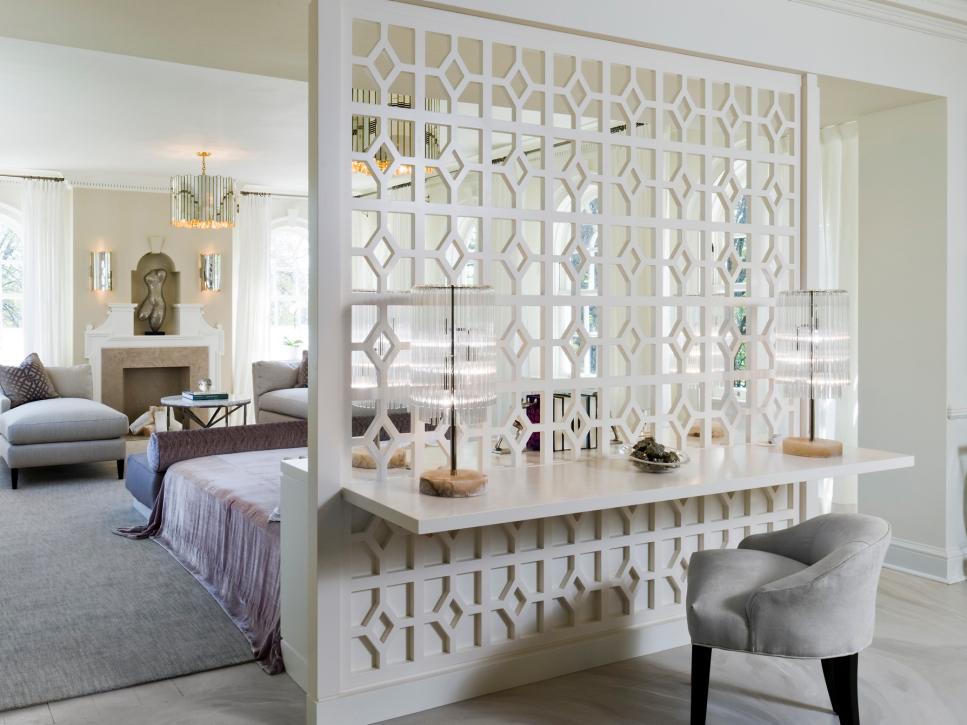 Tip #7:  Black and White is Timeless
A black-and-white decorating scheme is a classic for good reason. The classic contrast is simple yet sophisticated, subdued yet dramatic. Black-and-white color schemes will always be timeless and will always be an iconic look in any space. With white walls, try adding black furniture and accessories to your space. Black and white artwork hangings on the walls will turn ANY wall in your home into something unique! 
Tip #7:  Invest Your Style Into Your Bathroom
Investing in your bathroom is a great way to create a bigger wow factor and provide enhanced comfort for your guests. At the end of a long day, renters want to walk into a bathroom that makes them feel calm and collected. Selfcare is ALWAYS a priority! Who wants to take a shower in a plain, dreary bathroom when you can feel energized but simultaneously calmed by the space. Plus, it's so easy to customize your bathroom! To add a little personality, pick out a colorful, bold pattern shower curtain, and pick out colorful bath rugs and towels to match. These simple touches add another level of energy to your space. Don't hold back!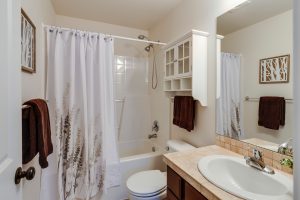 Tip #8:  Get Creative!
Yes, we're back to talking about those boring white walls that I'm sure you despise. But, it's up to you to change the vibe of your space! If you hate those plain white walls, liven them up with your personality and interests or perhaps something that associates with your college town.  If you're a film junkie, fill your walls with framed movie posters. If you love records, try hanging up your records. Add posters or scenic pictures of your college or college town, perhaps with colorful frames that sync with the school's colors.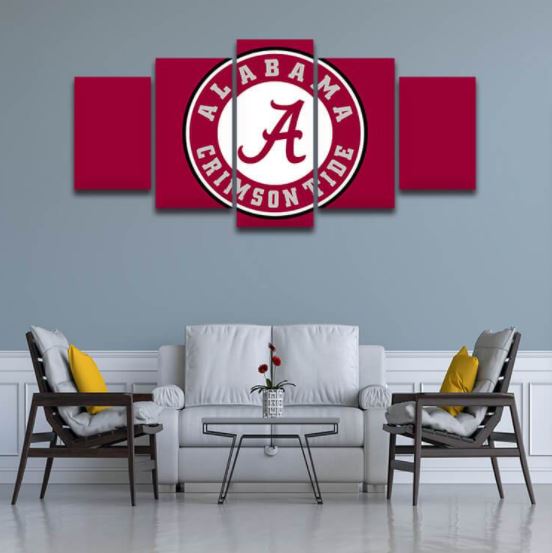 Or, go to a thrift store and fight special, one-of-a-kind paintings. Whatever direction you decide on, however, be sure that your theme or type of art you go with has some similarities. Between coordinating color schemes, matching frames and more, creating an artistic or fun space is easily obtainable!
Tip #9:  Over the Top!
Listen, I know we talked about the one color contrast styling tip, but maybe you LOVE colors. Maybe you want more than just ONE color in your space. If you want to dress up your plain, barren white walls, the color of the rainbow is at your fingertips. A room filled with colorful accents and furnishings can also be a great touch to a white-walled room.
Don't be afraid to mix and match your favorite bright colors! From rugs, curtains, decorations and even furnishings, bring your personality into your rental space. Those white walls will actually help accentuate a more energetic and colorful look by keeping the style fun and fresh, but not messy or dysfunctional.
Tip #10:  Accessorize all the Rooms You Have!
Every room deserves personality and a special focal point. Let your white walls serve as the background for your favorite accessory pieces. Every room can have its own piece. For the bedroom, let your bedding steal the show!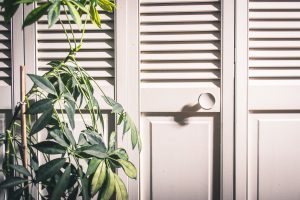 In the living room, let an area rug take focus. In the kitchen, allow for a pegged wall full of kitchen utensils and pots and pans to take focus. Or, maybe let your most beloved houseplants play a lead role in your space.
Are You Ready?
Are you ready to start customizing your rental space in your favorite college town? College Weekends is here to help! If you haven't listed your college town property yet, check out the CW Advantage for Owners for additional details on how to start as well as the CollegeWeekends Exceptional Hosting Tips for additional great strategies to help you maximize your listing. 
By Erin Fisher, CollegeWeekends.com