Have you ever considered owning and renting out a short-term or vacation property in a college town (perhaps at your alma mater)? What are the logistics involved? What about income potential, year-round opportunities, the investment itself, and more? Perhaps you already own a long-term rental in a college town and are considering converting it to a short-term/vacation rental.
Every college town across the country has great rental property investment opportunities. From down South in Athens, Georgia or Oxford, Mississippi to the great state of Texas, to out west in Colorado, California, and up North in upstate New York and Pennsylvania, there are plenty of great options.  College towns flourish with economic boosts due to year-round visits, including college move-ins, parents weekends, graduations, reunions, summer camps, and of course … college game days!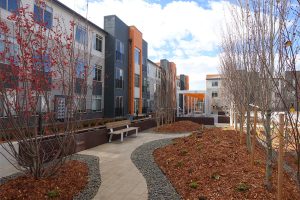 Like any investment type, if researched and managed well, college town short-term rental property investments can offer SIGNIFICANT return and benefits. So, let's get into it!
College Towns: Stable investment?
Let's talk about college towns in general. Investment in college town rental properties has more stability than many other investment types. Although the economy always fluctuates, college towns have a more reliable economy due to the population and influx of students, prospective students, alumni and other visitors.
Short-term rental property rates in college towns are steadier since there is typically year-round demand for lodging in college towns … and in many instances, short-term rentals are preferred compared to hotels given added benefits such as more room and amenities.  In addition, oftentimes during peak periods, hotels are also sold out and over-priced. From weekend rentals for Homecoming events, football weekends, graduations, and more, there is always something going on in college towns to make short-term rental properties desired and needed, which enables owners to see high occupancy rates and solid profitability. 
In addition and since COVID-19, college town markets are also seeing an influx of demand for "extended stay" options as employers allow flexible work locations.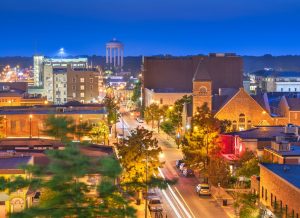 College Towns: How to maximize income?
No investment is easy and college rental properties are by no means a passive investment … but they do have great potential.  According to an article in Mashvisor … "the high demand for college rentals leads to high occupancy rates. This results in high amounts of rental income, and eventually high amounts of return on investment. College rentals tend to be rented at higher rental rates than their traditional counterparts as well."
Many college towns also have a choice of property management firms at your disposal. These can be great advisors for short-term rental property owners and for anyone considering investing in their town.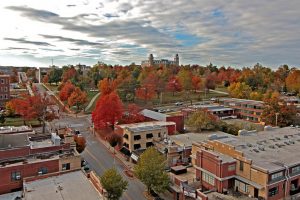 For example, in the Charlottesville/University of Virginia market, VaGuestHouses provides comprehensive property management services including marketing your listing, vetting renters, coordinating cleaning and other concierge services.
Rental market for college town short-term rentals
You may be wondering who are the typical guests for short-term rentals in college towns. Well, in college towns, short-term rentals are idealistic for vacation-style visitors who are seeking more room or comforts than a typical hotel. Potential renters in college towns can include fans, alumni coming to visit, parents visiting, guests visiting, or more.
From big football game weekends, parent weekends, Homecoming weekend, graduation and so much more, the short-term rental market can be in high demand in college towns.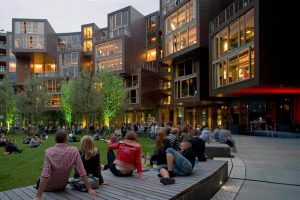 With short-term rentals in college towns, you will more likely be renting out to responsible tenants, like parents for the weekend, older alumni, or visitors of the school. This demographic tends to be more affluent as well and attentive to owner requirements (e.g. keeping noise to a minimum, parking restrictions, etc.).
What are the best kind of properties to invest in? 
When it comes down to figuring out the type of investment property you want to invest in, you have to consider a couple of factors. First, figure out how much you are willing to invest (i.e. your budget), your desired ROI (return on investment) and proximity to where you live.  On the latter, unless you decide to use a local property manager, it is wise to be within driving distance to your property to help manage situations if they occur (e.g. plumbing issue, renter loses their key, etc.).
Moreover, each college town varies in price. A college town short-term rental property in Texas will be significantly cheaper than one in California.  You should also consider the distance of your property to where it's located to the campus and in the town itself. There will be greater demand for properties closer to campus and in a more convenient location. Although it may only be for a week, if a family is renting out space for Homecoming weekend, they will likely want to stay closer to campus.
Also, you have to consider the market trends for rental properties in the college town you're looking to invest in – i.e. whether the college town typically attracts families (where more space is needed) or if the market has a high demand for 1 or 2-bedroom condos or townhouses.  In some markets, both options might be in demand.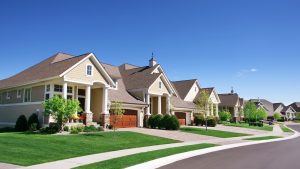 College town real estate can be attractive to investors for a number of reasons … including large potential investment returns and consistent occupancy.  Since rental properties in college towns are in high demand, renters can charge more for rent than you would in other investment properties. According to a study from Home.com, investors with short-term housing properties in college towns may achieve a return on investment (ROI) upwards of 10%. Most real estate investors consider an ROI above five percent to be a good investment. This increased cash flow alone could make a college town property investment a solid bet!
Year-round opportunities
College towns can also offer year-round opportunities that make college towns attractive to potential visitors – including local cottage industries like breweries/wineries near Charlottesville, Virginia (see Route 151 is Virginia), history or all kinds of festivals (see Great College Town Music Festivals). And certainly in the Fall, die-hard alumni and fans visit for big-time football games or for tailgates. From family weekends, college visits, alumni visits, Homecoming, graduation, and more, there are always great opportunities throughout the year for short-term rentals in/near college towns.

Get Researching!
Whichever type of investment property and college town you decide to invest in, go into it with an open mind. Knowing what you are getting into highlights the importance of researching a town's rental market and visitor trends. With a little research, college towns can offer amazing opportunities for those seeking to own a profitable short-term or vacation rental. Check out our CW college town destinations and Blogs & Resources to explore more great options to consider.