How can you make your CollegeWeekends.com listing competitive and attractive to renters?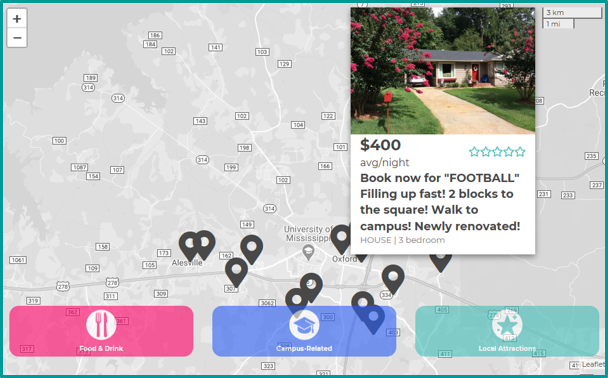 On average, you compete with more than 100 other short-term rentals at any given time. If you are looking for an advantage to stand out ahead of your competition here are a few things you can do to make your listing more attractive to short-term Renters:
1. A catchy title and crisp high quality pictures will capture the attention of a potential renter quickly
Describe your best feature in the title such as your location or something that makes your space unique. Make the most out of the 25 photos you post on CollegeWeekends.com by posting well lit photos of clean common spaces, bedrooms, bathrooms, outside spaces such as porches or decks, entrances, driveway or parking spaces, and special amenities like the coffee station, large smart TV, pool table, bar area, hot tub/pool or grilling area.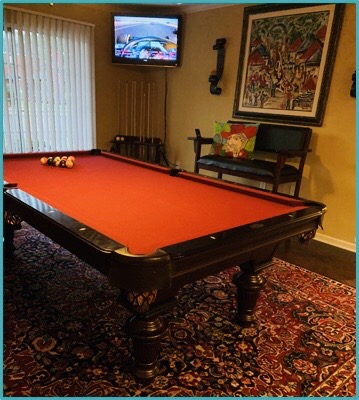 2. Complete every section of your listing on CollegeWeekends.com with the most accurate information possible
Every detail is important from the number of beds and bathrooms to accurate descriptions of sleep places including bed sizes per room. Complete listings answer Renter questions before they have them!
3. Be honest with your descriptions
Is your space small? List it as cozy and warm or intimate. If your place spacious and perfect for small or large groups, then state that. Is your space modern or homey or maybe even a little dated? You can describe your space as modern and recently updated, or homey and comfortable. There's a renter for every type of place. Provide honest descriptions so Renters are not surprised upon check in.

4. Price appropriately and offer add-ons such as games tickets or chef or tailgate
How much you charge for your space is ultimately up to you, but check out your competition to see how much they are charging per night or per week, especially during peak rental times and then:
Set your rates and minimum stays to be competitive
Review your rates periodically to ensure they remain competitive
Make sure your local and state taxes are correct for your area
Finally, enhance your listing (and generate additional income!) by utilizing CollegeWeekend's unique Add-on feature to sell and include game tickets, meals or transportation vouchers. Be creative!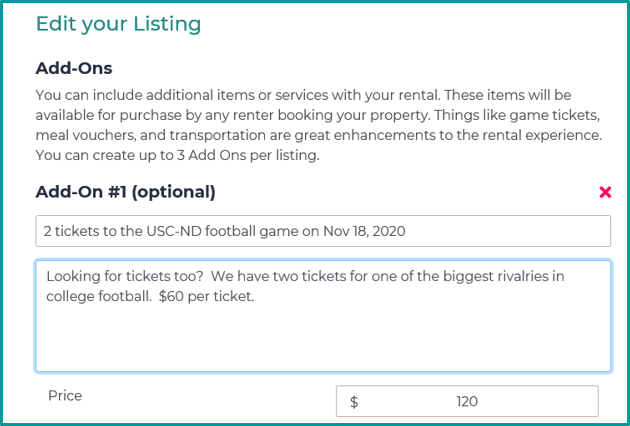 5. Ask for reviews
Strive to offer 5 star stays and ask for reviews from guests in your check out message. These reviews can help sell your space to potential Renters.
Be up front with your message and say something like this:
"I hope you enjoyed your stay at my house/condo/apartment/space. I strive to provide a 5 star stay. I would appreciate if you would review my place so others know how you enjoyed your stay."
For more strategies and tips to enhance your listing, visit our Resources section or  review the following blogs:
By Ritta Cunningham
Ritta is an experienced short-term rental owner and has achieved 5-star status over the past three years (over 100 rentals)