The 2022-2023 college school year is right around the corner, and CollegeWeekends.com has Wahoo fans covered with details on some of the biggest events as well great lodging options while visiting Charlottesville.
UVA Football Season Opener (vs. Richmond Spiders):  September 3rd, 2022
The Hoos football team brings back one of the most potent offenses in the country led by 5th-year QB, Brennan Armstrong. Virginia opens the Tony Elliott era against the Richmond Spiders in Scott Stadium on September 3rd. There is lots of excitement in Charlottesville for the upcoming season, and there is no better feeling for Wahoo fans than putting on your orange and blue, tailgating in the warm September sun, and cheering on the Hoos to a W. Click here for ticket information: UVA 2022 football schedule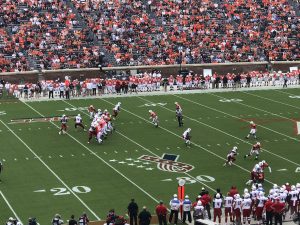 CollegeWeekends.com also has tons of great weekend rental options including the Stadium House that sleeps eight people and it is located just minutes from the stadium. The open living room with a television and leather couch makes for the perfect spot to gather a group of friends and gear up for the big game. As well, easy access to I-64 ensures that your weekend can include trips to local breweries and vineyards!  
Check out the property here: Stadium House
Young Alumni & Homecoming Weekend:  October 8th, 2022
YAR and homecoming! A favorite weekend for many. A time for past students to take a trip down memory lane. A time for current students to rekindle their friendships with those that have graduated. And, most importantly, a time for gathering and celebrating the one thing everyone has in common, a great love for their favorite school. Text those college friends and let them know it's time to find a place to stay for the big reunion. While it might not be Mad Bowl like old times, it will certainly be a great spot to gather friends and catch up!  Learn more about the event here: https://alumni.virginia.edu/yar/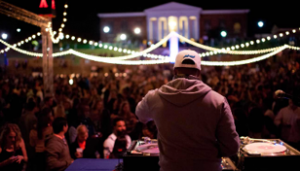 This spacious home is the perfect spot to gather old friends for the big reunion. With lots of open space and a great view of the mountains, it is a great ambiance for a bigger crowd. It also has a dining area for six, a large sectional couch, and an outdoor patio.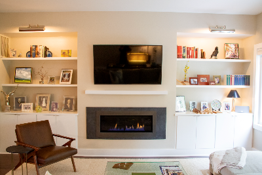 There was nothing better than gathering with your friends and laughing for hours in your college home. This space is sure to do the trick for the weekend. And even better, now you get a fireplace (real adulting!). 
Check out the property here: Warner House Downtown
Parents weekend:  October 28-30th, 2022
Just around the corner is one of UVAs most coveted weekends… parents weekend. At a school where blue and orange blood often runs deep, this weekend is a blast for all and also includes a home football game versus the always pesky Louisville Cardinals.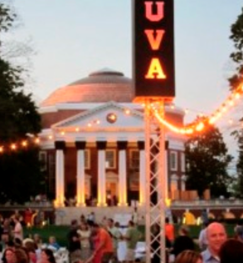 There is simply so much to do and look forward to during this festive weekend! With limited availability, however, searching for a hotel room can be challenging on this cherished weekend. That is where we come in! Why not rent a place that has room to relax and is super close to all of the action And, even better … recommendations for restaurants and activities are included on CollegeWeekends' UVA College Destination page (just in case your UVA student needs backup!).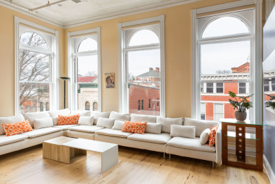 This beautiful penthouse apartment is the perfect spot for two parents to lodge during parents weekend. Located on the main strip of the historic downtown mall, it is the perfect spot to relax amongst the business that fills the weekend. And, it doesn't get much better than those beautiful windows. Do yourself (or your parents) a favor, and grab this lively penthouse before it goes! 
Check out the property here: Downtown Penthouse Apartment
Lighting of the Lawn:  December 6th, 2022
If you were a student at UVA, if you are a student at UVA, if you are related to a student at UVA, even if you just live in the area, you know about the lighting of the lawn. This has been one of UVAs most treasured traditions for the past eight years. There is nothing more unifying and transformative than standing with the entire student body around the holidays, listening to your favorite songs, and watching the magical light show appear on the building that we all know and love, the rotunda.  Check out details about the tradition here: http://www.lightingofthelawn.com/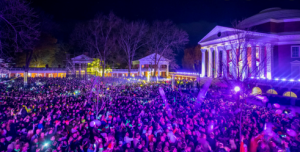 This beautiful office loft is the perfect spot to gather a group. Located right on the downtown mall, the location is central to any destination. It is very spacious with high ceilings. As well, it features a full bath, kitchenette, projector TV, and two sleeper sofas. The perfect spot to kick off the holiday festivities!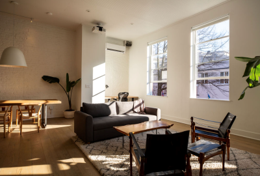 Check out the property here: Downtown Office Loft
Graduation:  May 22nd, 2022
For many people including students, parents, alumni faculty and staff, this is an event that creeps up all year long. Most importantly, this day marks goodbye for both students and their parents. Find the perfect home to lodge for what will be a perfect weekend.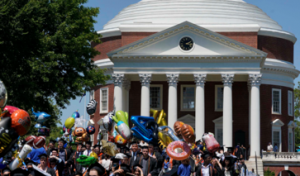 This sweet loft is the perfect nook for a short weekend. Located just off of Belmont, it is a great quiet escape from what will be a crazy, busy, weekend. This charming listing also has lace hammocks that overlook the mountains. A great place to unwind, relax, and reflect (perhaps on how you even got to this day so quickly!).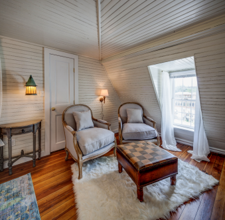 Check out the property here: Belmont Farmhouse – Fairytale Loft
Other key 2022-2023 UVA events and dates: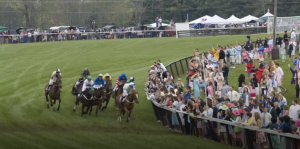 By Eve Summers
Eve will be a 2024 graduate of the University of Virginia